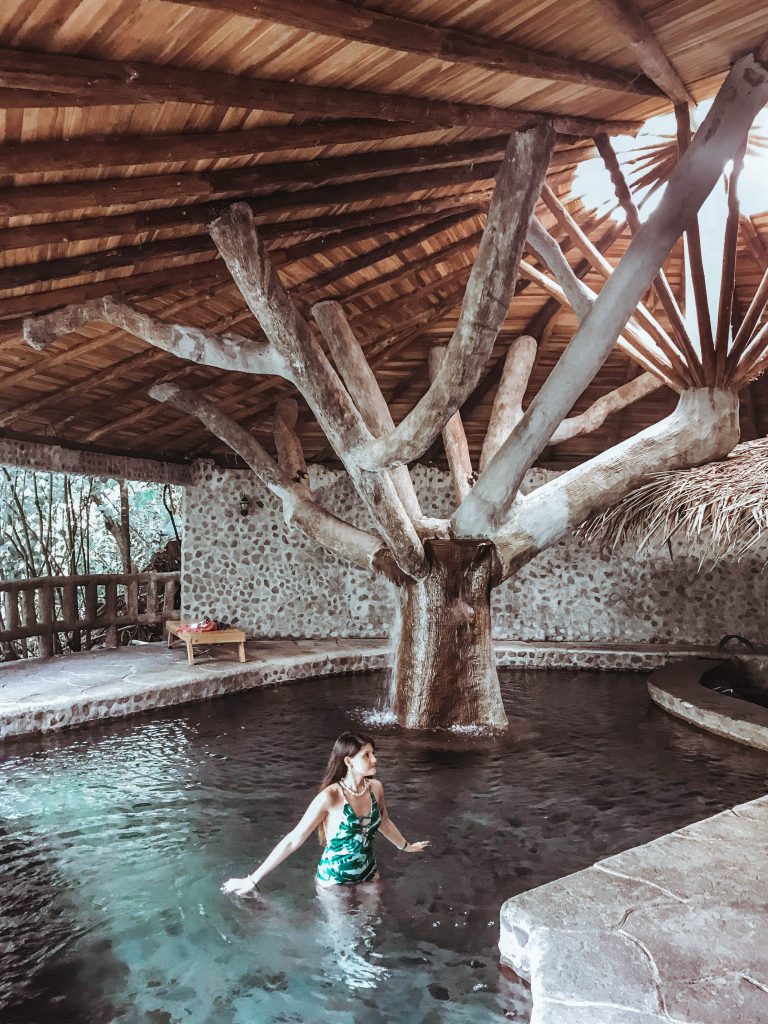 Arenal was our first stop in Costa Rica and we really enjoyed our time there. There is lots to do from simply relaxing, to hiking or swimming in a waterfall. In this post you'll find the best things to do in the Arenal & La Fortuna Area, where to stay and how to get there.
The accommodation we chose made our trip to Arenal extra special. We stayed at Rancho Margot, a self-sufficient ranch close to Lake Arenal. I'll tell you everything about it in this post as well.
Things to do in Arenal & La Fortuna
Relax in one of the many Hot Springs
Possibly the top attraction in Arenal & La Fortuna is its hot springs. Many of the hotels in the are have their own hot springs. There are hot springs for everyone's likes and budget. You can go to really fancy, exclusive ones such as the Tabacón or Arenal Kioro hot springs. Ecotermales is not a hotel but and has a very nice hot spring and pool circuit at a decent price. Termalitas del Arenal is one of the cheapest options at 8 USD. Last, there also are free hot springs in La Fortuna across from Tabacon Resort. This is where the locals go, you'll recognise it because there usually are people hanging around on the road. There is a small parking lot and you can walk down to the river from there.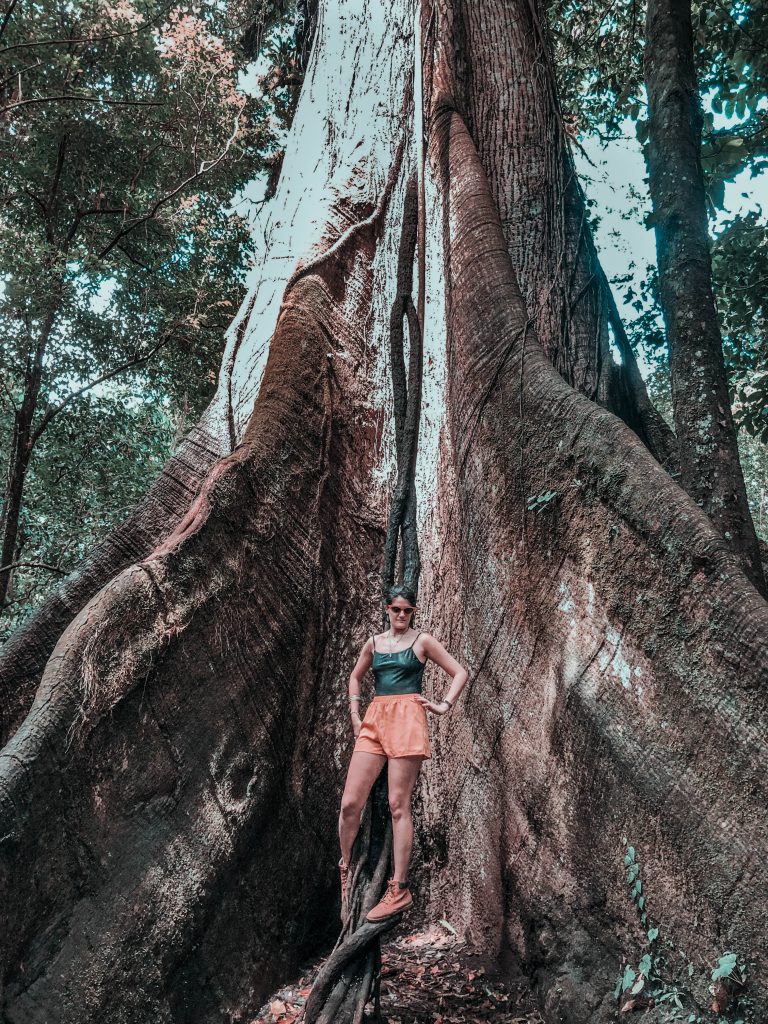 Hike the Arenal Volcano National Park
For those looking to do more than just relaxing, then hiking is definitely on the best things to do in Arenal. You must get yourself to the Arenal Volcano National Park visitor centre, pay the entry fee, then park your car. From there, you'll have three main trails. If you continue straight from path that goes out from the parking after a 5 minute walk you'll get to a viewpoint where you can see the Arenal Volcano from a platform. When coming back, on your left when getting close to the parking lot you'll find the "Sendero Las Coladas" or Las Coladas Trail which takes you up to the lava flow which today looks like rocks. When walking through this trail after a few minutes, you'll find the start to "Sendero La Ceiba" or La Ceiba Trail. Both Las Coladas and La Ceiba trail make a loop, so I recommend you start via La Ceiba and then you walk back via Las Coladas. On the La Ceiba trail you'll see a giant Ceiba tree which survived the 1968 volcano eruption. You'll be able to see some wildlife, if you are lucky like me howler monkeys, keep your eyes open! As you can see, I did this on my own, but it is a good idea to use a guide specially if you want to see a lot of wildlife in your hike. If you'd like a guide, I recommend you book this tour.
Swim in La Fortuna Waterfall
A must visit attraction in Arenal. La Fortuna Waterfall is 70 meters tall, and is the most visited waterfall in Costa Rica. You can get to it via 530 steps down, once there you can choose to bathe on its emerald waters. It's really fun as you swim really close to it with no danger as the waterfall's force pushes you to the shore. There is also an orchid trail you can visit when you are done and there are facilities where you can change into dry clothes and even shower. Entry is 15 USD.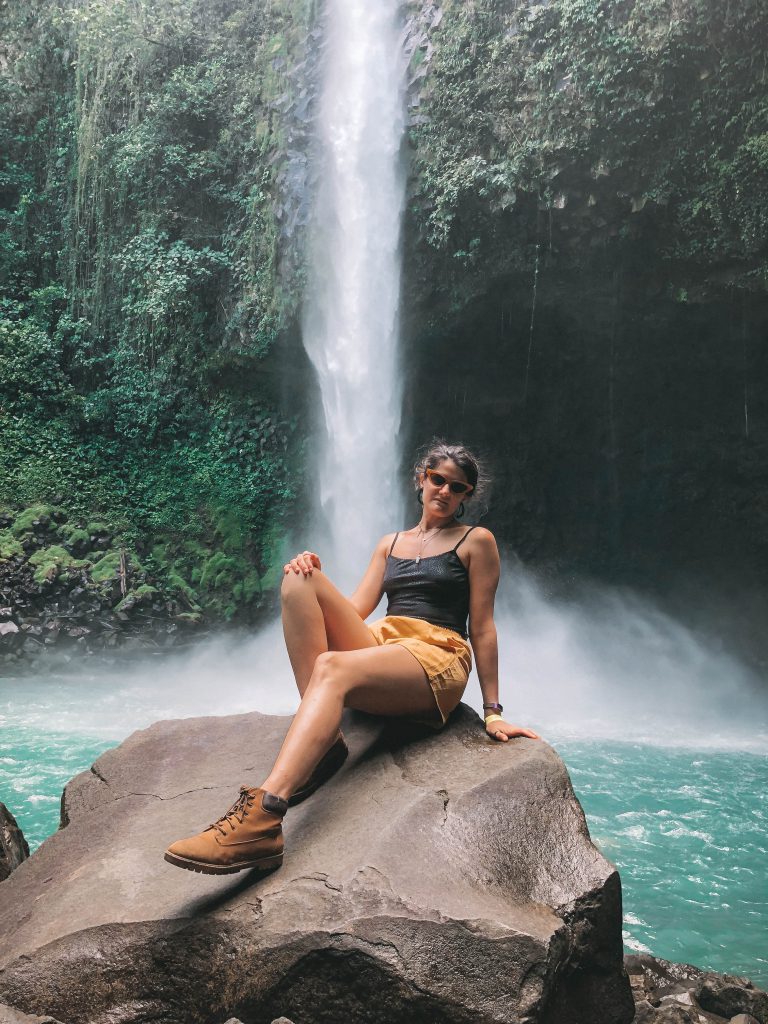 Walk the Bogarin Trail
This 2 kilometer trail is claimed to be the best trail to see sloths in La Fortuna! It is a really easy trail and most claim it boasts with wildlife: sloths, toucans, frogs, and much more. It's a family business, it's owner Giovanni Bogarin turned farmlands into the rainforest you see today, helping endangered animals along the way. This is a unique attraction in Arenal and is located really close to downtown La Fortuna (see in map).
Visit the Venado Caves
The Venado Caves are 45 minutes away from La Fortuna. You can take a spelunking tour to explore the caves', see stalactites, stalagmites, bats, fish and insects. You'll also climb through various caves and even see underground waterfalls! You can go there by yourself if you have a car and get the tour directly on the caves, else you can book a tour including transportation from your hotel in the Arenal area to the caves.
Walk the Mistico Hanging Bridges
The Mistico Hanging Bridges are 16 suspended and hanging bridges within Arenal National Park on private land by the lake. It is a great way to explore Arenal's rainforest as it is an easy 3.1 kilometer trail. You can make your visit self-guided but as usual, it's better to have a guide who'll be able to find wildlife and explain a little bit about natural history. If you decide to have a guide you can book this tour.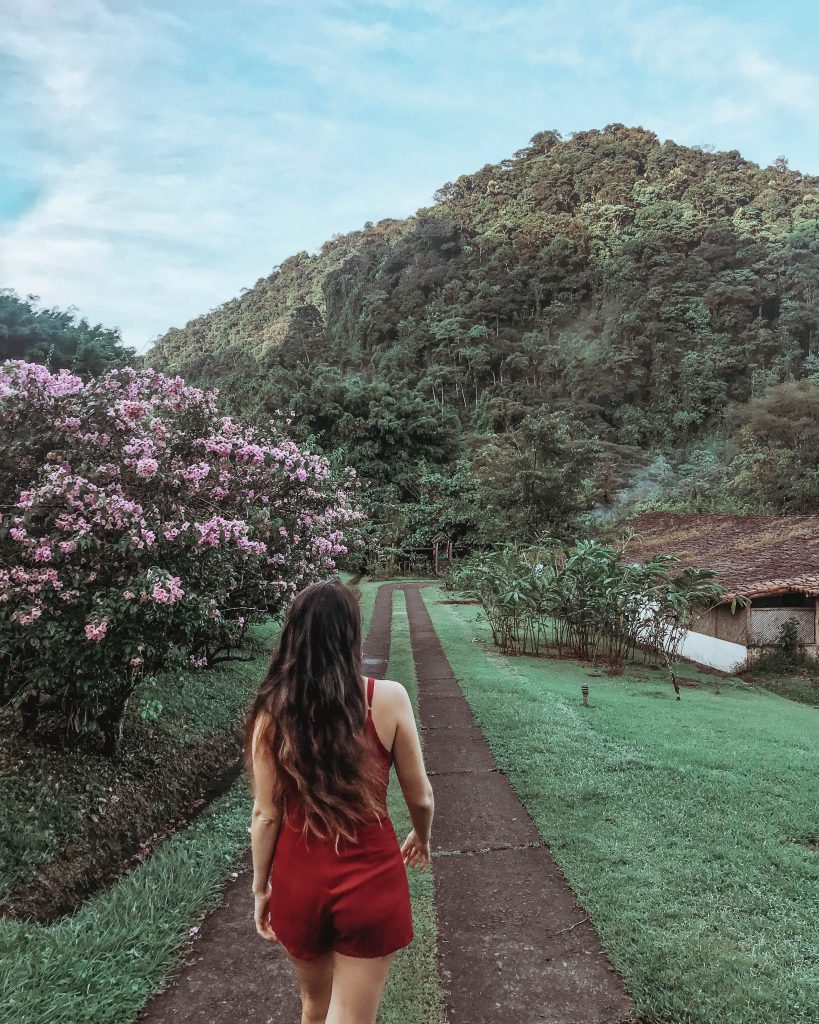 Where to stay in Arenal & La Fortuna
Our stay in Arenal was extra special due to the accommodation we chose. We stayed at Rancho Margot, which is a short drive away from La Fortuna. Rancho Margot is a self-sustainable ranch. The ranch has a farm with cows, pigs, hens, horses and more. All meals are included in your stay, and the ones we tried were delicious! The menu changed daily both for lunch and dinner. The dairy products and eggs used on the meals were from the cows and hens onsite, most of the fruits and veggies as well, jam and bread was homemade. Everything was super fresh! There were vegan options available as well.
I loved the food, what I loved the most was the range of activities available in the ranch that meant you didn't really need to leave the ranch and drive around to enjoy your stay in Arenal. Your stay includes for free a two hour guided ranch tour where you'll learn about the sustainable and self-sufficient practices of the ranch, two daily yoga classes and a cow milking class. Additionally there are two great self-guided hikes you can do, one to a viewpoint where you can get a great view of the Arenal Volcano and the other one is a forest trail that traverses through a rainforest to a cloud forest. There are also natural pools where you can swim and relax on for free, and also where you can get a massage for a fee. Last, there is a pond where you can fish in, also for free. There are also paid activities you can decided to do: a horseback riding tour to the viewpoint or Lake Arenal, a kayaking tour in Lake Arenal and a night hike tour to discover wildlife that is only active and night. So for sure, you won't get bored! There is also a football pitch we actually spent a lot of time playing on as well. Additionally there is also wildlife across the property so whenever we were walking around we had to stop to admire a bird, a colorful lizard or a squirrel.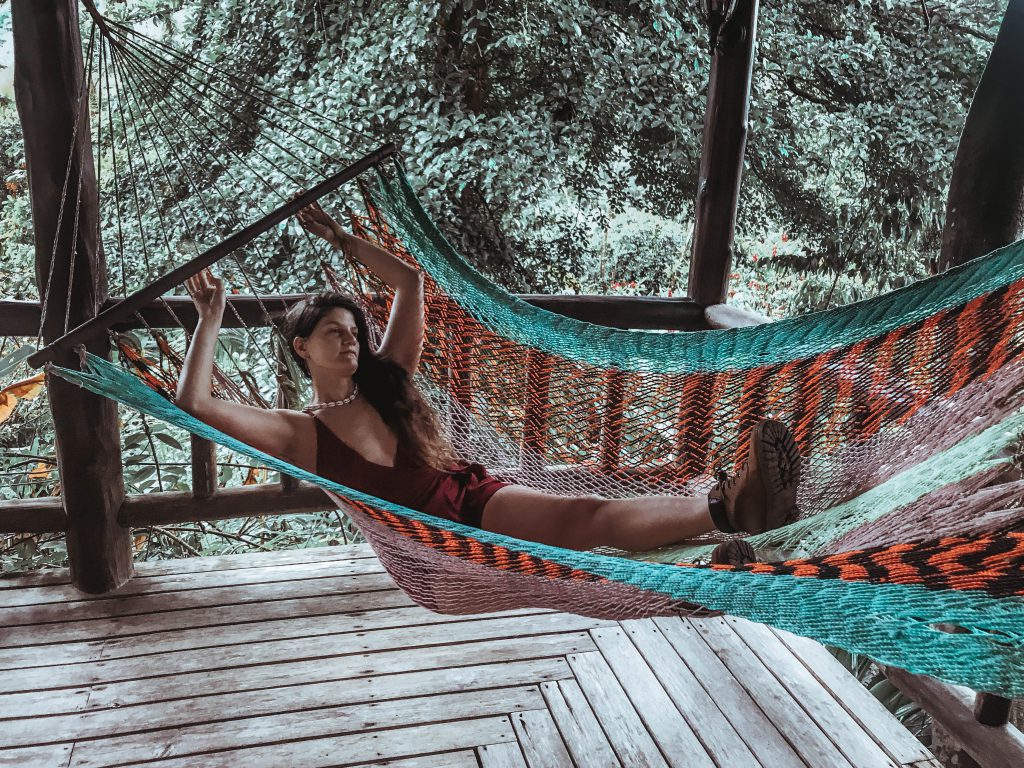 The rooms are simple but really have all you need, in our bungalow there were two clean double beds with bug nets and a bathroom with soap made at the property using recycled cooking oil. You will find no plastic or packaging as part of the hotel's philosophy. Our room also had a balcony with a colorful hammock and a table with chairs.
Rancho Margot definitely provides a unique stay for those interested in connecting with nature and sustainability. If you would like to book Rancho Margot you can do so here.
How to get to Arenal & La Fortuna
The best way to get to Arenal & La Fortuna, and to get around Costa Rica in general, is by car. It is really handy to have a car to get around the different attractions at your own time. If you are not in a super tight budget, hire a 4×4. It is definitely worth spending a little bit extra to ensure you'll be able to reach everywhere. After searching around various Costa Rican 4×4 companies, Rentalcars provided the cheapest rates with full insurance included which you'll want.
If you can't drive, you can also take a bus or a shuttle to your Arenal hotel. For more detail, check this post.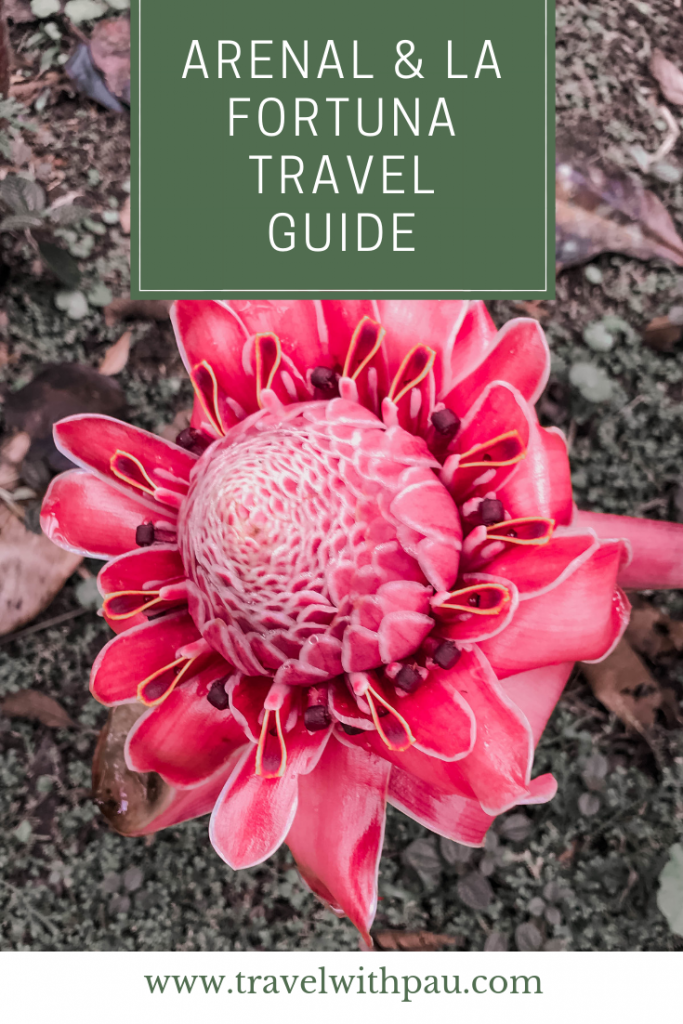 This post contains affiliate links. If you click on one and make a purchase, I might make a small commission, at no extra cost to you in order to help support my blog. My stay at Rancho Margot was complimentary however as always my opinions are my own.