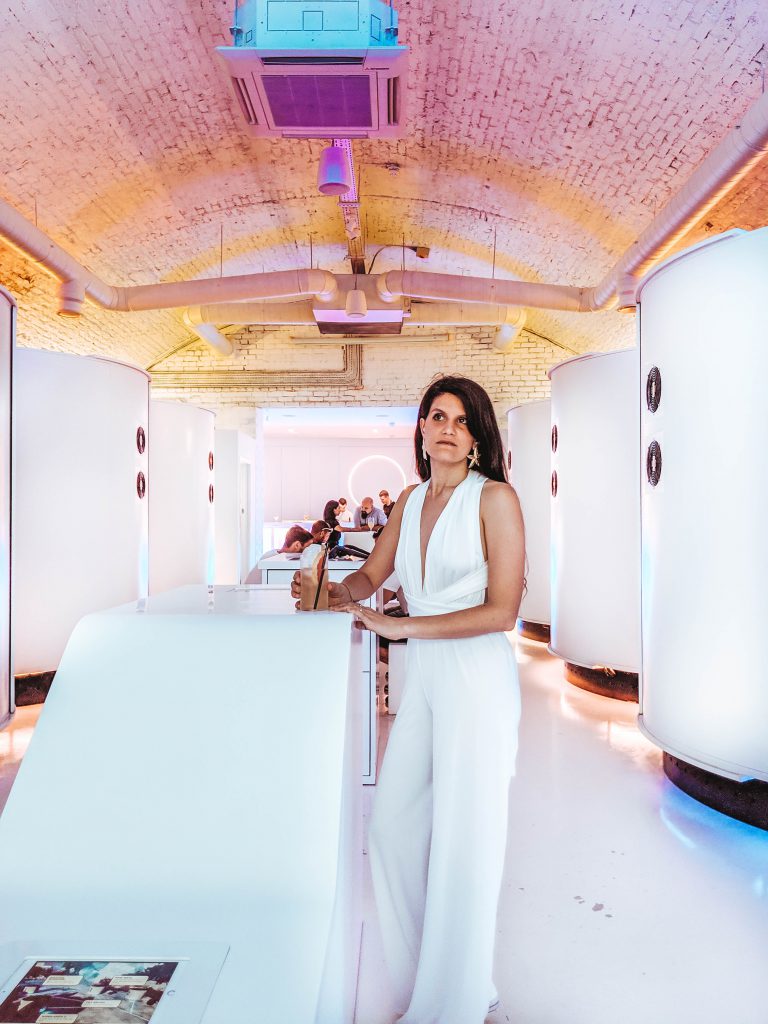 [updated October 9th 2021]
Looking for immersive experiences in London? Well, good, because I'm a London immersive experience expert. Whenever an immersive experience launches in London, I'm there no matter how weird it is.
Below London's best immersive experiences that I have tried and tested, organised by type. This article gets updated regularly, check the last published date for the latest update time.
London's All-encompassing Immersive Experiences
London's immersive experiences where it's about the experience itself rather than the drinks or food (even if they are available).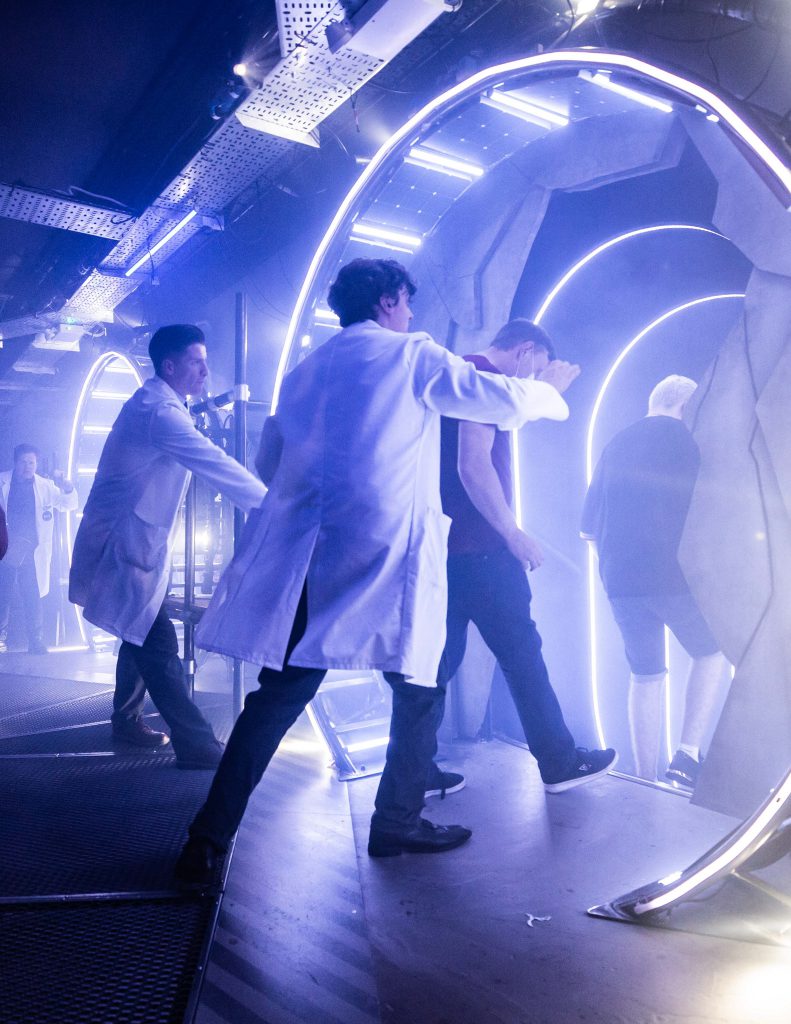 EULOGY by DARKFIELD
DARKFIELD create immersive experiences at the forefront of technology and theatre. As their name implies, most of their experiences involve being completely in the dark with binaural sound headphones, as well as movement to help ignite your other senses (touch, smell) and in turn your imagination. Their latest show is EULOGY which is available to book now across the UK. If you miss it, they have also create Darkfield Radio which allows you to enjoy their productions from home. Book it here.
Dr Who Time Fracture
Dr Who Time fracture is a ground breaking experience that transports you to the universe of Dr Who. You are commanded to fix a time fracture and save the world. During the experience you'll be transported through multiple rooms with movie like production value and invited to solve different challenges by actors. It's a bit of a chose-your-own-adventure setting as you decide who to engage with and when. No Dr Who experience required to have fun, and drinks available if you want to relax a bit from saving the world. It's until April 2022. Book it here.
Electric Gamebox
Electric Gamebox is an immersive, digital adventure you can try with friends. The experience consists in stepping into the Gamebox: a fully-private, interactive digital room featuring projection mapping, touch screens, motion tracking and surround sound to enjoy a hyper-immersive 60 minute adventure. It is unlike any other immersive gaming experiences I've tried! The available change all the time, and new are launched pretty frequently which is great because you'll want to come back for sure. Book it here.
meetspaceVR
meetspaceVR is one of the world's greatest VR experiences and much unlike any I've been before. It involves a free roam multi-player experience. You can bring up to 8 friends, put on your kits and kill Zombies or save a spaceship from enemies. Because the room where everything happens is huge you can roam and walk around which makes it even more immersive than other VR experiences available in London. All you need to worry about is having fun (and not bumping into the walls!). Book it here.
Otherworld
Otherworld is a virtual reality immersive experience where you step into a beautiful parallel world, an island. In this world you can choose any from sixteen very fun VR experiences. And it's 4D which means you'll be able to feel the heat from the sun was you emerge from a cave, or the wind as you gush down a tunnel. Once you are done adventuring, you can enjoy one of their exotic cocktails in a futuristic setting. Book it here.
Secret Cinema
The mother of immersive experiences in London, Secret Cinema was founded in 2007 and specialises in immersive theatrical experiences based on film and television, combining film screenings with interactive performances in purpose-built bespoke sets. In simpler terms, imagine being able to step into your favourite film, to interact with the characters, dressed as one of them and hence becoming part of the story yourself. That's Secret Cinema! It has been held on movies like Back to the Future, Star Wars, Casino Royale and currently, on Stranger Things. Book it here.
The Great Gatsby
From Olivier Award winning producers, London's longest running immersive theatre production The Great Gatsby is now playing in the West End. In this immersive play, Jay Gatsby invites you to one of his infamous parties. Learn more here.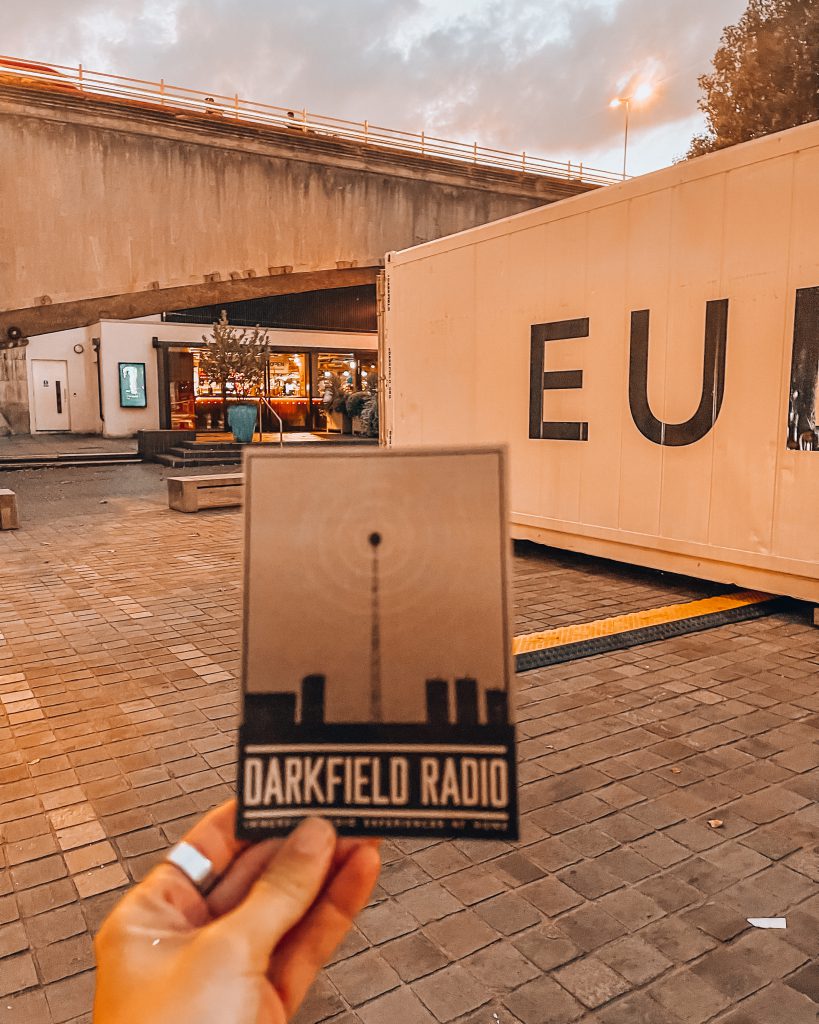 London's Cocktail Immersive Experiences
London's immersive experiences where you drink delicious cocktails while you have immersive fun!
ABQ
ABQ is the immersive experience where you prepare and drink molecular cocktails from an RV dressed in a hazmat suit. Did it take you back to Breaking Bad? Well it's on purpose. Learn more here.
Alcotraz
This cocktail immersive experience has been around for a long while, and it's now open in two London locations: Shoreditch & Covent Garden. Drink cocktails from a prison cell with your in-mates (pun intended). You need to sneak in your own booze thought, past the warden. Book Alcotraz here.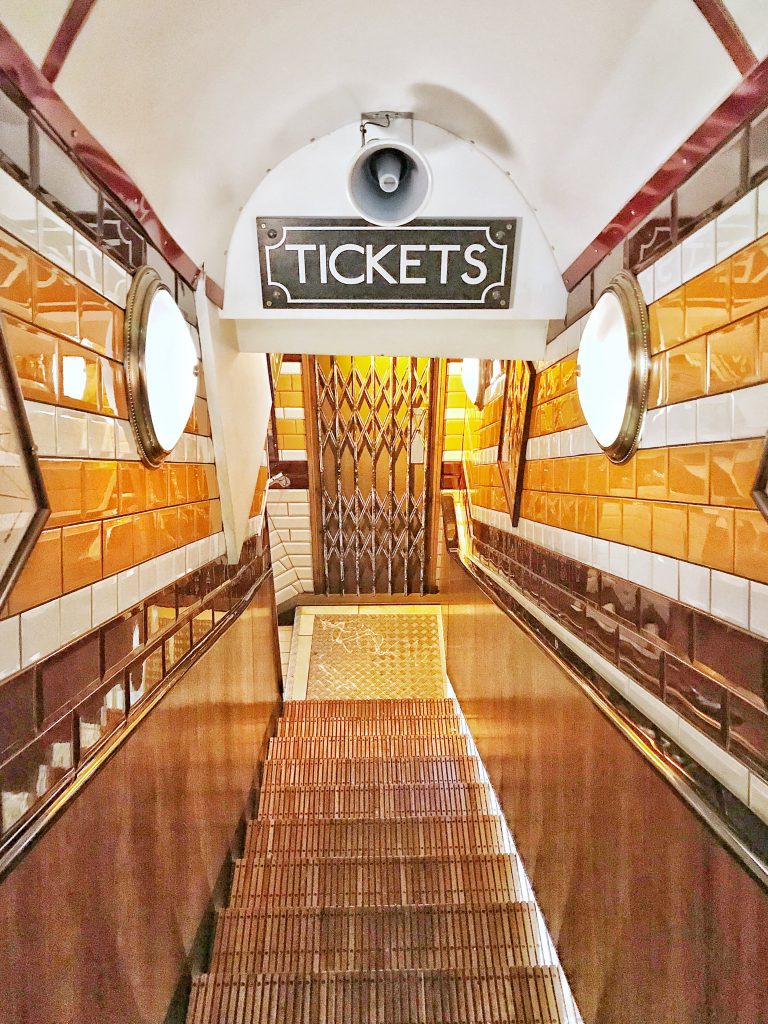 Cahoots
Cahoots it's a 1946 tube-themed cocktail bar, so get ready for some underground fun! It's also been around for a while but has only more recently expanded its usual venue to include a Tickets Hall & Control Room, for more fun. Learn more about Cahoots here.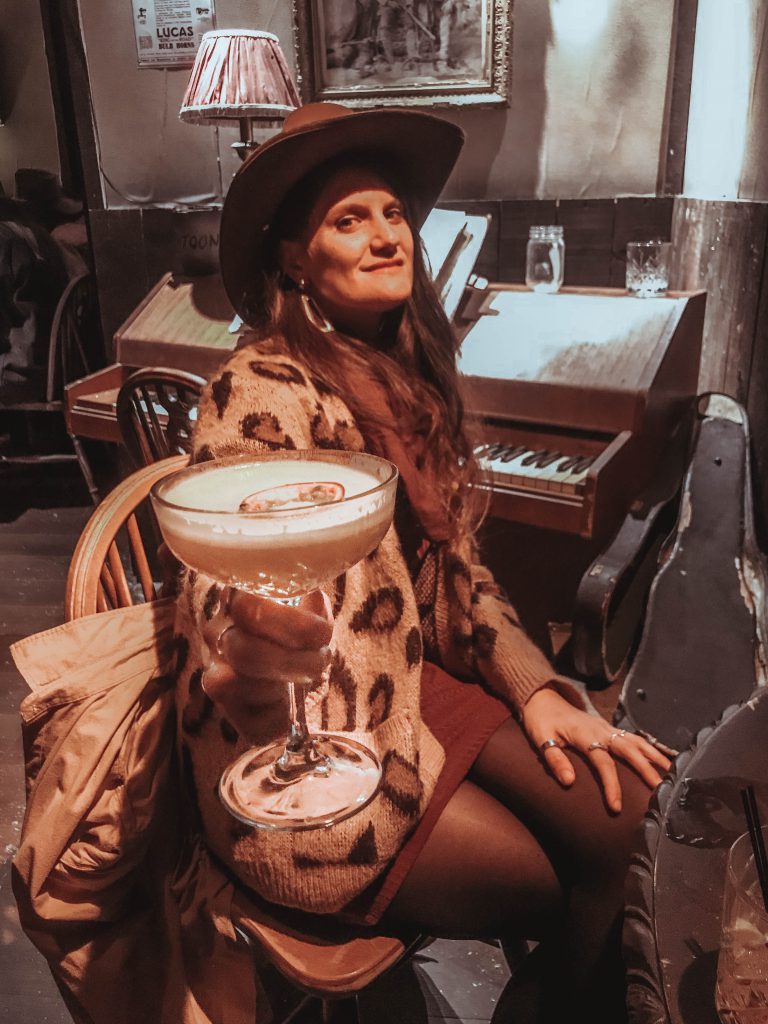 Moonshine Saloon
To all the cowboys out there, Moonshine Saloon is where you get to drink delicious cocktails in a Wild West Saloon. You'll have a cowboy hat and jacket, obvs, and you need to bring your own liquor. Just make sure the sheriff doesn't find out. Learn more here.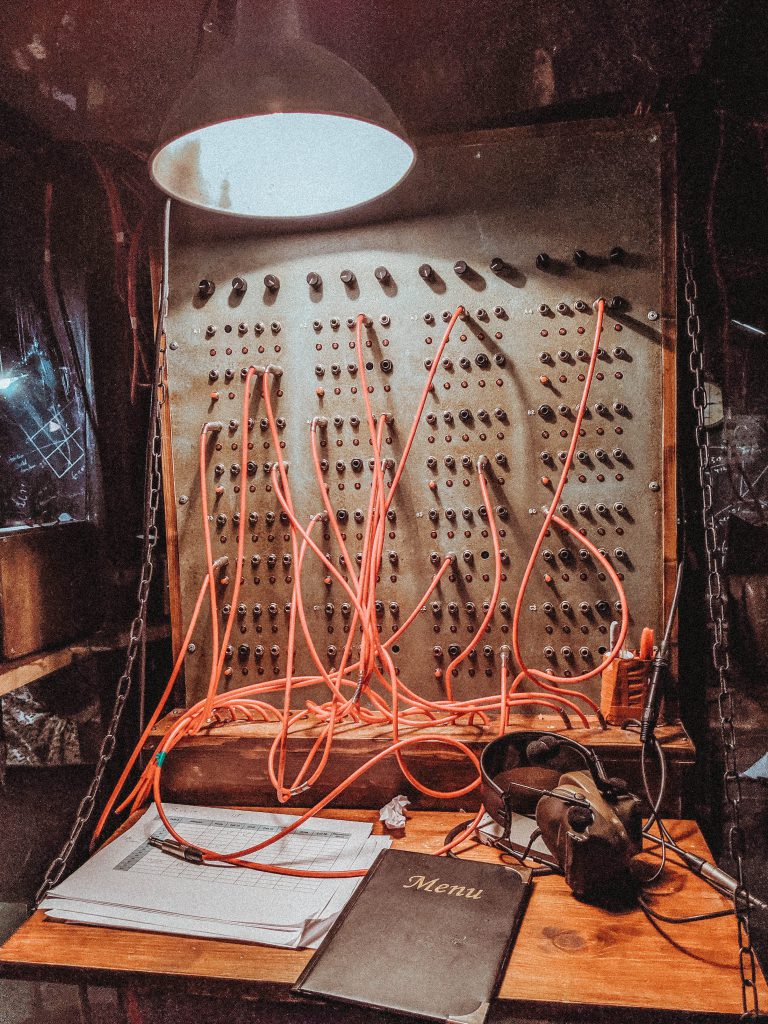 The Bletchley
Are you into solving cryptic missions? The Bletchley involves drinking cocktails while solving secret missions, and de-coding encrypted messages even using an enigma machine! Warning: you'll need to defuse a bomb. Learn more here.
The Cauldron
In The Cauldron you become a wizard in an immersive & interactive potions class where you make "magic" cocktails using a cauldron and a magic wand with special properties (and cough cough, science). Harry Potter fan or not, you'll love it! Learn more here.
The Little Mermaid Cocktail Experience
The Little Mermaid is a production by Fever, relive the world known and loved fairytale as you witness the human world collide with ocean life in a theatrical cocktail experience. Fever has a modern (and fun!) take on Hans Christian Andersen as well as amazing actors, singing, delicious cocktails and an unforgettable wardrobe. And it's entirely Covid safe! Book here.
London's Dining Immersive Experiences
London's immersive experiences where multi-course dining is part of the experience to spark all the senses!
Dans Le Noir
In Dans Le Noir you enjoy a multi-course dinner in the dark. Yes, pitch black, probably the darkest dark you have ever been in. It's something I believe everyone should do at least once, it's an unforgettable experience, which simply can't be explained. You need to experience it yourself! There are various menu choices available, with or without wine pairing. Book it here.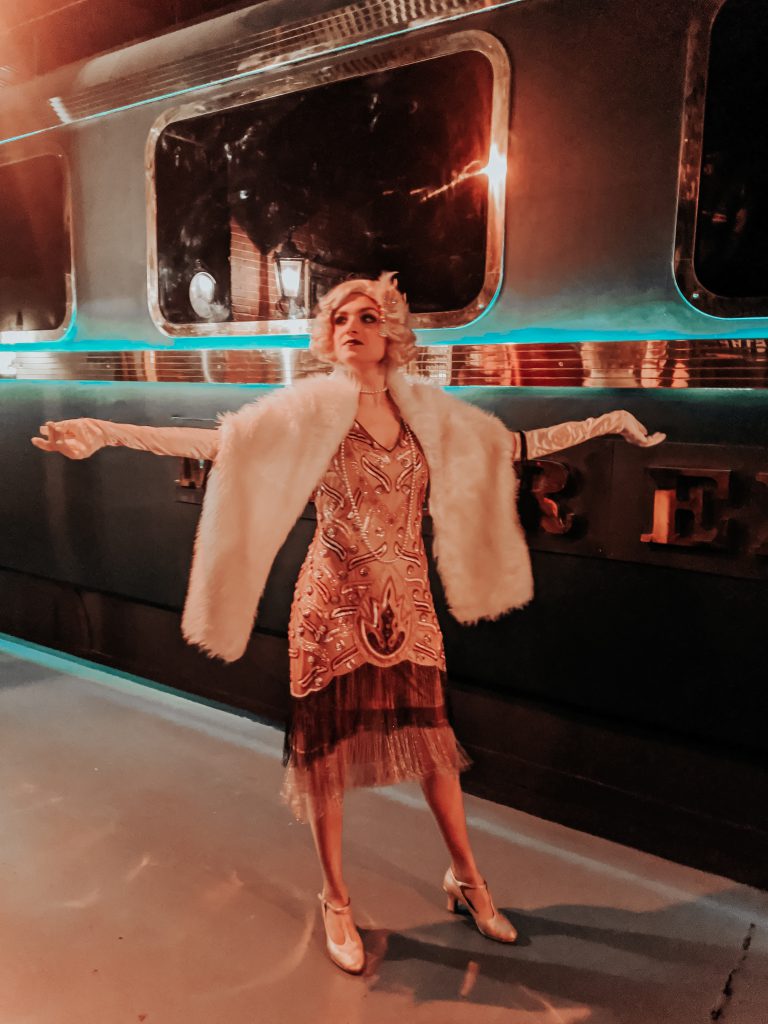 The Murdér Express
Now reopened and Covid safe! Travel to Pedley Street Station and hop into The Murdér Express for a train journey and delicious 4-course meal while you also work on solving a murder that happens on board. This London immersive dining experience is funny, exquisite and loads of fun. Book it here.
Past London Immersive Experiences
A section dedicated to London's immersive experiences that no longer are.
Journey At Chelsea Funhouse
Journey at Chelsea Funhouse was an immersive restaurant set to take you on a taste and flavour voyage through different parts of the world. The concept was based around a 2hr food and drink tasting experience with flavours inspired by famous journeys and routes around the globe.
Journey to the Underworld
Similar to The Murdér Express, Journey to the Underworld was an immersive dining experience where you hopped into a train while enjoying delicious food. But the train went somewhere rather daunting: the Underworld. Learn more about it here.
Lightopia
Lightopia aimed to transport visitors into a different world of expression with an impressive collection of handmade Chinese lanterns, extraordinary projection mapping and interactive pieces. See more here.
Meet Vincent
In this experience you could listen to Vincent Van Gogh speaking directly to you and learn about his hope, his despair, his inspiration and his friendships in a magical and emotional journey through his life. The experience spoke to all of your senses. Touching everything was not only allowed but encouraged.
Pirates of the Hidden Spirit
Drinking cocktails in a real boat docked somewhere in central London dressed as a pirate. Didn't think that was possible? Well in London it was! Learn more here.
The Grand Expedition
Gingerline's The Grand Expedition was an unmissable 5-course, culinary journey around the world. It's a fusion of live animation, dance display, flavoursome delights and exquisite set design. Might be hard to believe, but this experience happened within one room, with performances, interactions and animations all around you. Learn more here.
The Grid
Described as "an immersive Black Mirror/Dystopia inspired escape experience", The Grid was an immersive cocktail experience combined with an escape room. Learn more here.
The Medieval Banquet Experience
One of the most fun immersive experiences I've been to, The Medieval Banquet Experience had you sitting in a long table in medieval attire while you ate, drank and acted as if you were in medieval times; cheering up the multiple performances occurring through the evening. On top of the drinking and eating, there was dancing and singing involved.
If you liked this article, do me the great favor of leaving a comment and following me on Instagram (@travelwithpau). Feel free to say 'Hello!' I don't bite 🙂