Looking for immersive experiences in London? Well, good, because I'm the UK's biggest independent immersive experience blogger. Whenever an immersive experience launches in London, I'm there no matter how weird it is.
Below London's best immersive experiences that I have tried and tested, organised by type. This article gets updated regularly, check the last published date for the latest update time and you'll find 30+ immersive experiences here at all times.
Something needs updating? Give me a shout in the comments!
CHRISTMAS IMMERSIVE EXPERIENCE HIGHLIGHTS
Humbug
Nestled within the dimly lit archways of Waterloo, far from the stretches of the North Pole, hides Santa's cherished watering hole, a magical dive bar called Humbug. As special guests you'll need to bring your Christmas A-game to help cheer up Santa, who is struggling to find his Christmas spirit… Join us for a truly untraditional Christmas celebration, with surly interactive storytelling, Christmas cabaret, naughty cocktails, and plenty of laughs. Book now.
Phantom Peak Wintermas
This festive season, visit Phantom Peak and experience the town's very own alternative Christmas celebration, Wintermas! Dine, explore, and play games as you embark on an open-world adventure set in a crazy steampunk world. You'll collect clues and solve the mysteries within, as you interact with a variety of eccentric townsfolk and custom technology. If you're a fan of escape rooms, theme parks and video games, this is for you! Book now.
Velvet Pines
Experience London's Ultimate Immersive Christmas Party at Velvet Pines. Tucked away just 5 minutes from London Bridge, for a strictly limited six-week run, discover a hidden alpine gem – Velvet Pines. Step into the enchanting world of this alpine town, as you brave the blizzard and take your seat. Get ready to be dazzled by a captivating blend of immersive cabaret performances featuring some of the best acts in the business. But that's not all! Indulge in an absolutely incredible three-course meal, meticulously designed by MasterChef finalist Omar Foster. It's a culinary journey that promises to delight your senses. Book it here.
LONDON'S IMMERSIVE THEATRICAL EXPERIENCES
Candlelight
Concerts illuminated by candlelight? I'm definitely in! Fever has recently launched Candlelight, affordable and intimate concerts performed by live musicians in some of the most iconic venues in London that transport you to a fairytale. I had the chance to attend a concert in the beautiful conservatory in Syon Park to listen to City String Ensemble play Movie Soundtrack Disney classics, and I might have shed a tear or two. Book it here.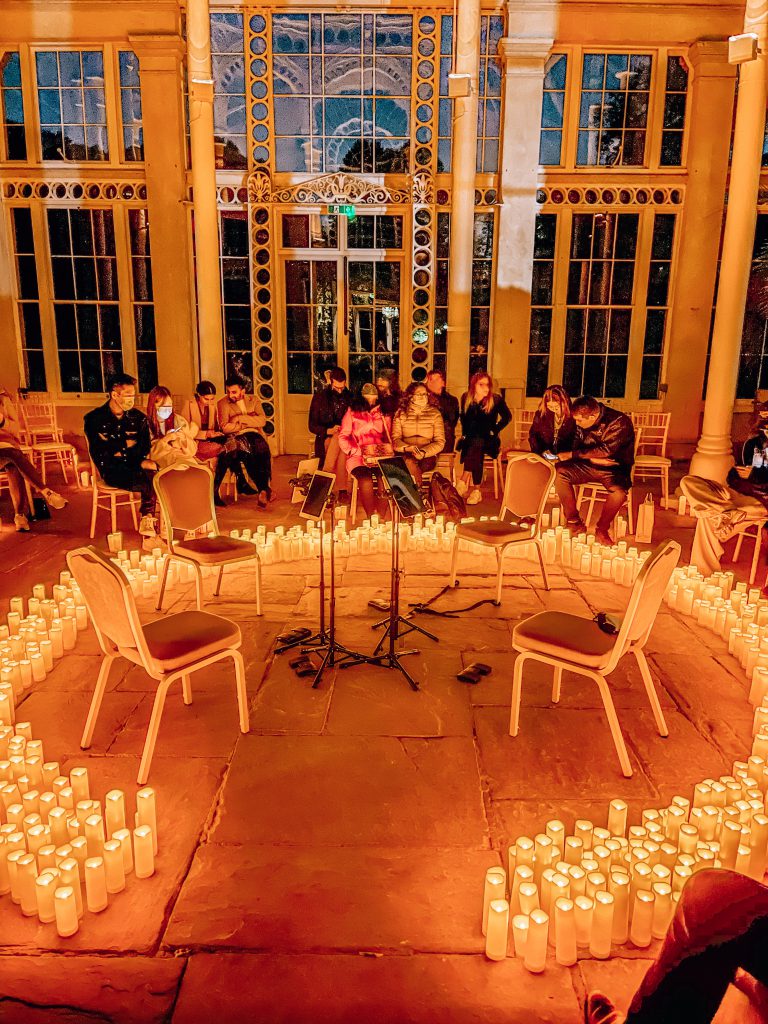 DARKFIELD
DARKFIELD create immersive experiences at the forefront of technology and theatre. As their name implies, most of their experiences involve being completely in the dark with binaural sound headphones, as well as movement to help ignite your other senses (touch, smell) and in turn your imagination. Their shows are held in containers, and are on & off throughout the year in key cultural moments like the BFI London Film Festival. I strongly recommend COMA, EULOGY, FLIGHT & SEANCE. I encourage you to sign to the newsletter to be the first to know when they are on.
DNA VR
DNA VR is the UK's Ultimate Virtual Reality Arcade. You can play a variety of VR games – including escape games – with your friends at the same time, in various locations around London. Their spaces feature VR zones with access to Virtual Reality Escape Rooms, Multiplayer Games, as well as the company's signature Free-Roaming Experiences. From surviving a zombie apocalypse, to travelling to the pyramids in Egypt or fighting off dragons, DNA VR has a game for everyone. Book here.
Delight
Delight: Media Art Exhibition takes you on a trip to a vibrant cityscape in the heart of Seoul. Explore 25 media art installations and use AR technology to collect prizes. You will discover the legends, dreams, and realities of a bustling city like never before! It's one of the most underrated London exhibitions right now so don't miss out. Get your tickets.
Dopamine Land
Dopamine Land is a multisensory experience that combines media, technology and play in one place. It's an interactive museum made up of colourful installations that channel the limitless imagination of your inner child into reality. Take a break from your everyday life, have some fun, take some photos and boost your happy emotions! Get your tickets.
Gourmaze
Gourmaze is a food treasure hunt experience in London. Challengers will be immersed into a fictional story, where characters will send you riddles and clues to your phone. Solving these, will lead you to food vendors & restaurants, where you will pick up a delicious food item or dish. It's the baby between an escape room and a food walking tour. Book it here.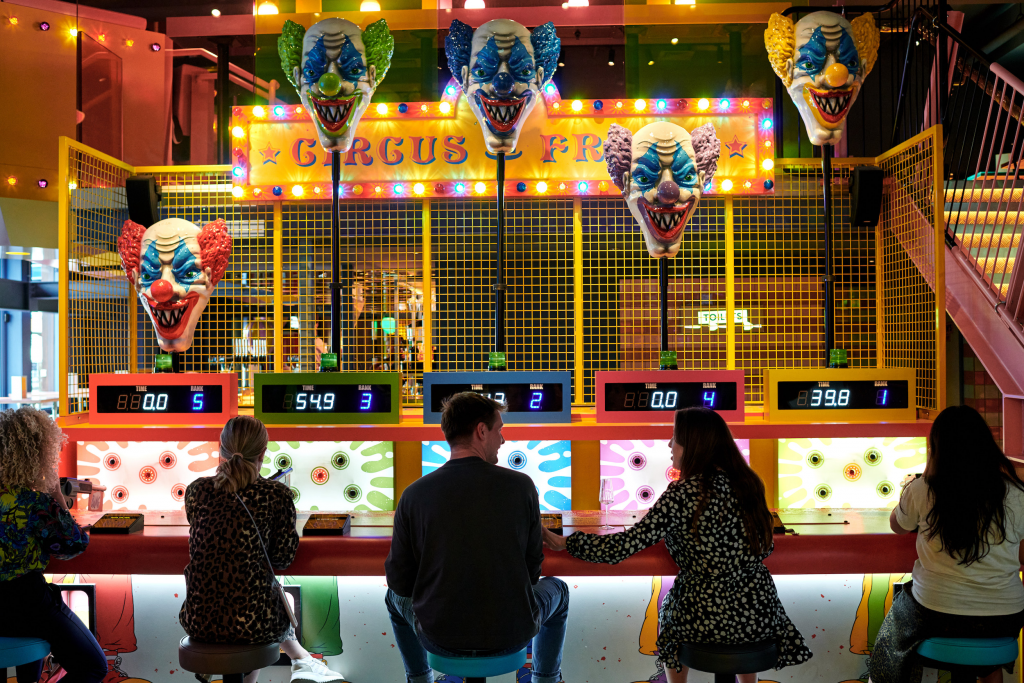 Gunpowder Plot
Gunpowder Plot will take you on a journey back in time and experience London as it was in 1605. You're not just witnessing history, you are living it. Using a combination of live theatre and the latest digital technology you'll be transported into the heart of a story in which you are the protagonist. You're thrown into the world the plotters inhabited, immersed in an unforgettable, fully 360 environment. Book it here.
Junkyard Golf
Junkyard Golf Club offers a unique and immersive mini-golf experience that combines creativity and urban flair. Each course has its own captivating theme, creating a visually engaging environment. From salvaged materials and repurposed junk, they have crafted a one-of-a-kind course that surprises players at every hole. Neon lights, funky installations, and unexpected obstacles add to the vibrant atmosphere. With pumping music and a fully stocked bar, Junkyard Golf Club is a popular destination for friends, date nights, or corporate events. It's a place where you can let loose, unleash your inner child, and enjoy a thrilling round of golf in a delightfully unconventional setting. Book it here.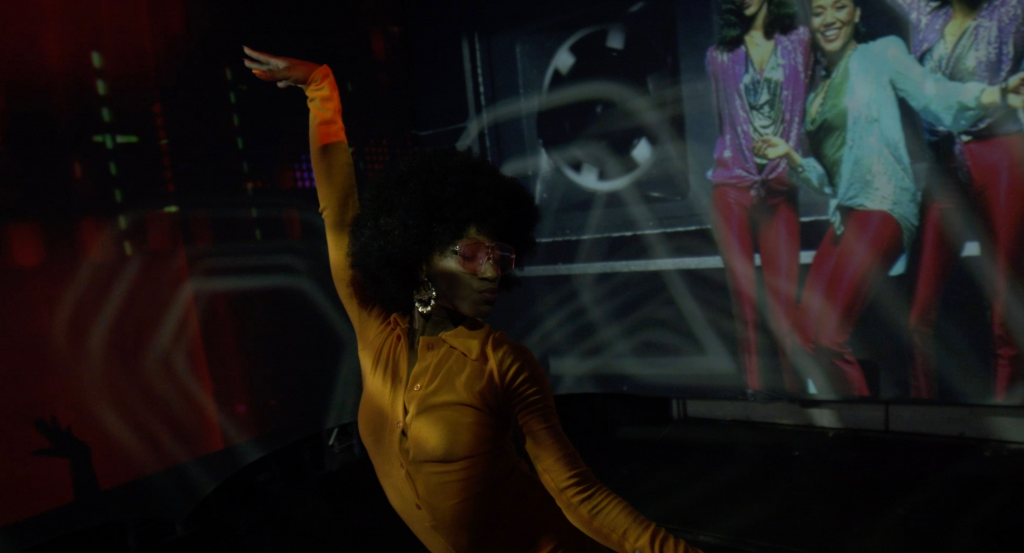 meetspaceVR
meetspaceVR is one of the world's greatest VR experiences and much unlike any I've been before. It involves a free roam multi-player experience. You can bring up to 8 friends, put on your kits and kill Zombies or save a spaceship from enemies. Because the room where everything happens is huge you can roam and walk around which makes it even more immersive than other VR experiences available in London. All you need to worry about is having fun (and not bumping into the walls!). Book it here.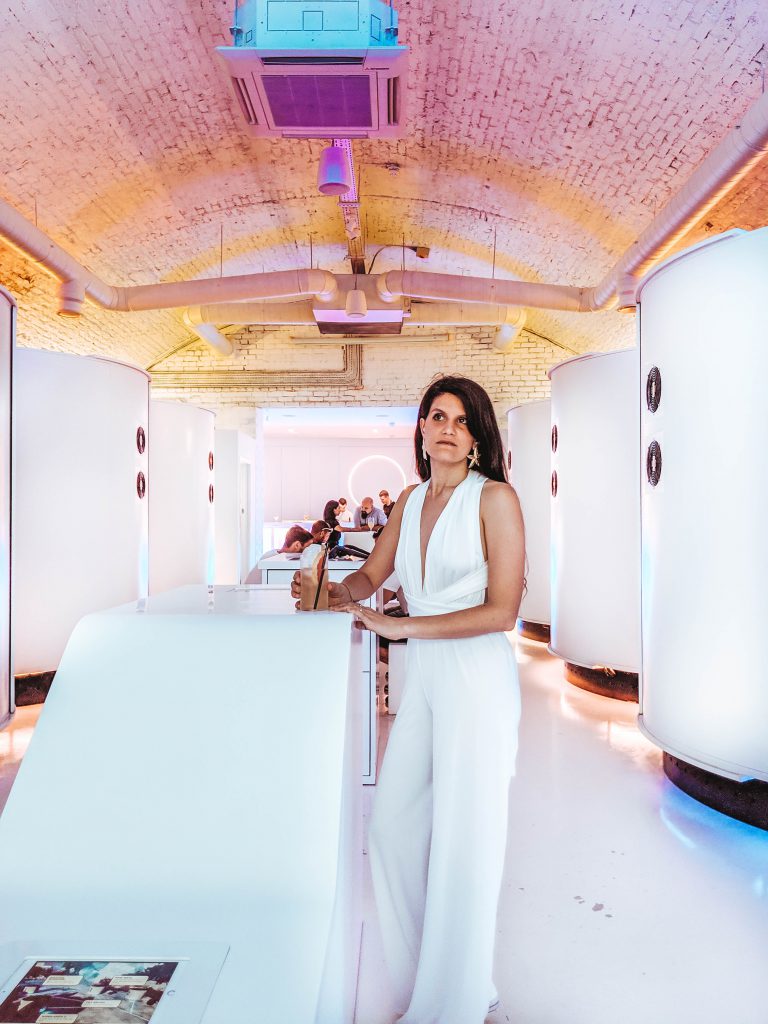 Secret Cinema
The mother of immersive experiences in London, Secret Cinema was founded in 2007 and specialises in immersive theatrical experiences based on film and television, combining film screenings with interactive performances in purpose-built bespoke sets. In simpler terms, imagine being able to step into your favourite film, to interact with the characters, dressed as one of them and hence becoming part of the story yourself. That's Secret Cinema! It has been held on movies like Back to the Future, Star Wars, Casino Royale and currently, on Stranger Things. Book it here.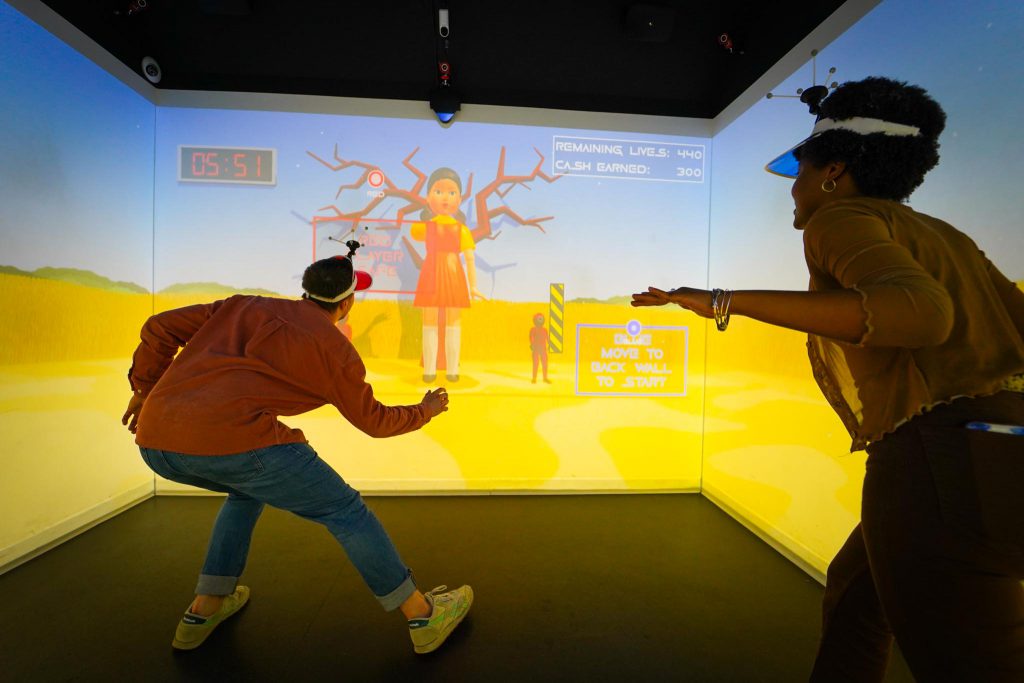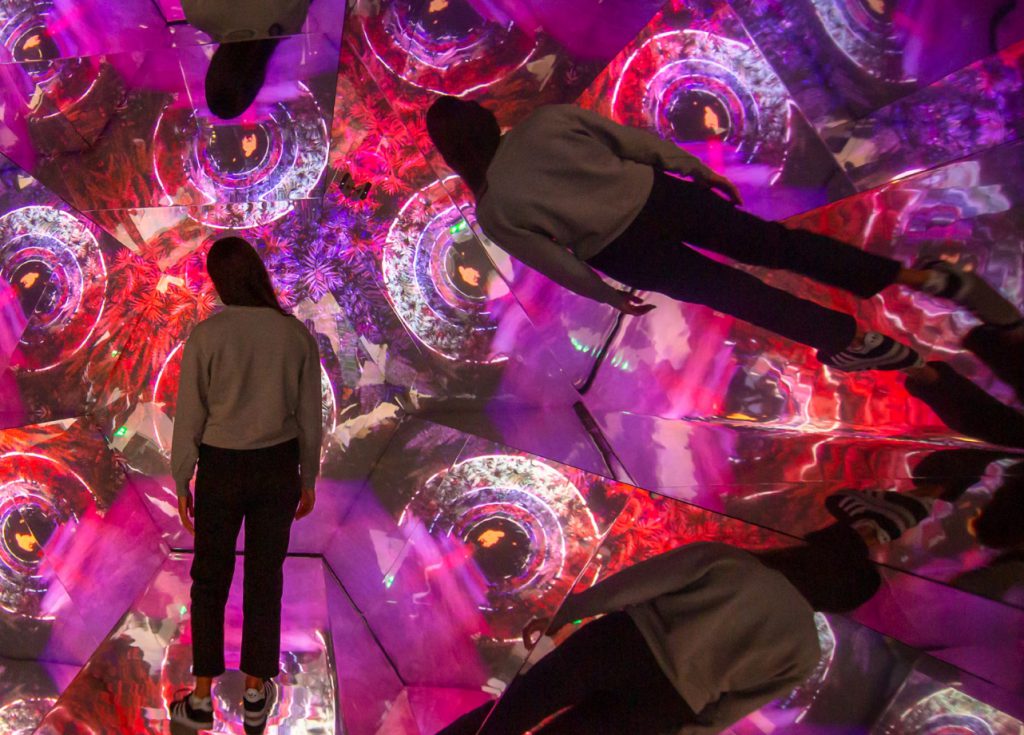 SAW Experience
SAW is a brand-new, immersive, multi-room escape experience – sounds like a handful, doesn't it? Well, that's because it is! It's an intense experience designed to test your moral choices against elements of escape rooms inspired by the iconic horror film franchise, SAW. There are some jump scares, but very tolerable even for the scaredy ones. Book it here.
Sherlock: The Official Live Game
Located in the heart of West London, Sherlock: The Official Live Game is a cinematic adventure that combines the unique world of Sherlock with the very best escape rooms in London. Having tried both their escape games, I can say they are excellent! I suggest starting with Sherlock, and then moving on to Mind of Moriarty. Book here.
The School of Witchcraft & Wizardry
As a group of students looking to graduate from the prestigious School of Witchcraft and Wizardry, your final exam will test your knowledge on 6 magical subjects, including Potions, Charms, and Defence Against the Dark Arts. In order to achieve the top grade, you'll need to pass all six before the time runs out, requiring communication, intelligence, and creativity on the part of each team member. In order to pass all subjects, you'll need to cast spells, defeat fantastic beasts, and more! Book it here.
LONDON'S IMMERSIVE GAMING
Clays Bar
Clays brings all the fun of clay target shooting out of the country into the heart of the City. Grab a bunch of friends, dress up (or not) in your best shooting attire and get ready to hold a realistic (heavy) rifle and smash those clay targets. There are many games to choose from and keep you entertained while you enjoy a few drinks and nibbles. There are now two locations: Moorgate & Canary Wharf. Book it here.
Fairgame
I saw Fairgame by chance when visiting Canary Wharf, and I had to go! I call it 'a childhood immersive experience' because you'll get to play all the games you did as a kid but as a grownup, with alcohol and no kids around you. It's epic, to say the least, and the fee is affordable for what you get: 75 minutes to play all the games twice. It makes a great first date and an even better team event. Book it here.
HiddenCity
This month, I finished the last one of all the HiddenCity games, which are marvellous treasure hunt type games where you solve a trail of clues, sent to your phone, as you journey across the city. During the game, you'll interact with characters and the physical world around you including asking for clues in bars, cafes and restaurants and finding some in unexpected places. It's a super fun weekend day plan and a nice way to explore the city avoiding the very touristy spots. Book it here.
Otherworld
Otherworld is a virtual reality immersive experience where you step into a beautiful parallel world, an island. In this world you can choose any from sixteen very fun VR experiences. And it's 4D which means you'll be able to feel the heat from the sun was you emerge from a cave, or the wind as you gush down a tunnel. Once you are done adventuring, you can enjoy one of their exotic cocktails in a futuristic setting. Book it here.
Squid Game at Immersive Gamebox
Immersive Gamebox is an immersive, digital adventure you can try with friends. The experience consists in stepping into the Gamebox: a fully-private, interactive digital room featuring projection mapping, touch screens, motion tracking and surround sound to enjoy a hyper-immersive 60 minute adventure. It is unlike any other immersive gaming experiences I've tried! This week they have launched a new game where you can try your luck at playing Squid Game without *actually* dying and see if you survive…! It's super fun even if I died almost immediately at red light, green light. The available games change all the time, and new are launched pretty frequently which is great because you'll want to come back for sure. Book it here.
WeJam Studio
Known as the 'immersive rockstar experience' WeJam invites you to get a couple of friends over to this studio in Camden to form a band. You'll pick your instrument and, believe it or not, will play songs together as a band while competing with each other. The easiest way to describe it is: a Guitar Hero but with real instruments. No musical experience needed. Book it here.
LONDON'S IMMERSIVE EXHIBITIONS
Delight
Delight: Media Art Exhibition takes you on a trip to a vibrant cityscape in the heart of Seoul. Explore 25 media art installations with cutting-edge technology and discover the legends, dreams, and realities of a bustling city like never before. You'll have lots of fun, don't forget to collect the AR items for a suprise. Book it here.
Frameless
Frameless is a brand new culturally rich, immersive, multi-dimensional art experience, and the biggest of its kind in the UK! Inside Frameless, art seeps into every inch of space: in front of you, behind you, above and below you. You will journey through four distinctive galleries, experiencing a different type of immersive technology in each one. You'll see timeless art pieces you'll recognise presented in ways you have never seen or felt before. Tip to enjoy: sit down, lie down, let the art really reach you. Book it here.
Illusionaries
Illusionaries is a captivating experiential art hub nestled in London's vibrant core, where contemporary digital art breaks new ground. You'll yourself in a realm where the lines between reality and illusion fade as light, sound, and motion unite to create an awe-inspiring spectacle. Book it here.
Twist Museum
Developed in collaboration with artists, neuroscientists and philosophers, Twist Museum is an immersive experience that explores – and puts to the test – the power of your mind in experiencing the world around you. Explore the joy and wonder of illusion. Step into mind-altering immersive rooms, get up close and personal with unexpected interactive illusions, and discover how your brain interprets reality. Book it here.
Van Gogh The Immersive Experience
Step into the works of Vincent Van Gogh at this truly breathtaking art experience, which uses 360-degree video projection to bring the artist's works to life. You'll be able to look up at a Starry Night, or see the birds fly through Wheatfield with Crows. Don't miss out on the very good VR experience, which invites you to wander through Arles and see the inspiration for Van Gogh's paintings unfold before you. It's an entirely new way to experience art, and one of London's finest immersive experiences. Book it here.
LONDON'S IMMERSIVE COCKTAIL EXPERIENCES
Alcotraz
This cocktail immersive experience has been around for a long while, and it's now open in two London locations: Shoreditch & Covent Garden. Drink cocktails from a prison cell with your in-mates (pun intended). You need to sneak in your own booze thought, past the warden. Book Alcotraz here.
Avora
Avora is a first of its kind cocktail adventure where guests can discover a brand-new world engulfed in mystery and wonder, brought to life through awe-inspiring theatrical sets, unique cocktails and a cast of talented actors. Step through the newly discovered gateway into the magical world of Avora where you'll get to meet the locals and explore the world to discover the ingredients to three extraordinary cocktails you will enjoy. Book it here.
Cahoots
Cahoots it's a 1946 tube-themed cocktail bar, so get ready for some underground fun! It's also been around for a while but has only more recently expanded its usual venue to include a Tickets Hall & Control Room, for more fun. Learn more about Cahoots here.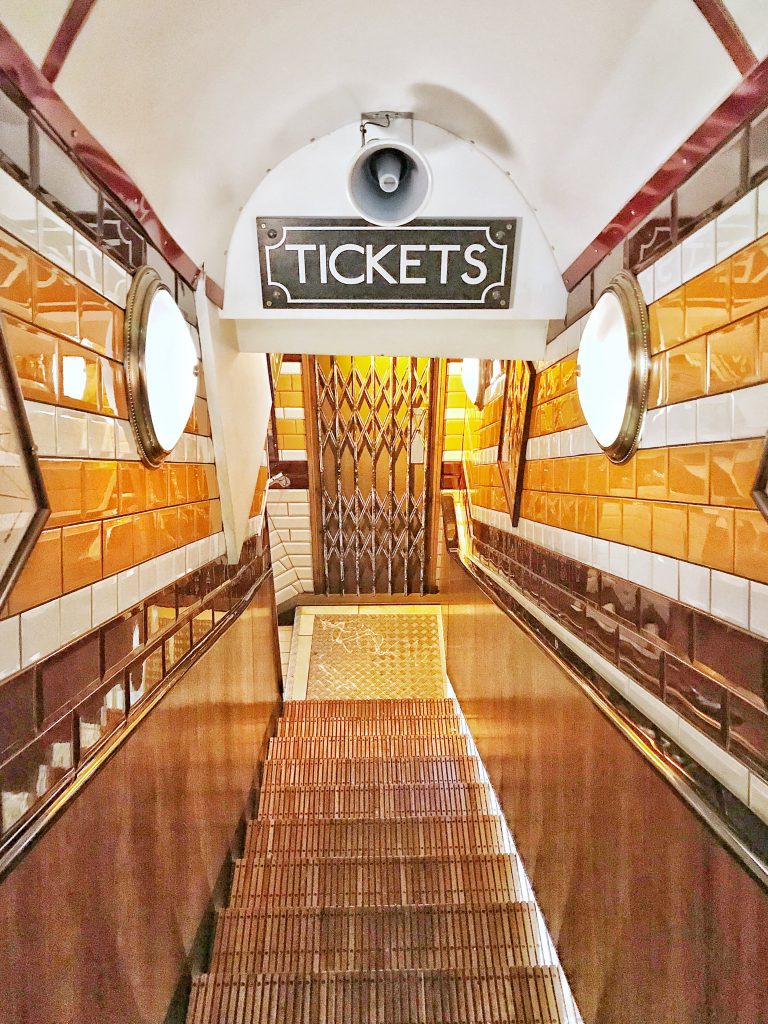 Moonshine Saloon
To all the cowboys out there, Moonshine Saloon is where you get to drink delicious cocktails in a Wild West Saloon. You'll have a cowboy hat and jacket, obvs, and you need to bring your own liquor. Just make sure the sheriff doesn't find out. Learn more here.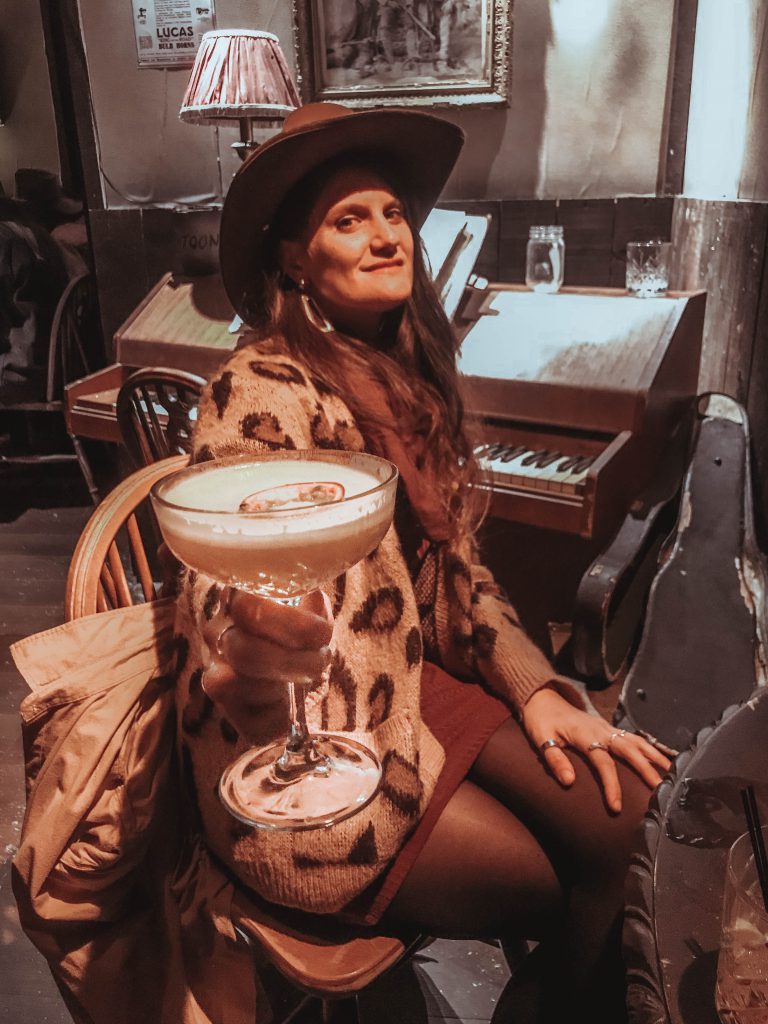 Mr Foggs
Mr Fogg's have various Insta-worthy adventurous bars, each with different themes, inspired by Phileas Fogg's incredible journey around the world. The concept behind Mr Fogg's bars is Jules Verne's famous novel, Around the World in 80 Days. The bars are stuffed with things Mr Fogg might collect during his journey. Maps and charts, flags and stuffed animals, old bicycles, bird cages, antique clocks and telescopes. It's not just the decoration that reflects Mr Fogg's Victorian world. Each Mr Fogg's venue offers different cocktail menu tailored to the bar's specific theme helping you stepping into the novel's pages and completely immerse into the fantasy novel. Check it out here.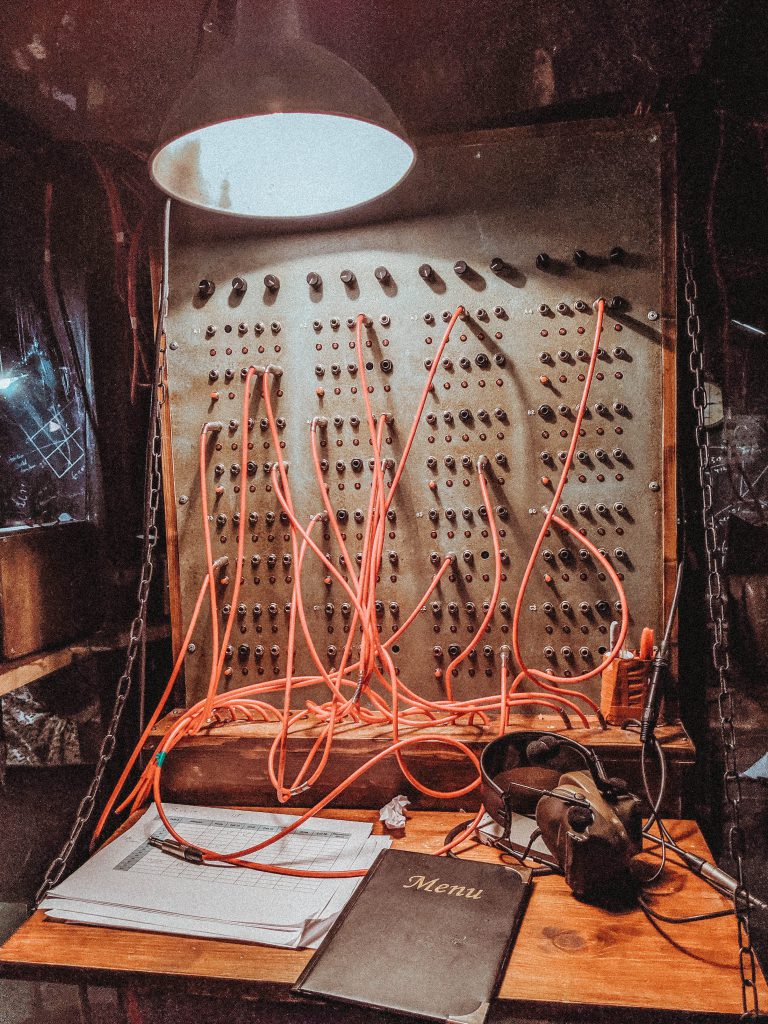 The Bletchley
Are you into solving cryptic missions? The Bletchley involves drinking cocktails while solving secret missions and decoding encrypted messages using a WWII enigma machine! You'll also get to wear a secret agent jacket while you are at it. Also did I mention that the cocktails you are made, are specifically tailored to your unique taste and personality? Book it here, and when you are done grab dinner at Jolie which is just upstairs and it's de-li-cious. You'll finish the evening saying: Oh, what a night, what a night, what a night!
The Cauldron
In The Cauldron you become a wizard in an immersive & interactive potions class where you make "magic" cocktails using a cauldron and a magic wand with special properties (and cough cough, science). Harry Potter fan or not, you'll love it! Learn more here.
LONDON'S IMMERSIVE DINING EXPERIENCES
London's immersive experiences where multi-course dining is part of the experience to spark all the senses!
Monarch Theatre
Probably the world's best immersive dining experience right now, Monarch Theatre will take you on a culinary and visual journey with the help of floor-to-ceiling screens and 360-degree projection mapping. Truly a one-of-a-kind gastronomic show, with carefully crafted staging and immersive courses that play with the senses. The experience is abundantly rich in storytelling, of characters good, evil and the blurred lines in between. And some of the courses are out of this world: one of them levitates. Book it here.
Dans Le Noir
In Dans Le Noir you enjoy a multi-course dinner in the dark. Yes, pitch black, probably the darkest dark you have ever been in. It's something I believe everyone should do at least once, it's an unforgettable experience, which simply can't be explained. You need to experience it yourself! There are various menu choices available, with or without wine pairing. Book it here.
Faulty Towers Dining Experience
Faulty Towers The Dining Experience, is a critically acclaimed international immersive phenomenon that celebrated its tenth birthday in London's West End! It is a highly interactive experience, where audiences enjoy a 3-course meal and 5-star comedy. A loving tribute to the BBC's classic TV series, the show has been seen by over a million people worldwide since it was born in Australia in 1997 and is London's longest running immersive show. It is loads of fun! Book it here.
Supperclub.tube
Come and join Bea and the Supperclub team in a food journey from Mexico to Patagonia. Three nights a week, a tube carriage is transformed into a dining space where a carefully curated playlist and dimmed lights set the atmosphere for an amazing dinner. The menu changes frequently, but always has one thing in common, it's delicious! Book it here.
The Murdér Express Part Deux – Jewel of The Empire
The famous immersive dining 'whodunnit' experience 'The Murder Express' is back with a sequel with a refreshed story and new bespoke menu. Travel to Pedley Street Station and hop into The Murdér Express for a train journey and delicious 4-course meal while you also work on solving a murder that happens on board. This London immersive dining experience is funny, exquisite and loads of fun. Book it here.
LONDON'S IMMERSIVE AFTERNOON TEA
Wizard Afternoon Tea at The Georgian Hotel
Every Saturday-Sunday from 13:30-17:00pm The Georgian House Hotel offers wizards a spellbindingly delicious afternoon tea. It includes a selection of savoury treats (not just your regular sandwiches!) sweet and savoury scones, a tasty trio of new desserts. There's obviously a smoky cauldron and a magical takeaway treat as well. Book it here.
Enjoyed this article? Support my work by buying me an oat capuccino. Otherwise, do me a great favor of leaving a comment and following me on Instagram (@travelwithpau). Feel free to say 'Hello!' I don't bite. And make sure you save the article for later!