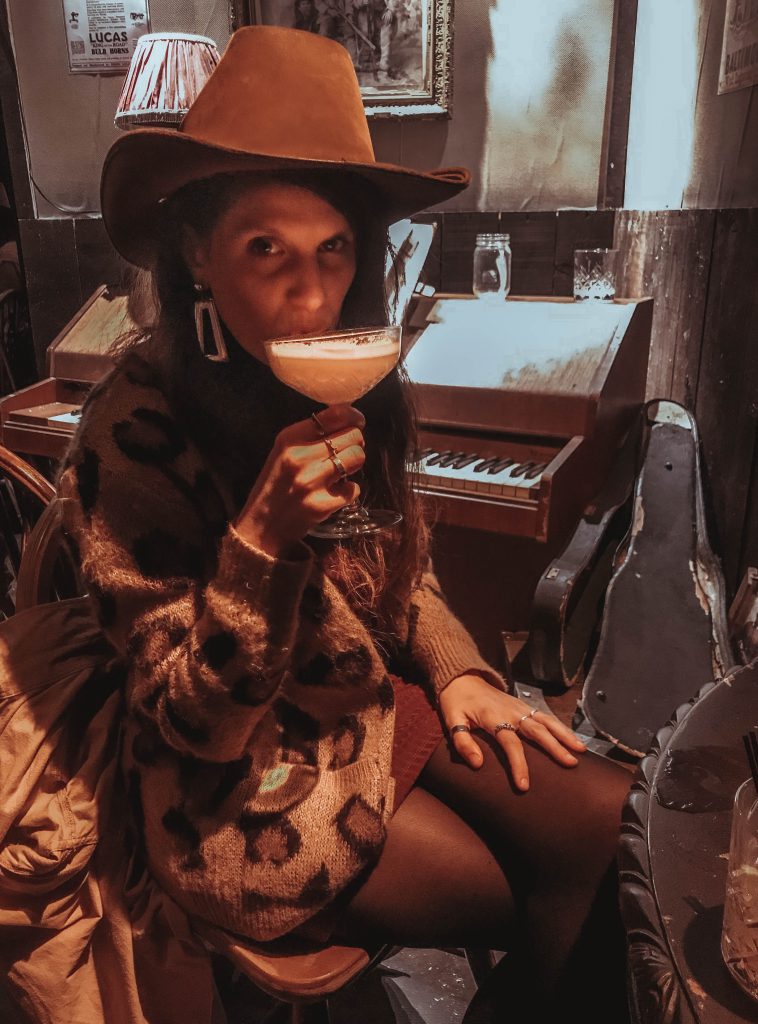 Howdy readers! Are you up for some Wild West action right in the heart of London's Chelsea? Moonshine Saloon invites you to spend an evening drinking amongst fellow cowboys in a clandestine saloon. It is an immersive experience where you will be part of a cowboy story while you sip incredible cocktails. It's also BYOB — you'll need to bring 35cl of your favorite spirit per two guests and the bartenders will craft three to four delicious drinks. This is how it went for us.
Upon arrival, we were directed to the local tailor and provided with a Stetson hat, jacket and cowboy bandana. We then entered the saloon and got comfy in our table.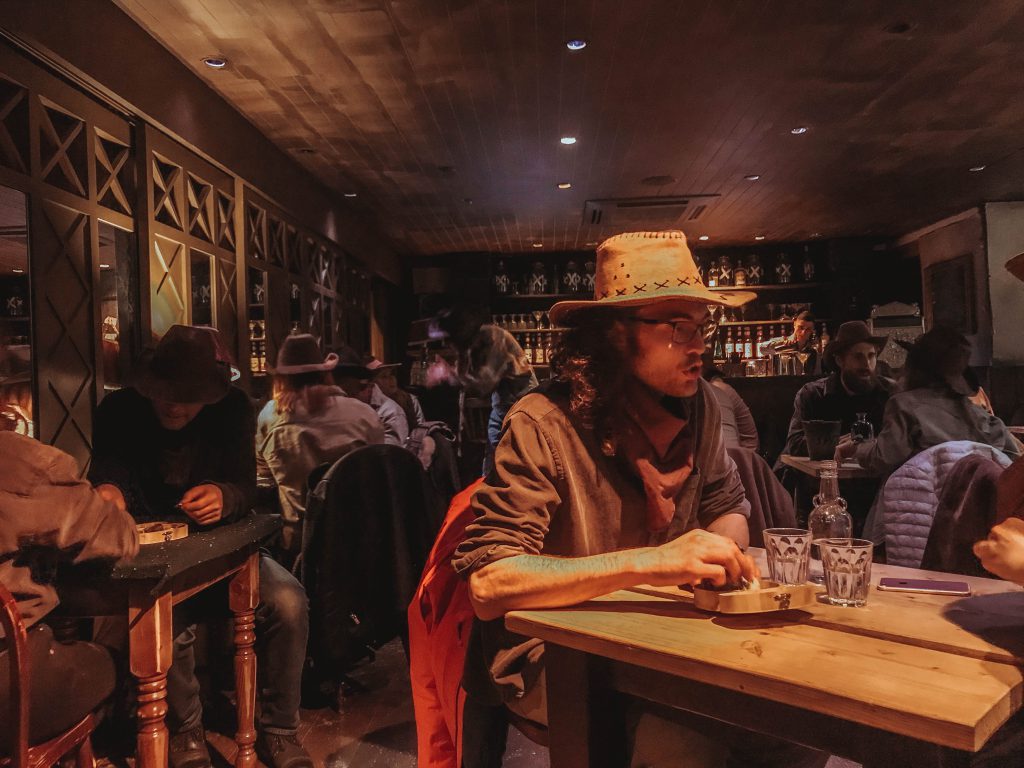 Briefly after the man of the evening — Clyde Cassidy — took us downstairs to see his illegal moonshine distillery. He asked us to be discrete when in the saloon as the sheriff would be around and he could not find out about the distillery. Clyde's wife, Ada, also doesn't know about it and Clyde asked us to keep it that way. We learned that we were distributor's of Clyde's moonshine. That was our role that evening.
Now back in our table someone came to collect your sealed bottle of liquor. We brought a 35cl bottle of gin but it can be vodka, whisky, rum or any other cocktail base. We were asked if we had any allergies and gone was our bottle of Hendrick's gin.
Now a handsome cowboy with ginger hair longer than any other girl in the room came and offered us to gamble. When we had arrived, he had placed a box with a dollar bill and some cents. We used those to gamble on dice. We very quickly lost all of our gambling money.
And finally, our first round of drinks arrived! Our drink had a purple syrup and blackberries. It was delicious. Two orange coloured drinks followed, one with passion fruit and the second one I'm not sure but it was also delicious. The drinks were honestly — top notch. Of course having a good gin helped, but cheers to the barman on his serious cocktail crafting skills. After our third round of cocktails, the waiter notified us that our bottle was now finished.
During our entire time drinking we were surrounded by actors who never stopped playing the part. Ada, Clyde's wife, came round for a chat a couple of times. The sheriff was also always around and looking for "good music, fine liquor and beautiful women". Of course everyone had a bulletproof american "cowboy" accent. The music, the props, the crowd in Stetson hats, the actors…it really felt like the Wild West.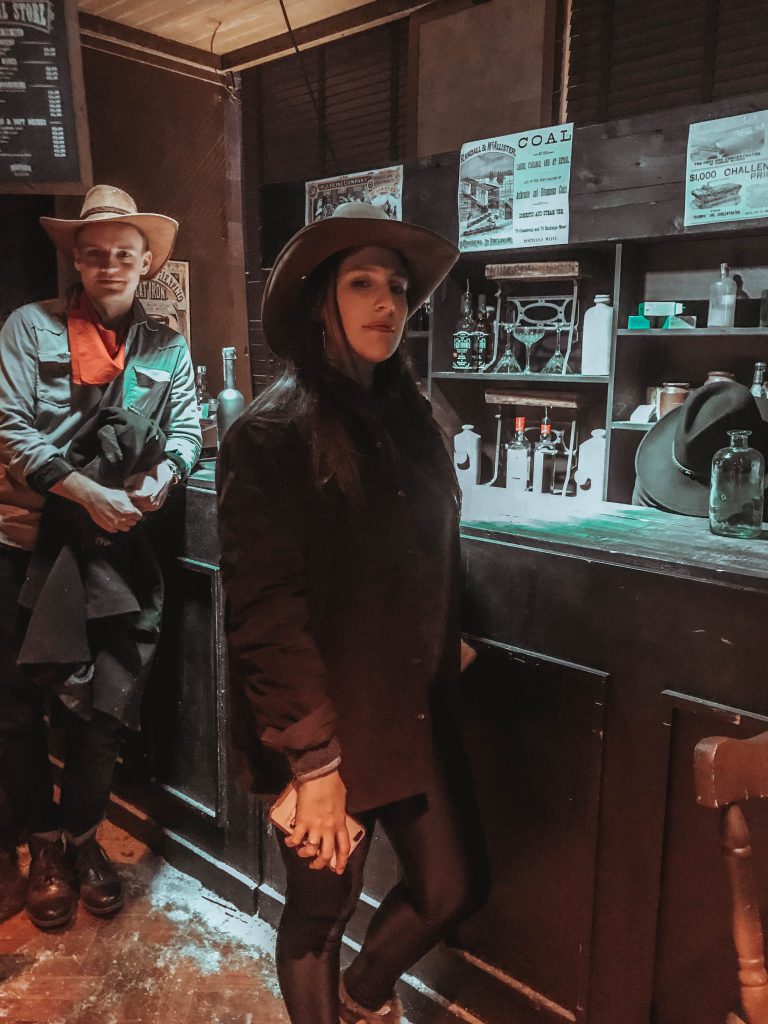 After about two hours of drinking the story of Clyde, Ada and the Sheriff arrived to a climax — which I won't spoil for you here. Shortly everyone in the room was directed upstairs to the General Store where we stayed for a little bit more. There is a bar there so you could order and pay for more drinks if desired. We decided it was time to leave for dinner, so we left our hats and jacket back at the tailor's and were on our way to the real world.
My verdict: one of the best immersive experiences in London. Would totally do it again!
The entrance to Moonshine Saloon costs £34.99 and includes the crafting of up to four cocktails as well as any garnishes needed for them. You just have to bring the liquor! You can purchase the ticket here. It is only on until end of April so you need to hurry.
Inventive Productions — the guys behind Moonshine Saloon — also have other immersive experiences in London. Feel free to take a look at my post on the Pirates of the Hidden Spirit experience which I also visited and loved.
If you liked this article please leave a comment and follow us on Instagram.