As I stepped foot in Istanbul, I instantly fell under the enchanting spell of this vibrant city that bridges Europe and Asia. Istanbul, with its rich history, diverse culture, and breathtaking architecture, offers an immersive travel experience like no other. From the bustling markets to the majestic mosques, every corner reveals a story waiting to be discovered.
Although it may not seem like it when you arrive, Istanbul has so much to see and enjoy. It's a lot bigger than meets the eye, anddefinitely bigger than Sultanahmet (Old Town) where most tourists limit themselves to.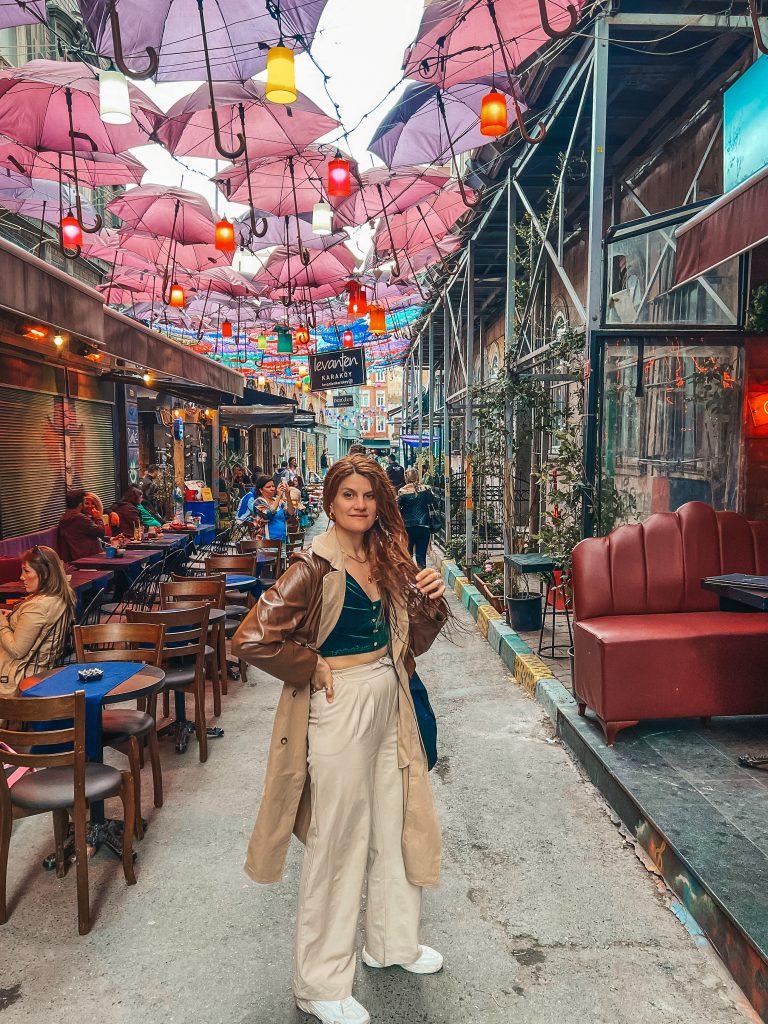 WONDERFUL THINGS TO DO IN ISTANBUL
Get acquainted to the city with a walking tour
I usually start all my big city trips with a walking tour so I can plan my remaining time more efficiently, and have an local in hand to ask all the really important questions, like how to get around or better where do I buy the best Turkish Delight?!
Climb the Galata Tower
The iconic Galata Tower is one of Istanbul's most recognizable landmarks. Dating from the 14th century, it's a symbol of Istanbul for as long as anyone can remember. Climb to the top for an unbeatable view of the city, climb up to the top. Entrance is paid, however if you purchase the Istanbul Tourist Pass, it is included.
Admire the Hagia Sophia
The Hagia Sophia needs no introduction or explanation: it's one of the most iconic sites in the world. It is the largest church built by the Eastern Roman Empire. Hagia Sophia became a mosque again in 2020 by Presidential decree, which has been controversial, but means visitors can enter for free. As it's a mosque women and men have to dress according to Islamic rules: for both men and women legs and arms need to be covered, no shorts or skirts above the ankle. Women need to cover their hair. I recommend you book a tour, as there isn't much signage to read inside, so the self-guided experience isn't great.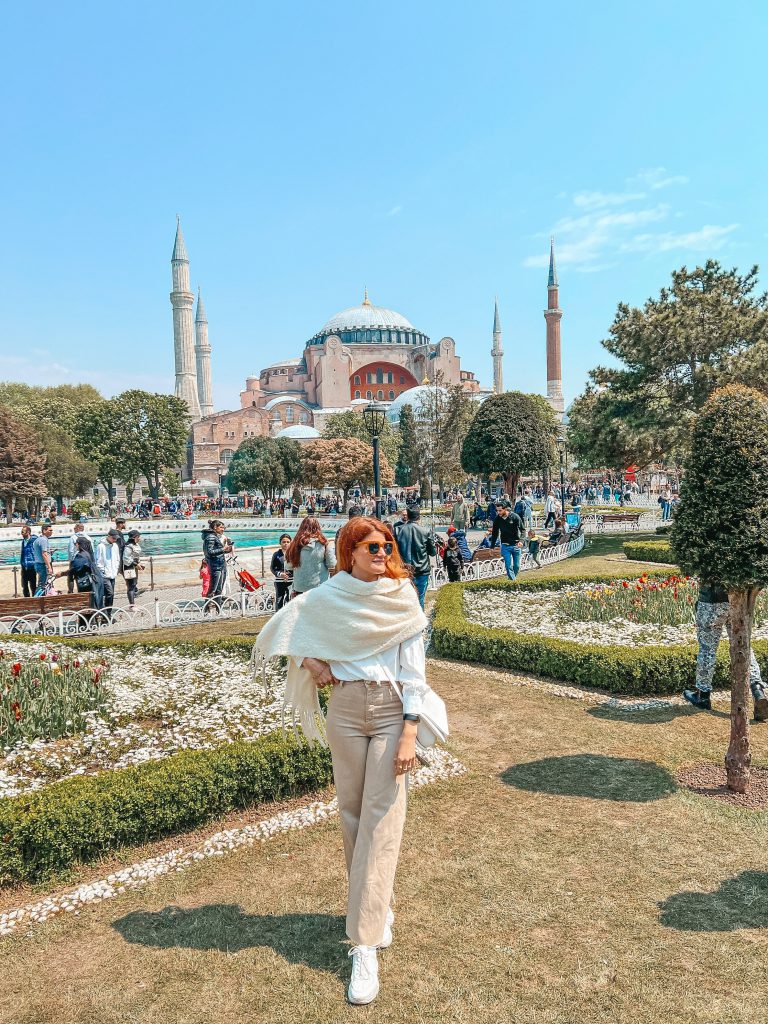 Drop by the Blue Mosque
Just as iconic to the Istanbul skyline as the Hagia Sophia and just across it, no visit to Istanbul is complete without paying a visit to the gorgeous Blue Mosque. Also known as the Sultan Ahmed Mosque, you'll be captivated by its striking blue tiles and cascading domes. Take a moment of serenity in this architectural masterpiece that has become synonymous with Istanbul's skyline.
Rest in The Gülhane Park
Gülhane Park is considered an important spot, especially for its historic features. Located in the centre of Fatih and right by Topkapi Palace, it's flowery paths are lovely to walk along and take pictures.
Go on a Ferry Ride Between Two Continents
Istanbul is the city where Asia and Europe meet and travelling from one continent to another takes just 15 minutes. Don't forget to buy simit (bagels) to throw to the seagulls that will follow the ferry.
Wander through the Spice Bazaar
Immerse yourself in the scents and flavors of the Spice Bazaar, also known as the Egyptian Bazaar. Stroll through the narrow aisles filled with stalls showcasing an array of spices, dried fruits, teas, and traditional Turkish delights.
Get scrubbed at a Hammam
Immerse yourself in the ancient tradition of a Turkish bath by getting scrubbed at a Hammam. Surrender to the soothing heat, invigorating scrub, and relaxing massage, leaving you refreshed and rejuvenated. Here's a list of recommended Hamams, but my favourite was Aga Hamami: affordable, good and tourist friendly. If you want to skip the research, you can book a spa experience right here.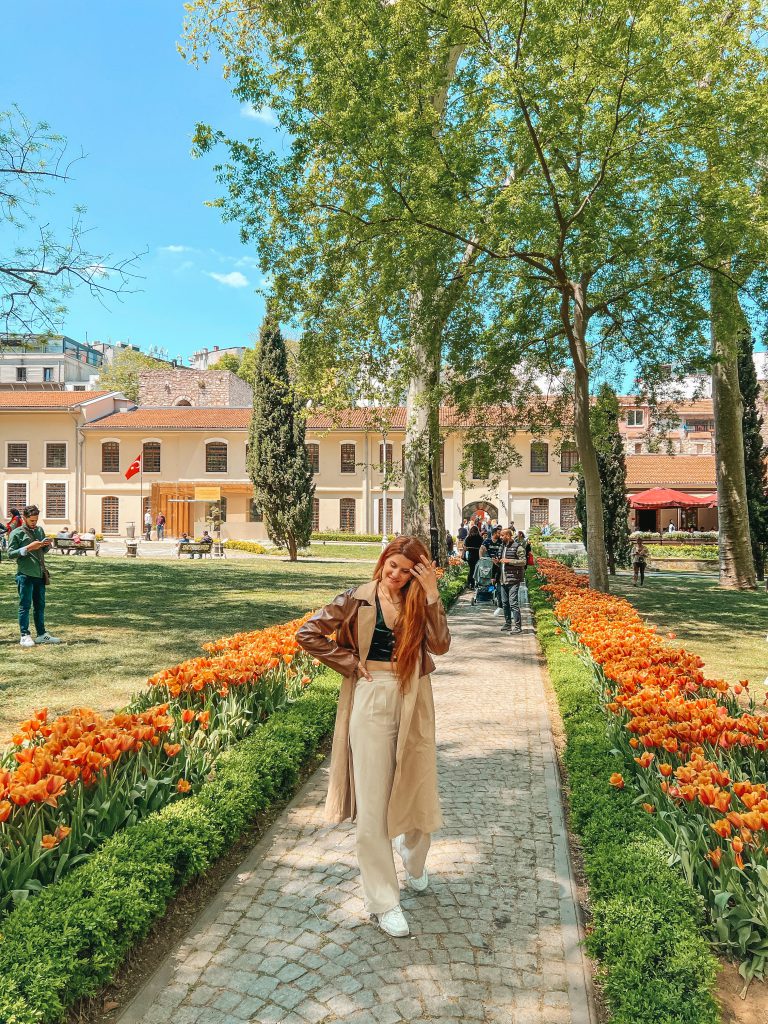 Cross Galata Bridge on Foot
Take a leisurely stroll across Galata Bridge, connecting the historic Sultanahmet district to the lively Karakoy neighborhood. Enjoy panoramic views of the Bosphorus and witness local fishermen casting their lines into the water, creating a picturesque scene. Best done when the sun is coming down!
Savor Balik Ekmek in Eminonu
Treat your taste buds to a delicious Balik Ekmek, a grilled fish sandwich, in the bustling district of Eminonu. Enjoy the freshly caught fish, grilled to perfection, nestled in a warm bread roll, topped with tangy sauces and crisp vegetables. Here's where to have it.
Explore Taksim Square
Immerse yourself in the vibrant energy of Taksim Square, the heart of modern Istanbul. Discover a bustling hub of shops, restaurants, and entertainment venues. Take a stroll along Istiklal Avenue, the main pedestrian street, lined with historic buildings and adorned with colorful tramways.
Eat Islak Burger (Steamed Burger) in Taksim
Delight in the unique flavors of Islak Burger, a steamed burger, in the lively district of Taksim. Sink your teeth into the soft bun, filled with juicy meat, topped with a savory tomato-based sauce, and enjoy this local street food favorite. Everyone I recommended this absolutely loved it! Here's where to eat it.
Relax at Ataturk Kultur Merkezi's Library
Find a cozy corner at Ataturk Kultur Merkezi's Library and immerse yourself in a world of literature. Get lost in the pages of captivating books, surrounded by a serene and peaceful atmosphere. It's a beautiful library too, and the Ataturk Cultural Center always has cool, free exhibitions.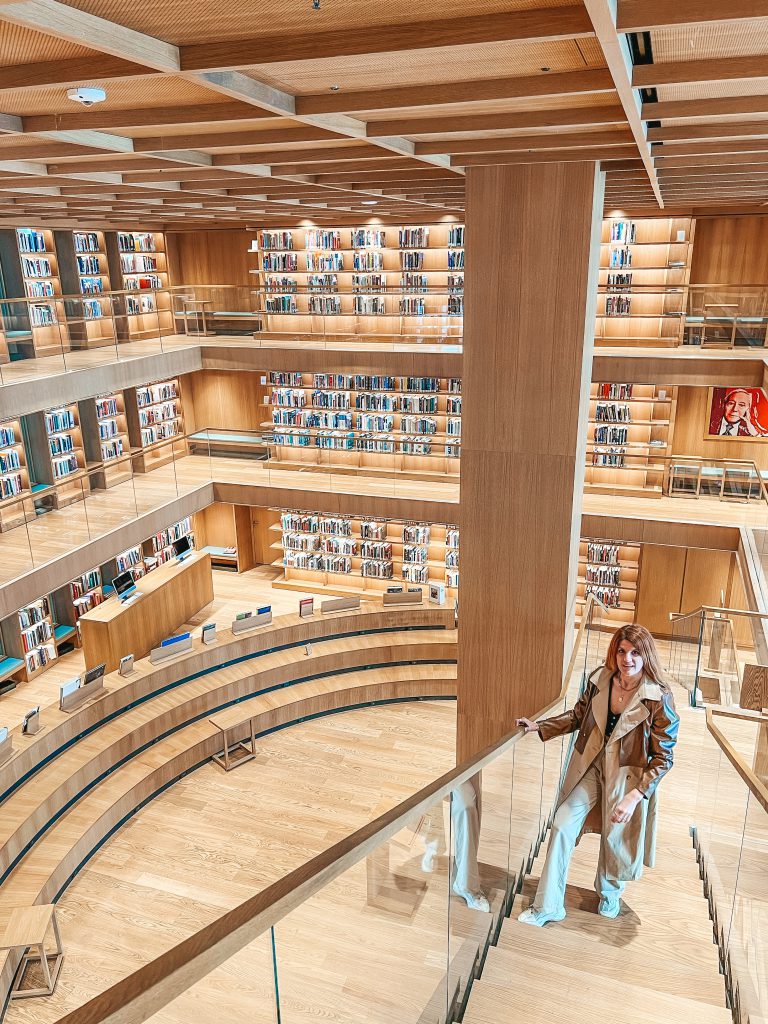 Feast on Some Desserts at Hafiz Mustafa
Satisfy your sweet tooth at Hafiz Mustafa, a renowned dessert shop. Sample a delectable array of Turkish delights, baklava, and other traditional treats, each bursting with flavors that will leave you craving for more, believe me! There are various locations so you'll never be too far from one. Here's where to find them.
Visit the Grand Camlica Mosque on the Asian Side
Venture across the Bosphorus to the Asian side of Istanbul and visit the majestic Grand Camlica Mosque. Stop and admire its elegant architecture, intricate designs, and serene ambiance as you soak in the panoramic views of Istanbul from its elevated location.
Wander Along Bustling Istiklal Street
Immerse yourself in the vibrant atmosphere of Istiklal Street, Istanbul's most famous pedestrian avenue. It's so fun to experience the lively energy as you stroll past shops, boutiques, cafes, and historic buildings, while enjoying street performances and people-watching.
Explore Topkapi Palace and the Palace Grounds
Step back in time and explore the magnificent Topkapi Palace, once the residence of Ottoman sultans. Wander through its opulent rooms, gaze at priceless treasures, and wander through the beautiful palace gardens, marveling at its historical significance. There is quite the queue to the Palace, so I recommend you get this guided tour + skip the line ticket to save you valuable holiday time.
See a Whirling Dervish
Immerse yourself in the mesmerizing world of Sufi mysticism by attending a Whirling Dervish performance. A whirling dervish is a religious ceremony performed by Sufis. However, it's become popular for people and tourists to watch these ceremonies. The men whirling in their long religious garb have become a symbol of Istanbul. You'll see little figurines being sold all over the city, but you can catch a live performance as well. Watch the dervishes whirl gracefully, symbolizing a spiritual journey towards enlightenment, accompanied by traditional music and chants. Book your ticket here.
Discover the Museum of Turkish and Islamic Arts
Just across the Hippodrome from the Blue Mosque, you'll find the Museum of Turkish and Islamic Arts. Despite being right in the heart of Sultanahmet, it often goes overlooked for the other attractions. It's included in the Istanbul Tourist Pass, and is well worth it. As the name suggests, it has a huge display of art, from rugs to paintings. However, it also includes ancient artifacts, like strands of hair from the beard of Muhammad and pages from the first copies of the Holy Koran. Marvel at its extensive collection of exquisite carpets, ceramics, calligraphy, and religious artifacts, gaining insights into the country's artistic and historical traditions.
Wander the Hidden Streets of Balat
Uncover the charm of Balat as you stroll through its hidden streets. Admire the colorful houses, picturesque alleys, and quaint cafes, experiencing the authentic local atmosphere of one of Istanbul's most vibrant neighborhoods. You'll have no shortage of colorful photo opportunities here, either. Despite growing in popularity, it is still a quiet residential neighborhood. For any digital nomads or remote workers looking to lay low, Balat is a great spot.
Take A Food Tour of Two Continents
Embark on a culinary adventure and savor the best of Turkish cuisine on a food tour that takes you across two continents. Indulge in a diverse range of flavors, from mouthwatering kebabs and savory mezes to sweet Turkish ice cream, you'll love this tour! Book it here.
Taste Kumpir in Ortakoy
Delight in the ultimate street food experience by trying Kumpir, a stuffed baked potato, in the lively neighborhood of Ortakoy. Customize your Kumpir with a variety of delicious toppings, including cheeses, vegetables, meats, and sauces. Here's the best reviewed stall.
Sample Midye Dolma (Stuffed Mussels) at Midyeci Ahmet
Treat your taste buds to Midye Dolma, stuffed mussels, at Midyeci Ahmet, a popular street food vendor. Enjoy the perfect balance of flavors as you savor these delectable morsels, typically enjoyed with a squeeze of lemon.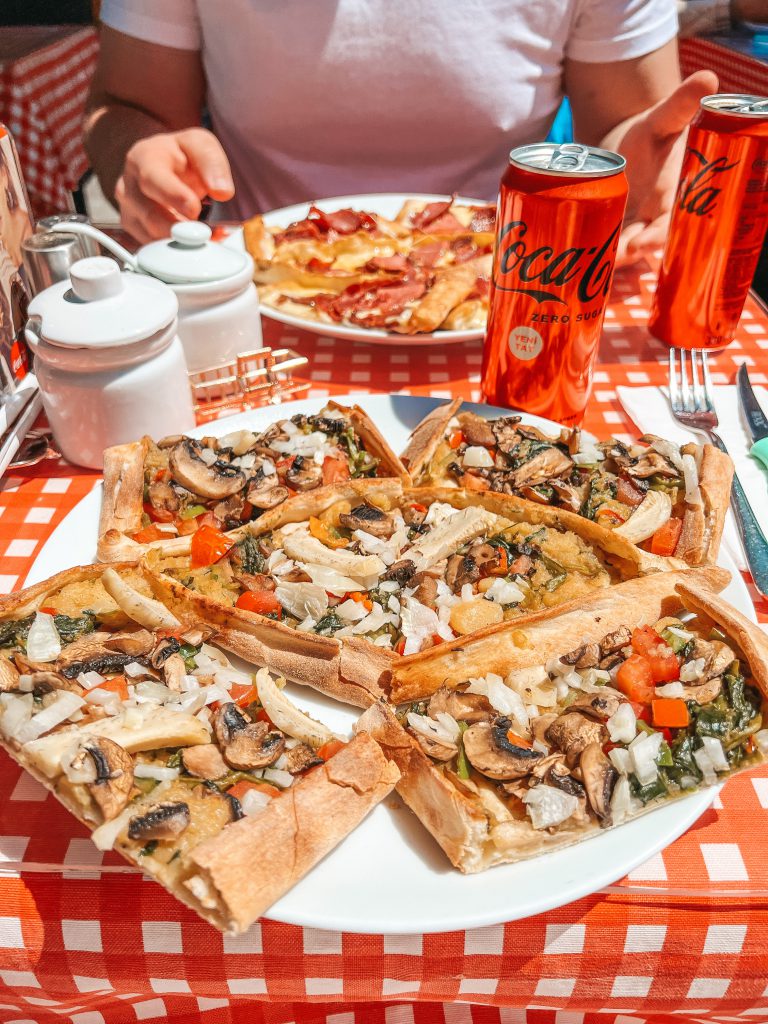 Indulge in Kokorec in Çengelköy
For the adventurous foodie, try Kokorec, a traditional Turkish street food made from grilled lamb intestines. Delight in its unique taste and texture as you savor this flavorful delicacy. There's tons of venues to do this, but you can try this one.
Capture The Colorful Streets of Karakoy
Take out your camera and explore the vibrant streets of Karakoy, known for its colourful buildings, street art, and trendy cafes. Capture the essence of this dynamic neighbourhood, filled with artistic flair and bustling energy.
Enjoy Coffee in Beyoğlu
Take a break from your adventures and savour a cup of rich Turkish coffee in the historic district of Beyoğlu. Enjoy the aromas, flavours, and the traditional ritual of Turkish coffee brewing while immersing yourself in the local ambience. Here's my list of best coffee spots in Istanbul.
Drink Pickle Juice
Quench your thirst with a unique and refreshing drink, pickle juice. This tangy and slightly sour beverage is made from the brine of pickled vegetables and is a popular choice among locals. Give it a try for a distinct taste experience. I wasn't brave enough to to try it but I trust you will be! Here's where to do it.
Drink Tea with a View at Pierre Loti
Unwind and enjoy a cup of traditional Turkish tea while admiring the breathtaking view from Pierre Loti. Take in the panoramic vista of the Golden Horn and the historic city skyline, offering a serene and picturesque setting. A great place to do so is here.
Explore the Breakfast Street of Besiktas
Start your day with a mouthwatering breakfast on the Breakfast Street of Besiktas, known for serving great breakfast. Indulge in a variety of traditional Turkish breakfast dishes, including fresh bread, cheese, olives, jams, pastries, and more, accompanied by aromatic tea. Here's some of the best places to try.
Experience the Opulence of Dolmabahçe Palace
Step into the luxurious world of Dolmabahçe Palace, a magnificent symbol of Ottoman grandeur located on the European shores of the Bosphorus. Marvel at the exquisite architectural beauty and opulent interior, with stunning crystal chandeliers, intricate ceiling paintings, and lavish furnishings. Admire the fusion of European and Ottoman design elements and take in the breathtaking views of the Bosphorus from the palace's gardens. Immerse yourself in the lavishness and grandeur of Dolmabahçe Palace, a must-visit destination that showcases the wealth and splendour of the late Ottoman Empire. Book tickets and a guided tour here.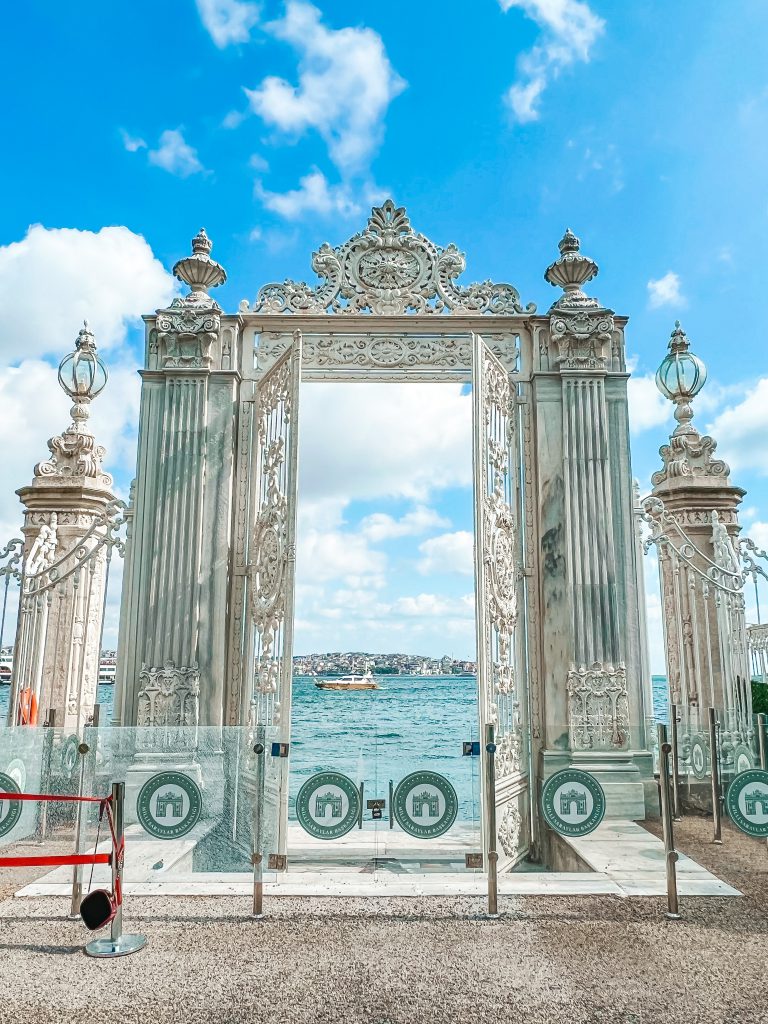 Taste The Famous Vefa Boza
Experience the unique flavor of Vefa Boza, a traditional Turkish fermented beverage made from fermented millet. Sip on this slightly tangy and sweet drink, often served with a sprinkling of cinnamon and roasted chickpeas. You will find it.
Have Turkish Ice Cream
Delight in the famous Turkish ice cream, known for its elastic texture and distinct flavors. Watch as the ice cream vendors put on an entertaining show with their playful tricks and enjoy this delicious treat, available in a variety of flavors. Here's where to try some great ice cream.
Visit the National Archaeological Museum
Immerse yourself in Turkey's rich history by visiting the National Archaeological Museum. Explore its extensive collection of artefacts, including ancient sculptures, pottery, and treasures from various civilisations that have shaped the region.
Have A Mouthwatering Adana Kebab
Treat yourself to the flavourful Adana Kebab, a traditional Turkish dish made from spicy minced lamb or beef, served on a skewer. Enjoy the juicy and aromatic flavours of this popular grilled meat delicacy.
Drink Turkish Coffee in Mandabatmaz
Experience the tradition and rich flavours of Turkish coffee at Mandabatmaz, a famous coffee shop. Savour the strong, aromatic coffee brewed in a cezve, and enjoy the unique experience of fortune telling from the coffee grounds.
Taste Turkish Delight
Sample the iconic Turkish Delight, a beloved sweet treat made from gelatin, sugar, and various flavors such as rosewater, pistachio, or lemon. Indulge in the soft, chewy texture and delightful flavours of this classic confectionery.
Walk Around at Kadiköy
Take a trip to Kadiköy, a vibrant district on the Asian side of Istanbul. Stroll through its lively streets, browse through local markets, and soak up the authentic atmosphere while discovering charming cafes, unique shops, and cultural hotspots.
Eat Delicious Cheesecakes at The Market Bosphorus
Treat yourself to delicious cheesecakes at The Market Bosphorus, a renowned bakery known for its mouthwatering desserts. Indulge in a variety of flavors and textures, from classic New York-style to innovative creations, all crafted with love and expertise.
Sample Baklava at Karaköy Güllüoğlu
Indulge in the delectable layers of flaky pastry, nuts, and sweet syrup by trying Baklava at Karaköy Güllüoğlu, a famous baklava shop. Experience the perfect balance of textures and flavors in this traditional Turkish pastry.
Experience the Dialogue in the Dark
Immerse yourself in a unique sensory experience at Dialogue in the Dark. Step into a world of darkness, guided by visually impaired guides, and gain a deeper understanding of their daily lives and challenges.
Explore the Princes' Islands
Escape the bustling city and take a serene boat ride to the Princes' Islands, a group of charming islands located in the Sea of Marmara. These islands offer a peaceful retreat from the city's hustle and bustle. Enjoy a leisurely bike ride or horse-drawn carriage tour along the car-free streets, admiring the beautiful Victorian-era mansions and lush greenery. Don't forget to indulge in a delightful seafood meal at one of the waterfront restaurants while enjoying panoramic views of the sea. Book your tour here.
Take a Bosphorus Cruise
Embark on a captivating Bosphorus cruise, where you can witness the mesmerizing beauty of Istanbul from the water. Cruise along the iconic Bosphorus Strait, which divides the city into its European and Asian sides. As you sail through the strait, you'll pass by magnificent landmarks such as the Dolmabahçe Palace, the majestic Bosphorus Bridge, and the historic Maiden's Tower. Book it here.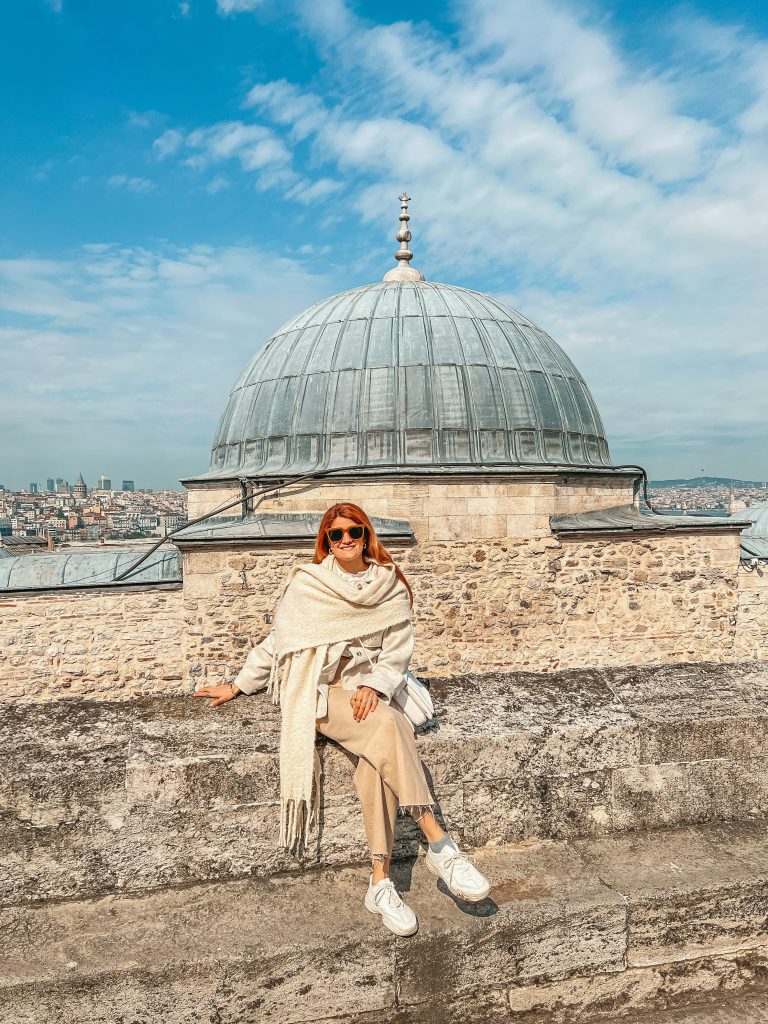 WHERE TO EAT IN ISTANBUL
The toughest part of a trip is to plan where to eat! But I got you, I try to make Google Maps lists of every location I visit. Save the maps depending on what you are looking for, then open them when you are hungry and find a good place to eat near you:
WHERE TO STAY IN ISTANBUL
For a delightful stay in Istanbul, consider these vibrant neighbourhoods, I've linked the top rated hotels in all of these here:
Sultanahmet: Stay in the heart of the city's historic district, where you'll be within walking distance of major attractions like the Hagia Sophia, Blue Mosque, and Topkapi Palace.
Beyoglu: Experience the lively atmosphere of Beyoglu, known for its bustling Istiklal Avenue, trendy boutiques, art galleries, and vibrant nightlife. It's a great choice for those seeking a mix of modernity and history.
Karakoy: Nestled along the Bosphorus, Karakoy offers a hip and artistic ambiance. Discover charming cafes, trendy restaurants, and boutique shops while enjoying stunning views of the water.
HOW TO GET TO & AROUND ISTANBUL
Getting to Istanbul is convenient, with direct flights available from major cities worldwide. Istanbul has two international airports: Istanbul Airport (IST) and Sabiha Gokcen International Airport (SAW). You can find competitive airfares by searching on reputable flight booking platforms. I always book my flights using Momondo. Unlike Skyscanner or other agreggators, Momondo searches on airlines and in travel agencies instead of just airlines, getting almost always better prices. Note: I don't earn any commission from Momondo, I just think it's the best way to book.
Once in Istanbul, getting around is a breeze. The city has a well-connected public transportation system, including trams, buses, and a metro network. Istanbulkart, a rechargeable card which you can get in kiosks in the city center, allows you to travel seamlessly across different modes of transportation. Taxis and ride-sharing services like Uber are also readily available for more convenience, however they charge you the taxi fare. The local app for hailing taxis is called Bitaksi.
BEST TOURS IN ISTANBUL
ISTANBUL FAQs
Is Istanbul safe for tourists? Istanbul is generally a safe city for tourists. However, as with any major city, it's important to remain vigilant and take necessary precautions to ensure your safety. Be aware of your surroundings, avoid isolated areas at night, and keep an eye on your belongings. There are quite a few known scams, we experienced the foot brush scam (but didn't fall for it). As a general rule try to not engage with people on the street. If you are a solo female, it can be uncomfortable because of how many men just hang out together in groups (constantly) so try to not go out alone late at night.
What is the best time to visit Istanbul? The best time to visit Istanbul is during the spring (April to May) and autumn (September to October) seasons when the weather is mild and pleasant. Summers can be hot and crowded, while winters are relatively mild but can be rainy.
What is the currency used in Istanbul, and can I use credit cards? The currency used in Istanbul is the Turkish Lira (TRY). Credit cards are widely accepted in most establishments such as hotels, restaurants, and shops. However, it's advisable to carry some cash, especially for smaller establishments or local markets.
What is the transportation system like in Istanbul? Istanbul has an extensive public transportation system, including metro lines, trams, buses, and ferries. The Istanbulkart, a reloadable transportation card, is convenient for accessing various modes of public transport. Taxis are also widely available, but make sure they use the meter or agree on a price before the ride.
Are there any customs or etiquette I should be aware of in Istanbul? Istanbul has its own customs and etiquette. It is customary to greet people with a handshake, remove your shoes when entering mosques or certain homes, and show respect for local customs and traditions. Dress modestly when visiting religious sites, and avoid public displays of affection.
What are some day trip options from Istanbul? Istanbul offers several day trip options. You can visit the charming Princes' Islands, explore the ancient city of Ephesus, take a cruise along the Bosphorus, or visit the historic towns of Edirne, Bursa, or Sapanca. These day trips provide a chance to explore more of Turkey's diverse attractions.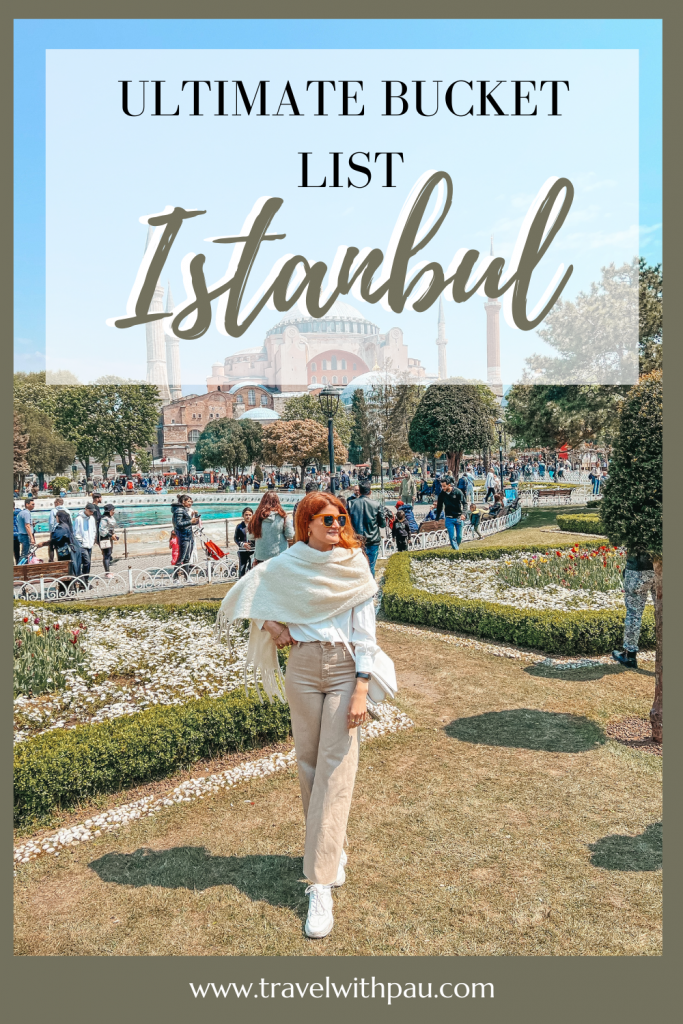 Enjoyed this article? Support my work by buying me an oat capuccino. Otherwise, do me a great favor of leaving a comment and following me on Instagram (@travelwithpau). Feel free to say 'Hello!' I don't bite. And make sure you save the article for later!