What do YOU think of when you think of Belfast? For me all I could think is a troubled past, Titanic and the well known natural phenomenon Giants Causeway. Other than that I had no idea what I was going to discover on my visit and my expectations were low, which is a good thing, but what's better is that they were exceeded. Like through the roof!
As you may know, Belfast is in Northern Ireland which is part of the United Kingdom, my current home. What I loved about visiting Belfast was that I needed to hop on a plane so it gave me the feeling I was travelling abroad when I actually wasn't. That might be you too! Let me walk you through my own personal recommendations on how to spend your time in Belfast.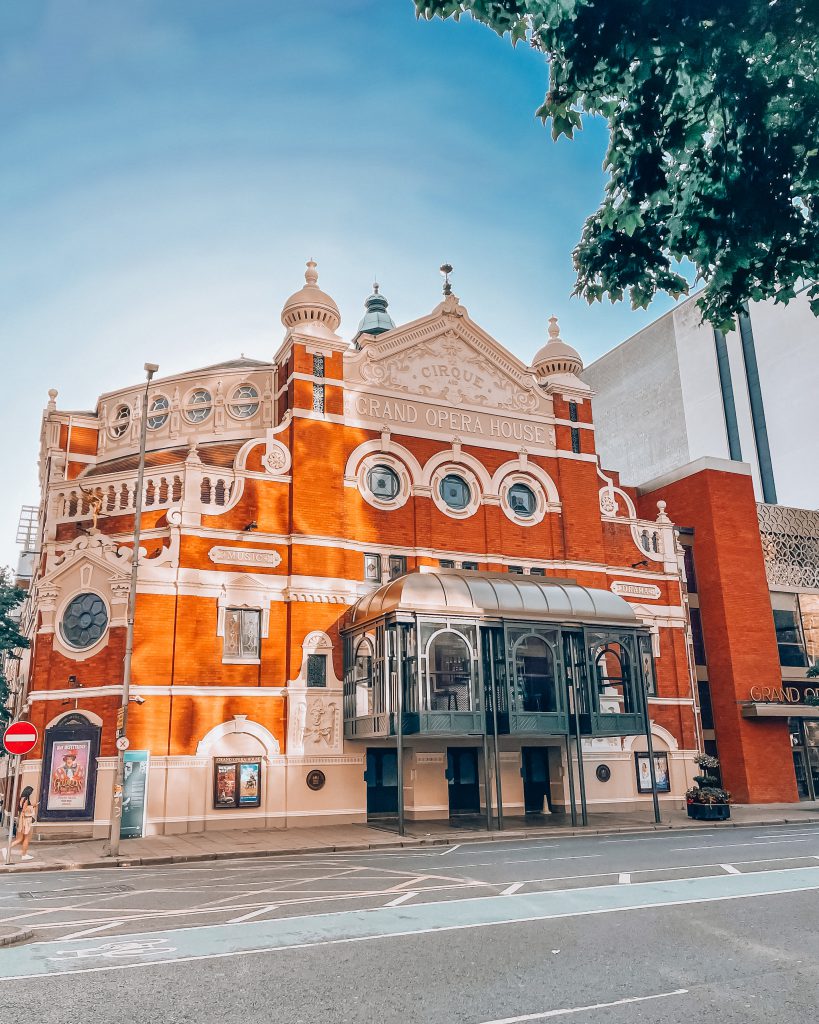 WONDERFUL THINGS TO DO IN BELFAST
Hop-on; hop-off Belfast's main sites
A great way to start your trip is to take a hop-on; hop-off bus across all Belfast city top attractions. It's the perfect way to get started and get an overview of the city if you are short on time and an efficient way to get around the furthest away sites. I took this one with Belfast City Tours and loved it. It stops on 19 sites (many which I feature below) and pricing wise it's great. Book it here, or below:
Relax at the grounds of Belfast City Hall
The grounds of this iconic Belfast landmark are the perfect spot to take a pause from sightseeing or shopping with an ice cream or coffee in hand. Don't forget to relax!
Visit the Titanic Belfast Experience
As I mentioned, Titanic is a Belfast must do. This self guided experience is the best way to discover the sights, sounds, smells and stories of the ship. Book your tickets here.
Spot the Samson & Goliath Cranes
Samson and Goliath are two large shipbuilding cranes owned by Harland and Wolff, and they are situated within the Titanic Quarter in the Harland & Wolff shipyard. They were built in 1969 and 1974 at a time when Harland & Wolff was still one of the largest shipbuilders in the world and were named after the Biblical figures of the same name. Although you can't get too close to the cranes as they are in an active and private industrial area, they are súper easy to spot. The two yellow cranes with the H&W logo dominate the skyline and can be seen from many parts of the city.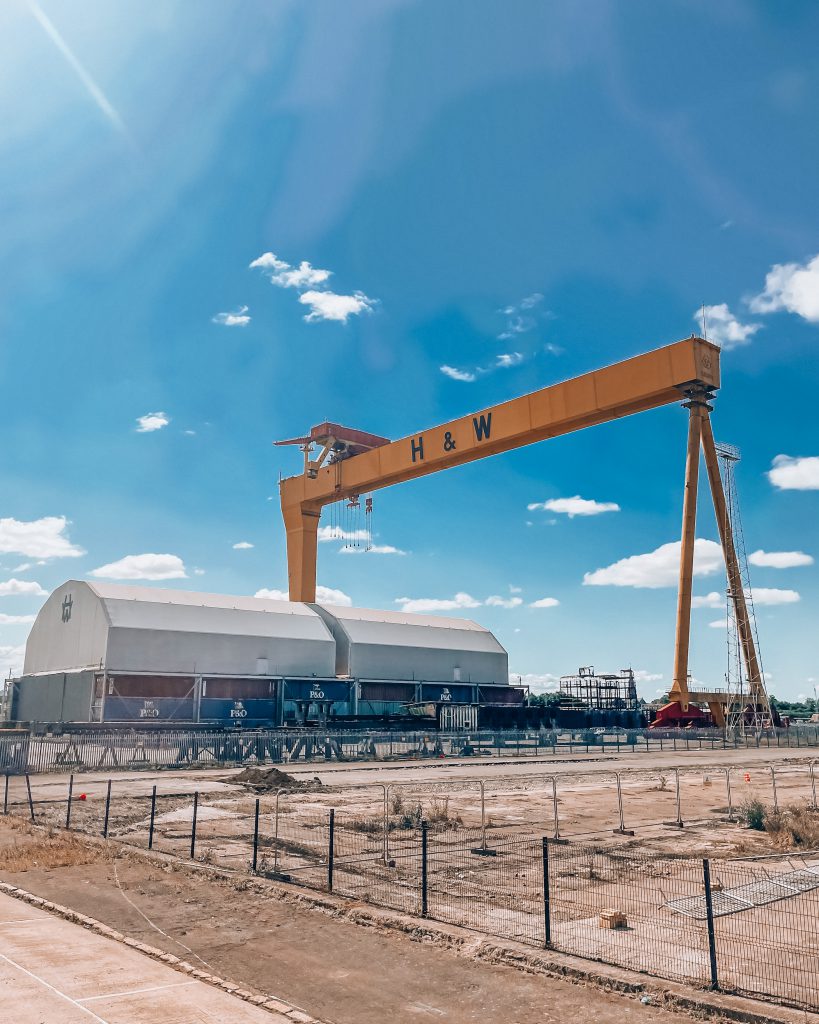 Have a pint of Guinness at The Crown Bar
The Crown is the most famous pub in Belfast and perhaps even the UK! The pub was opened around 1826 by Felix O'Hanlon as The Railway Tavern but it was renovated and renamed in 1885 by the Flanagan family that would turn it into the pub we know today. It was known as one of the most beautiful Victorian era gin palaces in the world. It is absolutely gorgeous and you should not leave Belfast without visiting it! It's pretty popular so make sure to book in advance.
Attend a Candlelight Concert
Enjoy a host of concerts illuminated by candlelight and performed by live musicians in some of the most iconic venues in Belfast. The concerts cover the best musician of all times, movies, and more! Book it here.
Immerse yourself in Van Gogh
Van Gogh: The Immersive Experience is a 360º digital art exhibition in Belfast that invites you to step into the universe of the Dutch genius, Vincent van Gogh. It is brought to you by the organisers of a collection of widely successful exhibitions present in cities across Europe, Asia and the Americas. Book it here.
Get mesmerised by Monet
Really into impressionism? Monet: The Immersive Experience is a 360º digital art exhibition that invites you to step into the world of the French painter Claude Monet, one of the greatest artistic geniuses of the nineteenth century. If this is your thing, get your tickets.
Shop till you drop and admire Belfast from above at Victoria Square
Belfast is known to be great for shopping, and this is the place to do it. In Victoria Square you'll find four levels of shops, food and drink venues plus 360 views from Belfast at The Dome. So many people come over from Southern Ireland to Belfast just for shopping!
Tour the Grand Opera House
The Grand Opera House will immediately catch your eye as you walk through central Belfast, definitely did so for me! It was built in 1895 by famous English theater architect Frank Matcham and has become a city landmark. It is the only Victorian theater still remaining in Northern Ireland and is well-known for its beautiful interior. The good thing is that you can do a guided tour of its inside! Plan your visit here.
Enjoy a walk around Belfast Castle
Don't forget to discover the scenic trails from this beautiful 1870 baronial castle. You can also enjoy lunch or afternoon tea here, as well as take in the views from the city and Belfast Lough. Plan your visit here.
Browse the stalls of St George's Market
This Victorian market is a Belfast must do if you are visiting from Friday to Sunday. You'll find the finest produce as well as some lovely hot food. Also it's the perfect place to buy a unique Belfast souvenir. As a market lover, I really enjoyed St George's.
Tour St Anne's Cathedral
Pay a visit to this magnificent place of worship and treasure trove of Belfast's art, history, culture and music. Plan your visit here.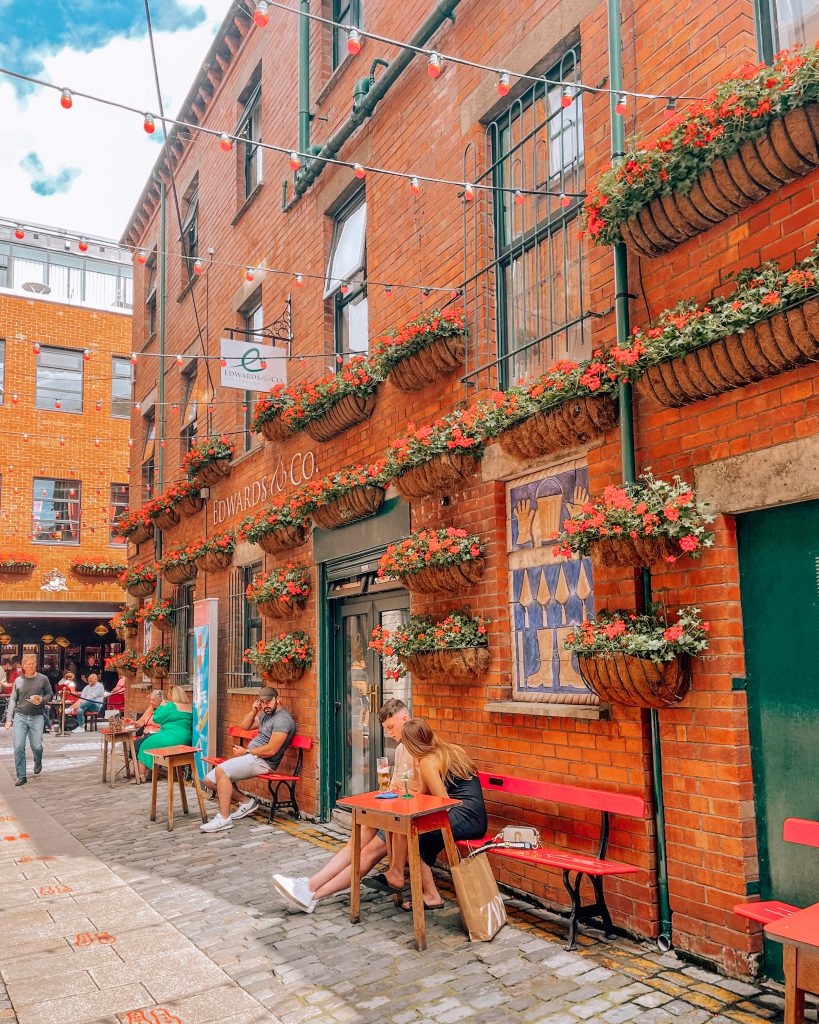 Have drinks in Belfast's best beer gardens
Belfast City Center has so many cool spots where you to enjoy a drink or two! Here are my recommendations in order of preference: The Dirty Onion, The Bone Yard, CARGO, Babel Rooftop Bar & Garden, Cutters Wharf, The Perch, Kelly's Cellars and Granny Annie's. Save them in Google Maps!
Check out Belfast's Street Murals
The street murals in Belfast are well-known worldwide and it is a popular city for street art enthusiasts. Even if you are not interested in street art, you are bound to run into many of them as they are everywhere.
Initially most of the street murals were political and related to The Troubles in Northern Ireland, and were created by people with a variety of perspectives from both sides. Most of the more politically focused murals are further from the city center with many located around the Peace Wall (see next point).
See the Peace Wall
What shocked me during my visit is that there are actual walls dividing areas of Belfast (and Northern Ireland). The first physical divides or peace lines were built in 1969 after the outbreak of riots in Northern Ireland and the beginning of the Troubles. The walls, fences, and other barriers were used to divide predominately Protestant/Unionist areas of a neighbourhood from predominately Catholic/Nationalist areas of a neighbourhood. The walls were meant to be temporary but they remain today and have actually grown in quantity over time which is even crazier.
The most well known roads that are known to be divisive and were major roads during the troubles are Shankill and Falls Roads. Visiting the Shankill, The Falls and the Peace Wall is absolutely safe if you are a tourist. Some locals might not be willing to visit these if they consider themselves as part of one of the sides. I visited them in my Belfast Hop-on, Hop-off tour but there are more specific tours such as this one if you want to learn more.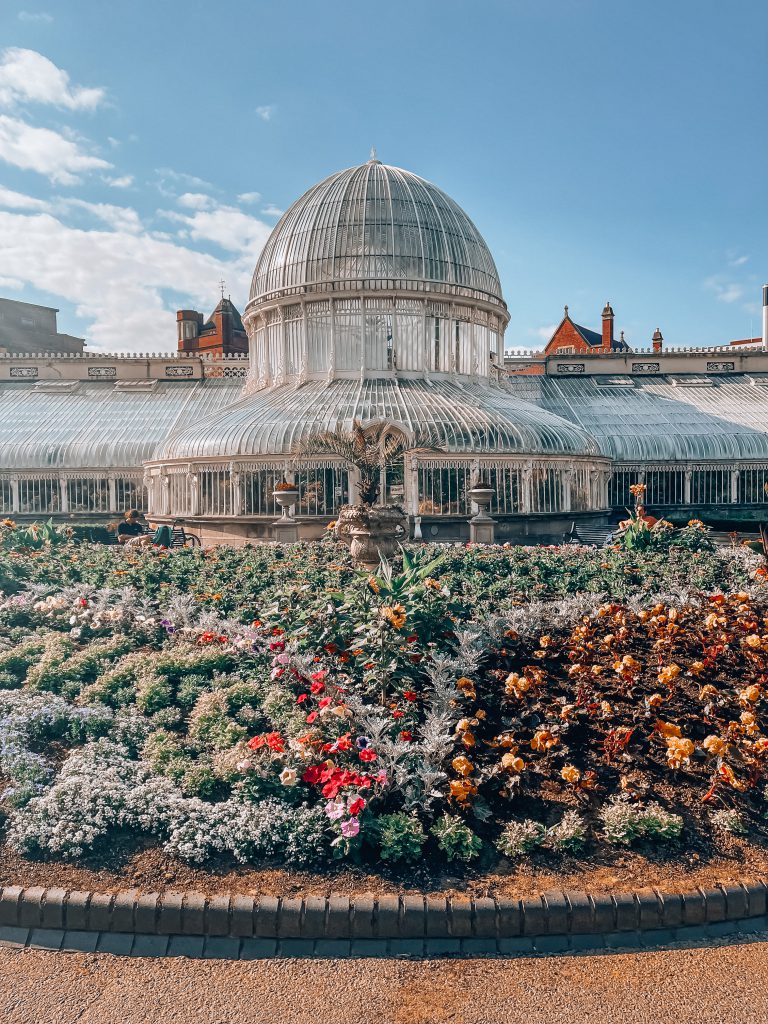 Walk the Glass of Thrones trail
Did you know Belfast's Titanic Studios where for 10 years part of the set of Game of Thrones? Because of this, there is now huge stained glass windows depicting some of the most iconic scenes from Game of Thrones which form a trail along the Maritime Mile. They are such a nice 'wee' walk to do during your visit (Northern Irish add 'wee' to everything all the time!). Do it on your own or get a guide for almost no money.
Have a wander through Belfast's Botanic Gardens & Ulster Museum
Located in Queen's Quarter, the Botanic Gardens are a nice place to drop by if you love a green spot. The greenhouse is beautiful and super insta friendly! You'll also find the Ulster Museum right by it (it's free to visit).
Try an Ulster Fry
Nope, no English Breakfasts in Northern Ireland! You need to try an Ulster Fry when in Belfast. It will certainly give you energy for the day ahead. IT IS HEAVY. Care to try potato bread? Mmm, yes! Here's a recommended spot.
Say hi to The Big Fish
In Belfast's Maritime Mile you'll find a ceramic fish with blue scales called The Salmon of Knowledge. Personally I didn't find it particularly interesting, but legend has it that if you kiss it you'll gain all its wisdom. We all have a kiss to spare don't we?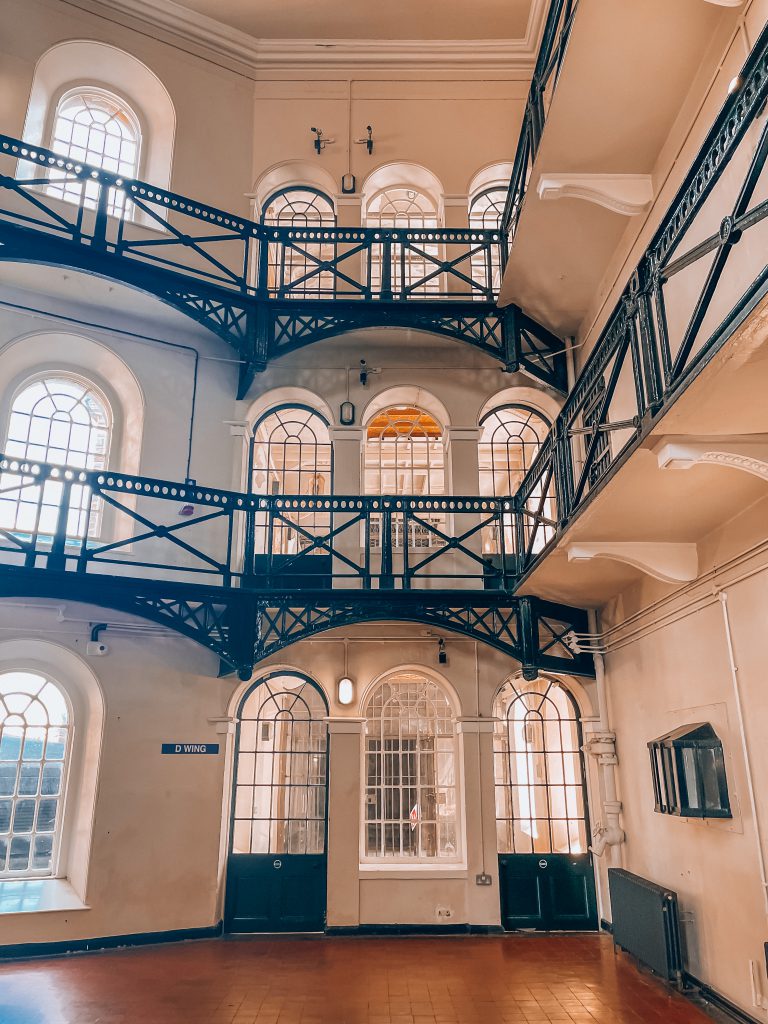 Visit Crumlin Road Gaol
This Belfast jail built in 1843 has an interesting past which can be explored via a unique interactive self-guided tour. I really enjoyed the way it was put together in an out of the box way. Before you go in, make sure you take a look at the derelict building in front of it which was the court house. Prisoners were sentenced there and sent to the jail via an underground tunnel. Mad isn't it? Book it here.
Take the perfect Instagram shot at Commercial Court
If you are like me and you are always wondering what the best insta spot is then I have that figured out for you! Commercial Court is the answer. Colourful umbrellas, flowers and quaint bar signs are the recipe for success. Find it here and let me know if you agree with this being Belfast's most instagrammable spot.
Play an epic Zombie Escape game
Before visiting Belfast a friend of mine said: 'You are going to Belfast? You HAVE to do this escape game'. I followed their advice and it was epic! Zombies are involved but only minor scares, the puzzles are what make the game. Book it here.
Take a day trip to the Causeway Coastal Route
You can't visit Northern Ireland and not see Giants Causeway. Belfast city is lovely but there is more to see outside it! Pack more in by taking this Giants Causeway tour by City Tours Belfast, and seeing other sites such as the majestic Dark Hedges, Dunluce Castle, and many more! If you are a Game of Thrones fan you can take a slightly more GOT focused version. The tour is well worth it, you just forget about planning and just enjoy. Don't want to get your hopes up but I even saw jumping dolphins on my tour! Book it here.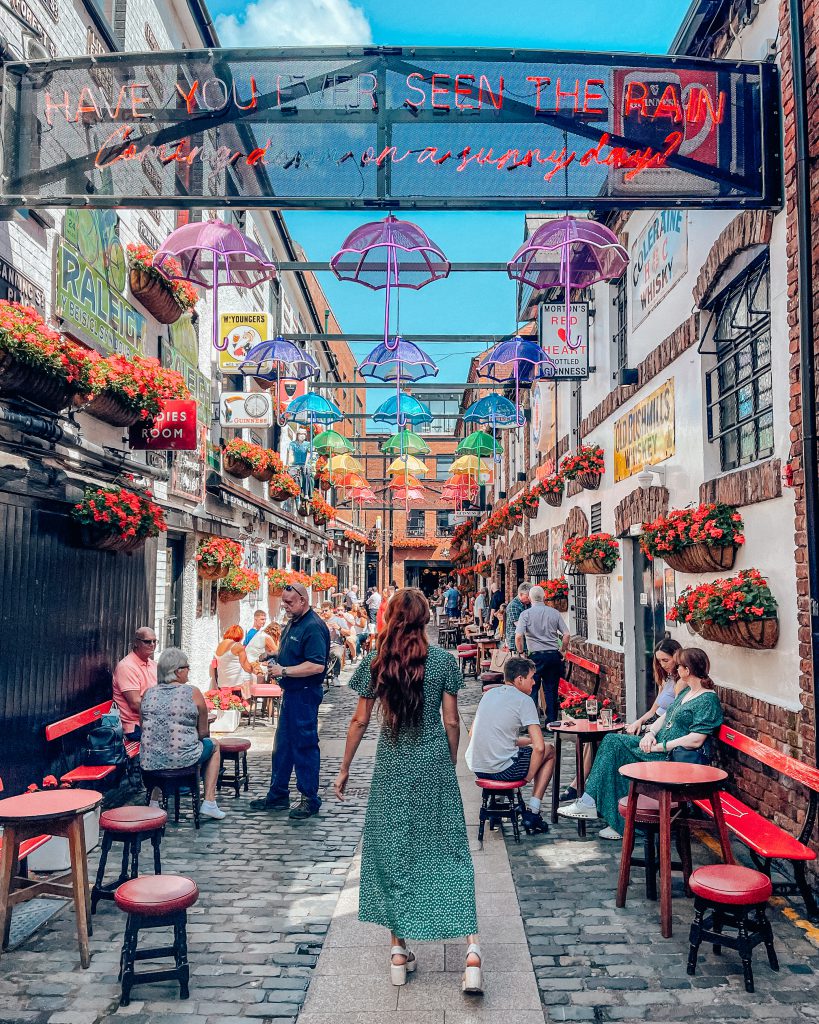 Get down to Hillsborough Castle
Hillsborough Castle is an 18th century Georgian house build for the Hill family which now is an official government residence in Northern Ireland and is managed by the Historic Royal Palaces. It is currently used as the residence of the Secretary of State for Northern Ireland and the official residence of the British Monarch and other member of the British royal family when visiting the region. In other words, this is where Queen Elizabeth crashes when she visits Nothern Ireland. Book it here.
WHERE TO STAY IN BELFAST
The best spot to stay in Belfast is The Granary. And I know because I helped decorate it! This one of a kind 4 bedroom Georgian property is right on the heart of the city centre. It's gorgeous and has everything you need to make the most of your Belfast trip. You can book it here. Additionally, if you wish to stay in Hillsborough for a night or two I can recommend this property which I also helped refurbish. Both properties are owned by my partner so I can personally say they are great!
Because The Granary might be too big for your party (it accommodates up to 8 people) here are some other great options in Belfast.
HOW LONG TO STAY IN BELFAST
As there is a load to do, I recommend you stay at least two or three days, one day visiting the city with, one day in Giants Causeway and half to one day in Hillsborough (with the rest spent in the city).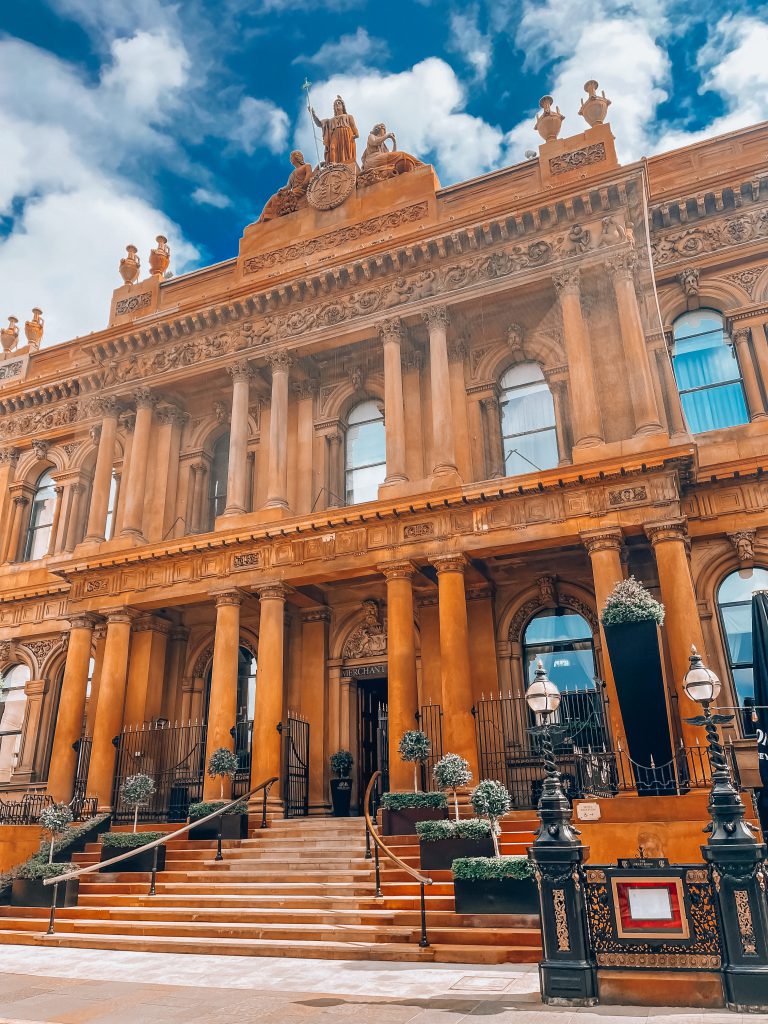 HOW TO GET TO BELFAST AND AROUND
Belfast is in Northern Ireland which is part of the UK but on the island of Ireland. It is one hour flight away from London and you can't drive there (unless you are taking a ferry). I found my flight to Belfast using Skyscanner and there are direct flights from Europe's main cities.
You can explore Belfast city on foot. Renting a car is a good way to get outside the city to places like Hillsborough and Giants Causeway, unless you prefer to take the tour I mention above.
BEST BELFAST TOURS
If you, like me, like being shown around and being taught by those who know, then these are my top picks for tours:
Enjoyed this article? Support my work by buying me an oat capuccino. Otherwise, do me a great favor of leaving a comment and following me on Instagram (@travelwithpau). Feel free to say 'Hello!' I don't bite. And make sure you save the article for later!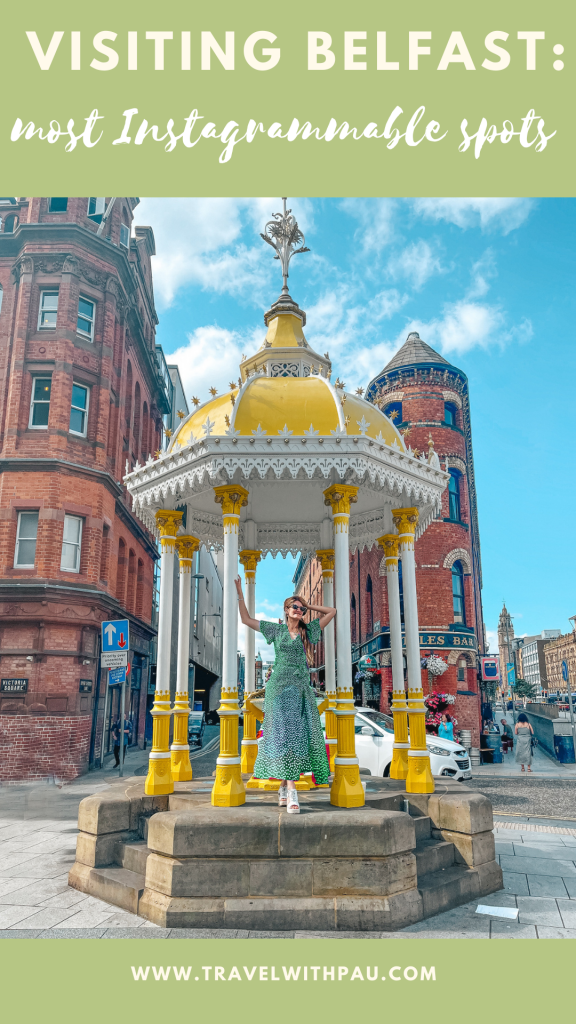 This post contains affiliate links. If you click on one and make a purchase, I might make a small commission, at no extra cost to you in order to help support my blog.