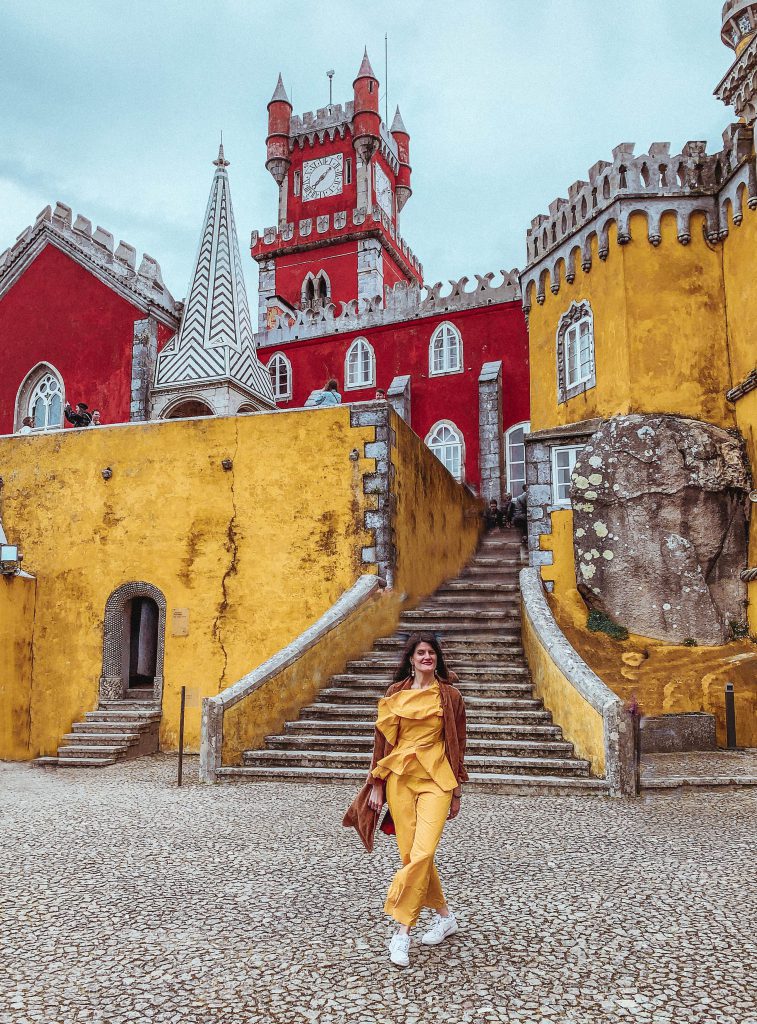 Sintra was one of the highlights of my Portugal trip. Seriously, I loved it. I regret tons not staying for one night versus just visiting for the day from Lisbon. It is a magical place likely due to the combination of nature with attractions that were just so incredible and unique. It's truly out of a Portuguese fairy tale.
So, either if you are visiting for the day or spending one night I'll walk you through how to best enjoy it.
How to get to Sintra and around
A train takes you from Rossio in Lisbon to Sintra in approximately 40 minutes. The best way to check how to go is using Google Maps. Once you arrive, walk half a block and take bus 434 to Pena Palace.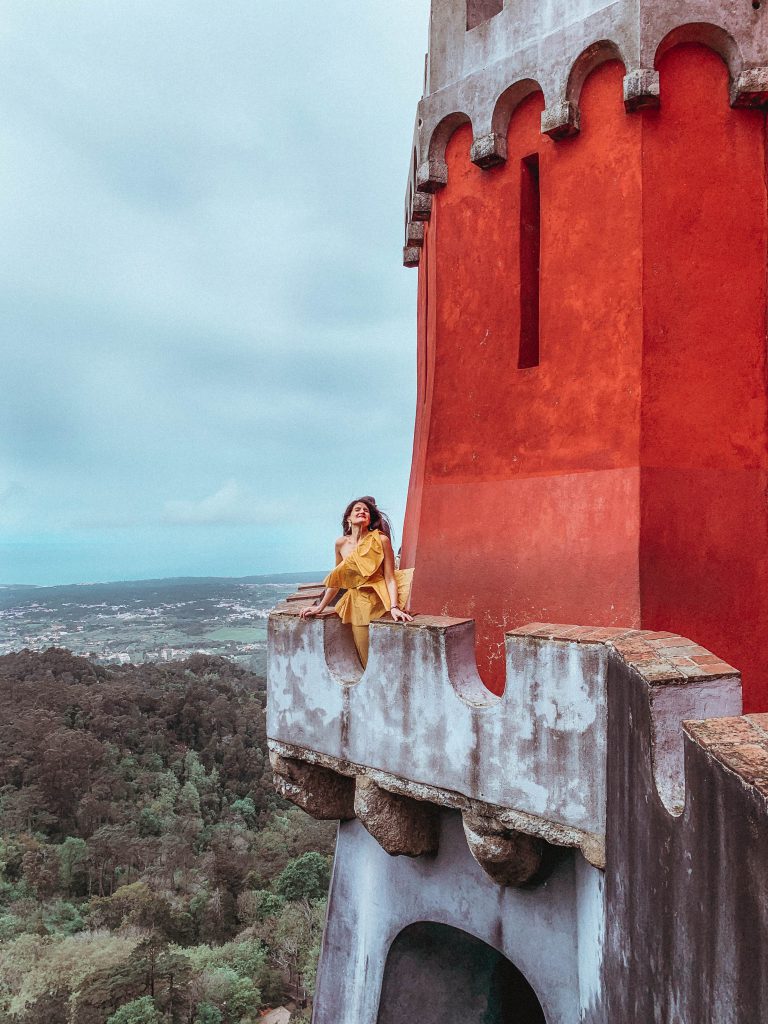 Pena Palace
Pena Palace is a Romanticist castle located on a hill in Sintra. It's pretty unlikely you've seen a castle like this before, as it has an eclectic mix of styles and an interesting choice of bright colors that make it almost unique.
In my experience it's best to visit Pena Palace in the morning as it gets packed, while the other attractions have more manageable crowds. Ensure you book the tickets to Pena Palace online in advance to save significant time. The visit will take you around two hours.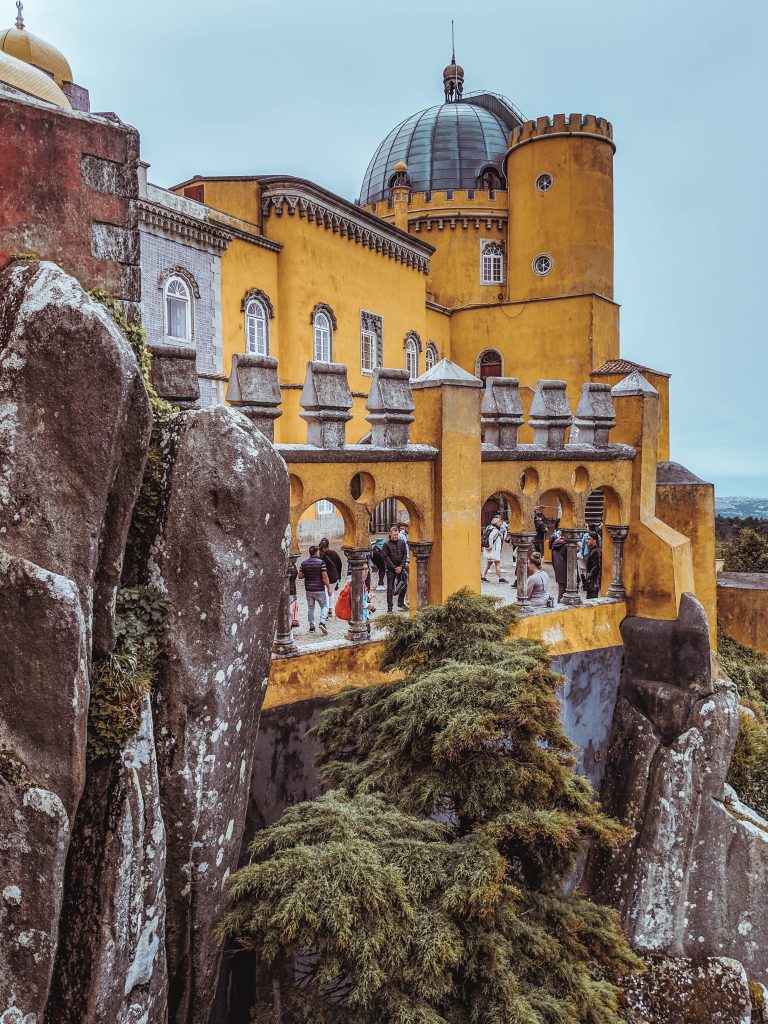 Moorish Castle
After you are done taking photos with the amazing Pena Palace your Sintra day trip will continue with the Moorish Castle which is just a 10 minute walk away from the Palace. It is an 8th century medieval castle that served as a fort. It is located high up so its visitors can benefit from stunning views of Sintra and also Pena Palace. Its winding up and down path up and its castellation reminded me, at a small scale, to the Great Wall of China. Visiting will take you around an hour.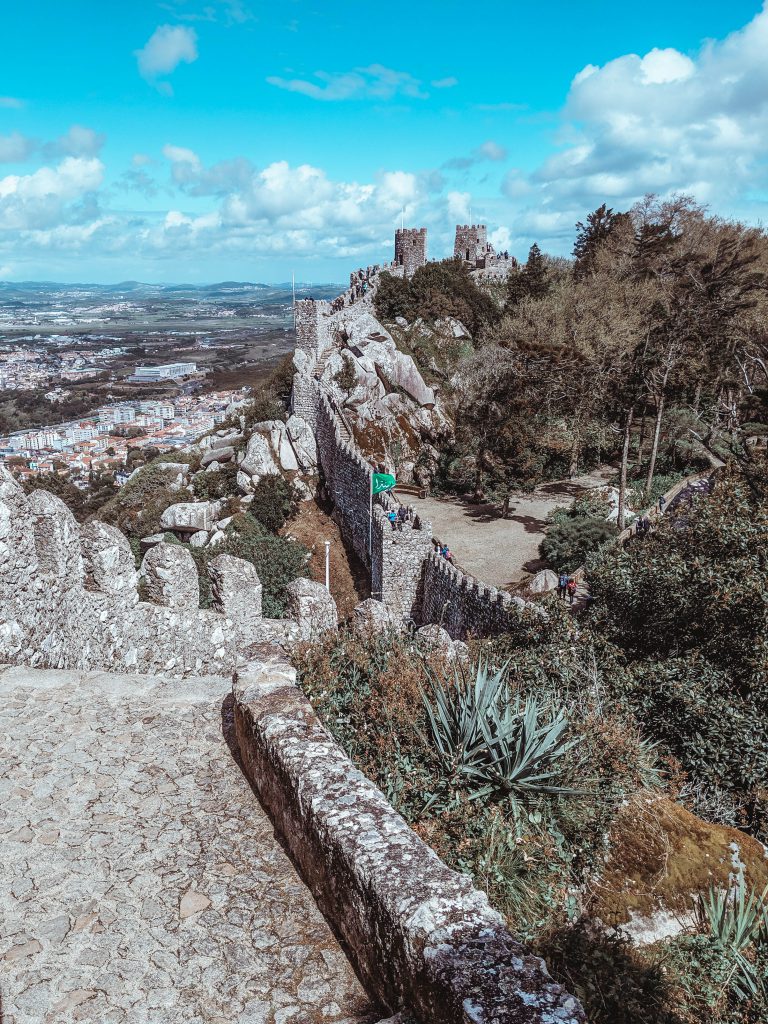 Quinta Da Regaleira
The next stop in your perfect Sintra day trip is the 20th century estate called Quinta Da Regaleira. It is a mystic place, full of symbolism alluding to alchemy, Masonry and Rosicrucianism. Its garden is full of attractions and where you'll spend most of your visit. It includes a system of tunnels and underground caves as well as Initiatic Wells which are inverted towers used for ceremonies. One of them is 27 metres deep! The Regaleira Palace is also very beautiful, and it is characterized by being exuberantly Gothic.
Don't bother purchasing the tickets online, it's not possible. The queues are not at all as bad as the Pena Palace though.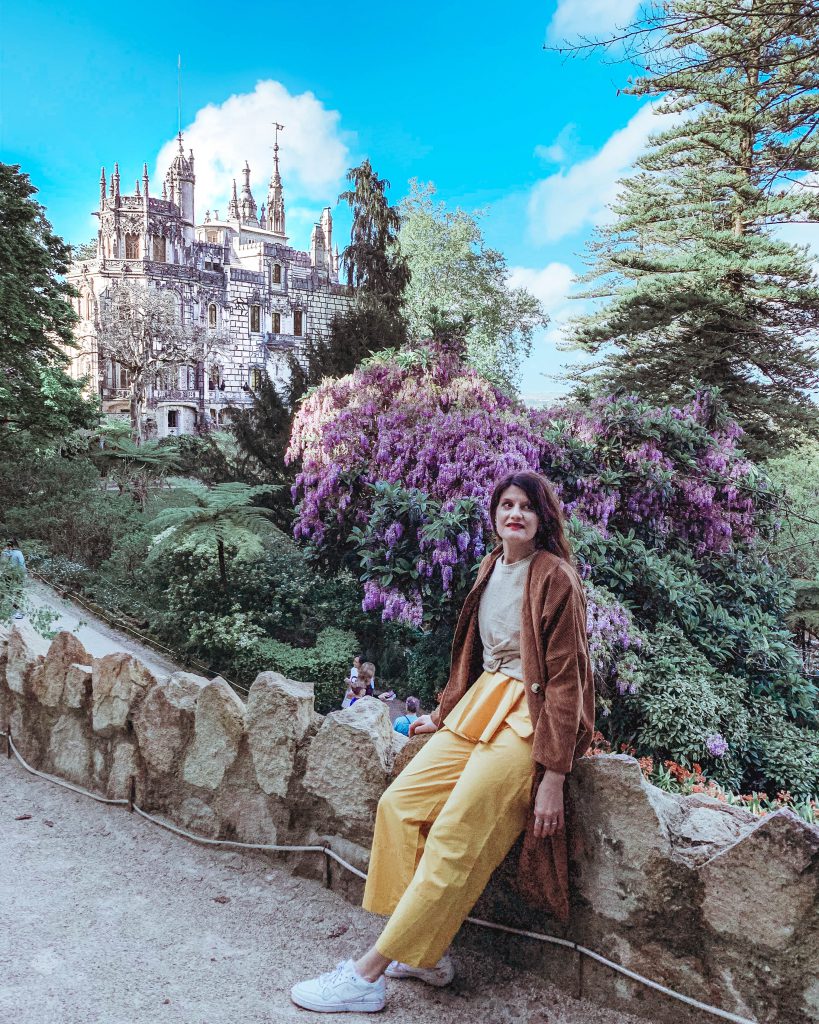 Sintra Old Town & National Palace
From the Quinta Da Regaleira walk to the Sintra Old Town and stop to admire the Sintra National Palace. This is one of the icons of Sintra and you'll be able to recognise it by its two huge white chimneys. Take some time to explore the town, the quaint buildings and the tiles. Also try the queijada a pastry original from Sintra made with cheese, sugar & cinnamon. The best queijadas are from Queijadas da Sapa.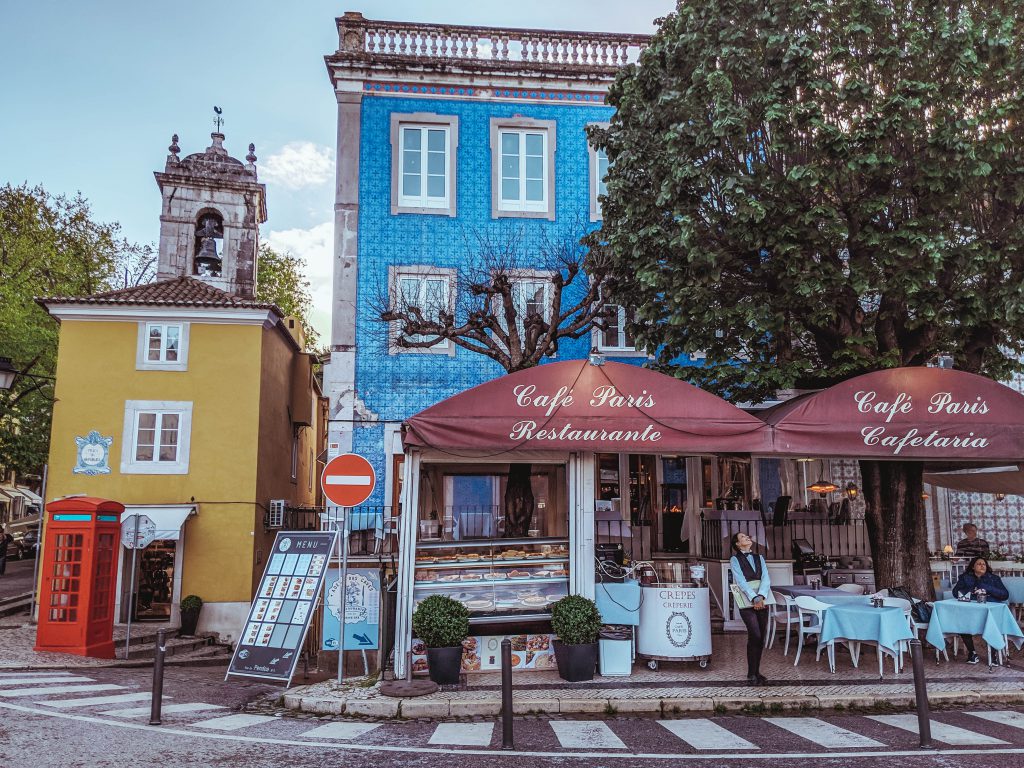 Where to stay in Sintra
Doing everything I described above in one day will be tough, but it's possible. Don't make the same mistake as me and book one night (either the night before or after) in Sintra.
I've shortlisted the best hotels in Sintra here.
Best tours in Sintra
Enjoyed this article? Support my work by buying me an oat capuccino. Otherwise, do me a great favor of leaving a comment and following me on Instagram (@travelwithpau). Feel free to say 'Hello!' I don't bite. And make sure you save the article for later!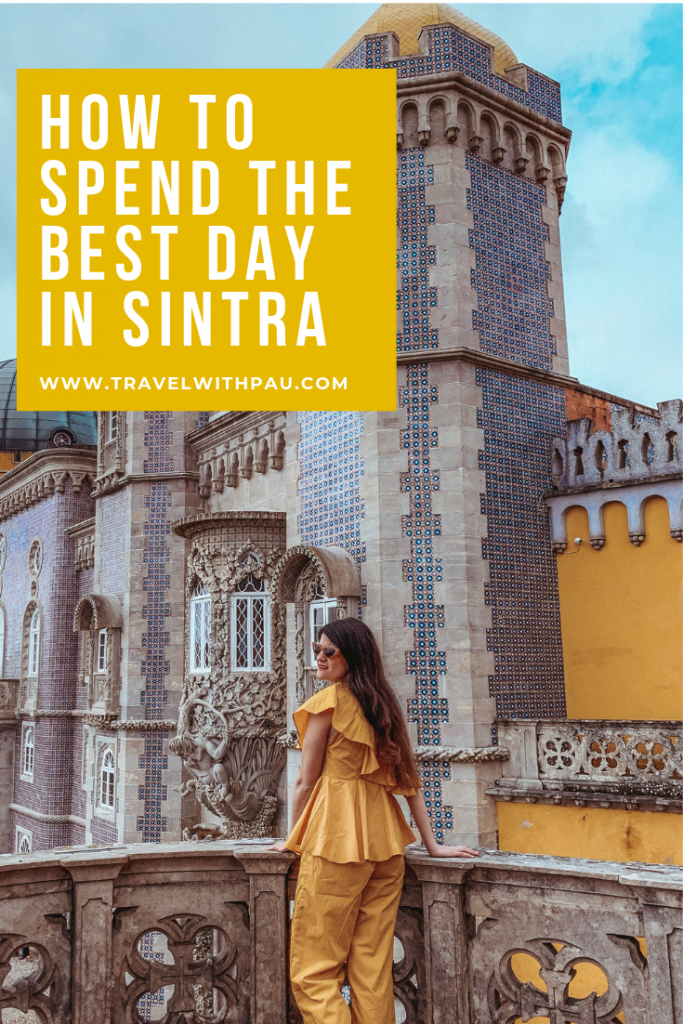 This post contains affiliate links. If you click on one and make a purchase, I might make a small commission, at no extra cost to you in order to help support my blog.