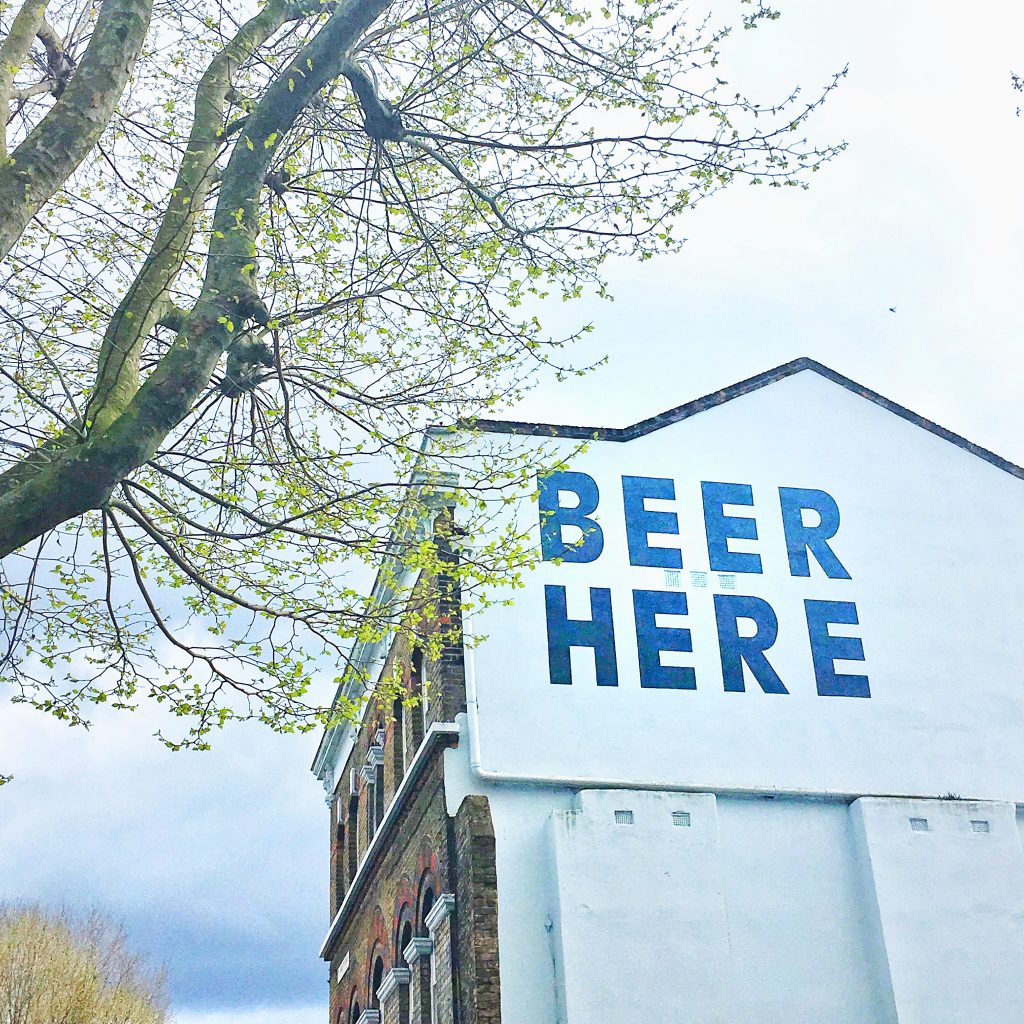 Are you a beer fan and a londoner? Or maybe just a beer fan visiting the city? Then you must not miss the Bermondsey Beer Mile!
Turns out that Bermondsey has become the hub for microbreweries in London. And the good news for you is that they open on Saturday, and some on Sunday, so you can go taste their golden liquid right from the brewery. What's even better is that they are conveniently located in a straight line over a mile. Hence why it's called the Bermondsey Beer Mile. That, my friend, makes the perfect beer crawl.
Scared of getting hungry? Well fear not. There are also three food markets conveniently located along the Bermondsey Beer Mile. I've created a map for you to follow and I'll walk you through the whole thing.
Don't want to do this on your own? Luckily the folks at UK Brewery Tours have got you covered with three amazing tours of the area:
Get off at London Bridge:
I'm gonna assume you are taking the tube, well this is where you get off to start your Bermondsey Beer Mile crawl. If you haven't eaten anything yet, stop by Borough Market and grab a bite so that you don't get drunk too fast. If you aren't hungry, don't worry, you'll get another chance soon.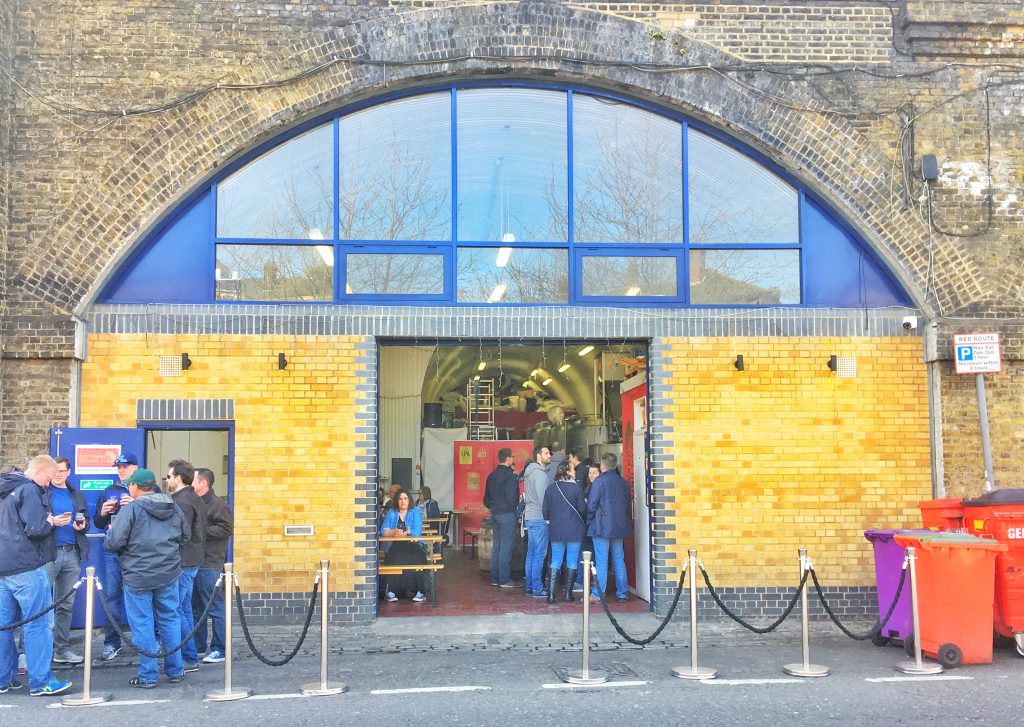 1. Southwark Brewing Co
Your first stop in the Bermondsey Beer Mile, it will set the mood of what's to come. Located in a railway arch, this brewery is the only one in the crawl which specialises in cask ales. As in most breweries in the crawl, the set up is simple and the equipment is visible which makes it feel like the real deal. I liked that they do a third of a pint, which is perfect for tasting.
Founded: 2014
Website: southwarkbrewing.co.uk
Where:46 Druid St, London SE1 2EZ
2. Anspach & Hobday:
Only a super short walk from Southwark we found our second stop on the Bermondsey Beer Mile. If you are hungry now stop by Maltby Street Market to get a snack which you can bring to the brewery. Anspach & Hobday is a little bit tighter on space and also gets pretty crowded so better to go early. The most recommended beer is the Smoked Brown.
Founded: 2014
Website: https://ubrew.cc/
Where: 118 Druid St, London SE1 2HH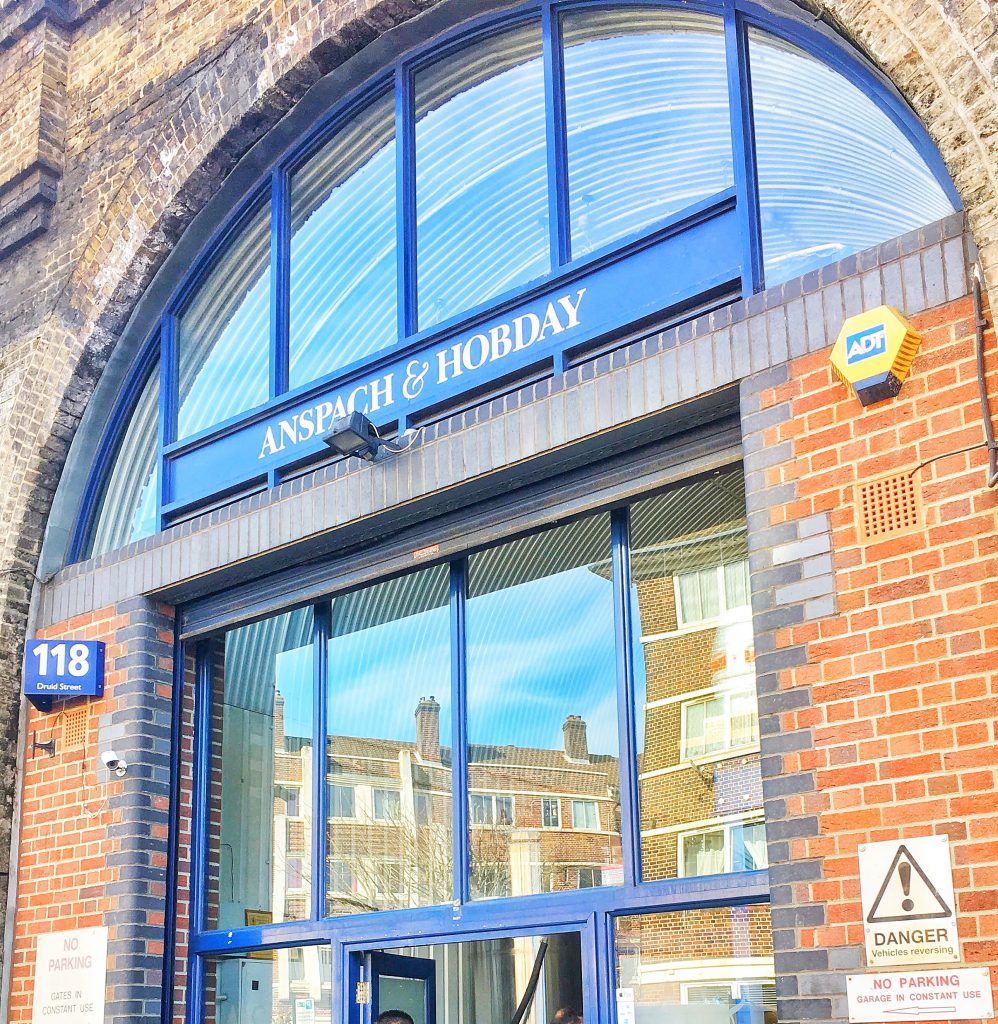 4. Brew By Numbers
A Bermondsey Beer Mile favorite, you'll notice a slight change of vibe in this brewery. The branding is more modern and the crowd is a little bit more hipster than in the other breweries. Also people's glasses will be more colorful. BBNo's specialty is the Saison beers which I personally love. You'll notice the beers have numbered labels. They represent their style and recipe.
Founded: 2012
Website:http://www.brewbynumbers.com/
Where: 79 Enid St, London SE16 3RA

5. Cloudwater
This Manchester born brewery is a recent addition to the Bermondsey Beer Mile. If you have never tried their beer, then you are up for a treat! I may have driven for two extra hours on a road trip just to visit their Manchester taproom. Was very glad to learn they now have one in London! All beers cost the same, and are served in the same glass. The amount served varies on the beers alcohol %.
Founded: 2014
Website:https://cloudwaterbrew.co/
Where: 73 Enid St, London SE16 3RA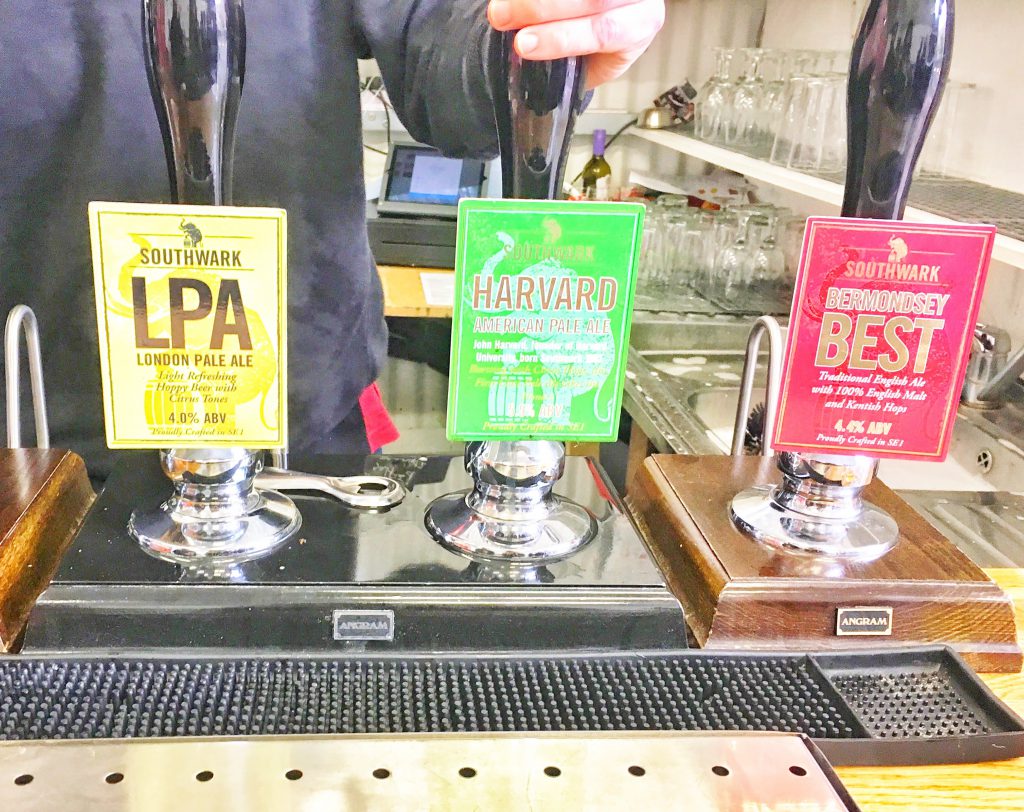 6. UBREW
This brewery has an interesting reason of existence. It's actually a place where you can brew! They sell memberships for groups of friends which are valid to brew beer and also provide beer brewing courses. You should stop here because they do also brew their own beer and it's great. I loved the smell of malt that invaded the venue.
Website: https://ubrew.cc/
Where: 29, Old Jamaica Business Estate, 24 Old Jamaica Rd, London SE16 4AW
7. The Kernel Brewery
The brewery that inspired the birth of many other breweries in the Bermondsey Beer Mile. The mother brewery. Unfortunately, it became too popular for its size, so they are not serving tap in the venue and only sell bottled beer. Their beers are de-li-cious.
Founded: 2009
Website: http://www.thekernelbrewery.com/
Where:Arch 11, Dockley Road Industrial Estate, Dockley Rd, London SE16 3SF
8. Partizan Brewing
This brewery is one of the trendier breweries on the Bermondsey Beer Mile, with a modern vibe. This is partly because the beers have colorful branding designed by artist Alec Doherty. They have a core range of beers and then do seasonal ones. I really like their Saisons and you can probably already tell that I love Saisons.
Founded: 2012
Website: http://www.partizanbrewing.co.uk/
Where: 8 Almond Rd, London SE16 3LR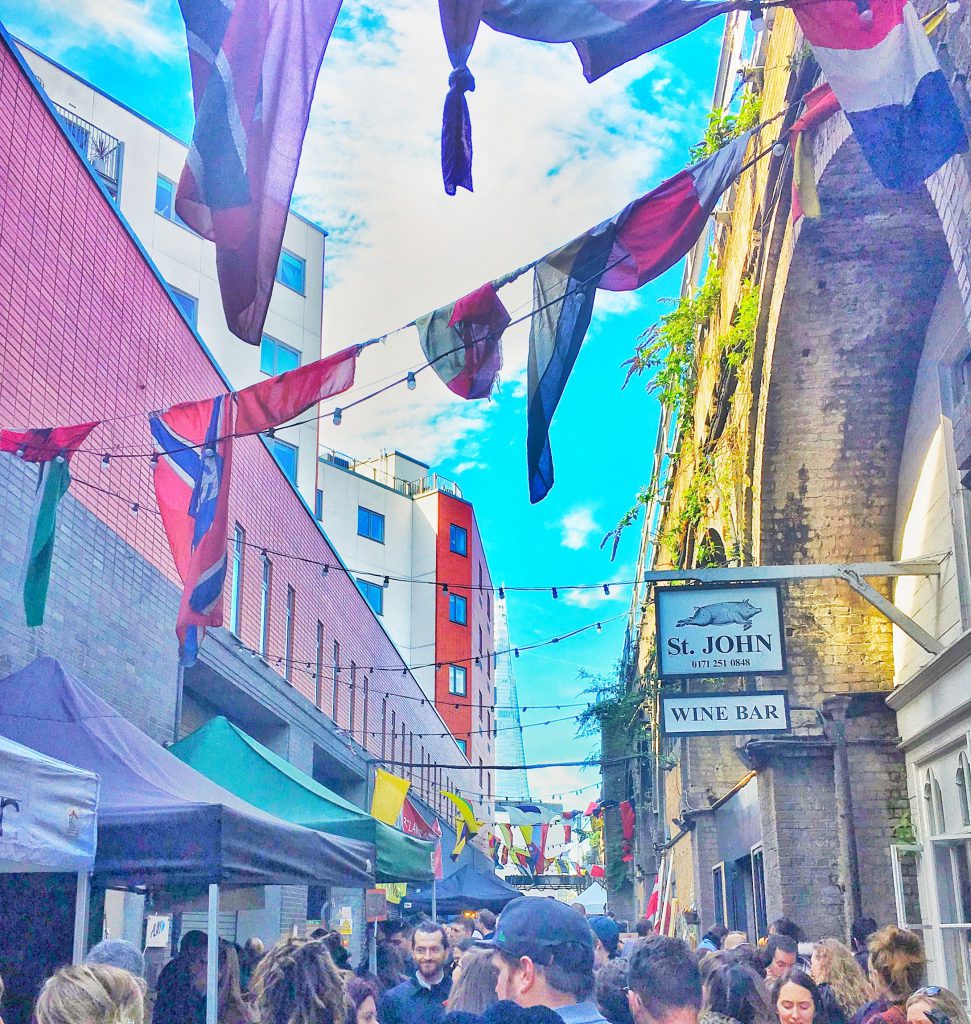 9. Eebria Tap
Located only a few metres away from Partizan in. It is not a brewery, but a tap room where you can get beers from multiple UK breweries. They have 6 beers on tap and at least 40 bottled ones at a time. Nice atmosphere and friendly staff.
Website: https://www.eebria.com
Where: 8 Almond Rd, London SE16 3LR
10. Fourpure Brewing Co.
You are in the last stop in the Bermondsey Beer Mile. And one of the best ones comes at the end! Fourpure's name comes from this brewery's commitment to respect the four core ingredients used to make beer: grain, yeast, hops and water. And they do justice to the name. The brewery's tap room is located in an industrial site and hosts no less than 16 beers on tap. Hence save some space and sobriety for this one! If you are not visiting soon and want to stock yourself on their wonderful beer, they sell it on Amazon.
Founded: 2013
Website: https://www.fourpure.com/
Where: 22 Bermondsey Trading Estate, Rotherhithe New Rd, London SE16 3LL
If you liked this article please leave a comment and follow @travelwithpau on Instagram.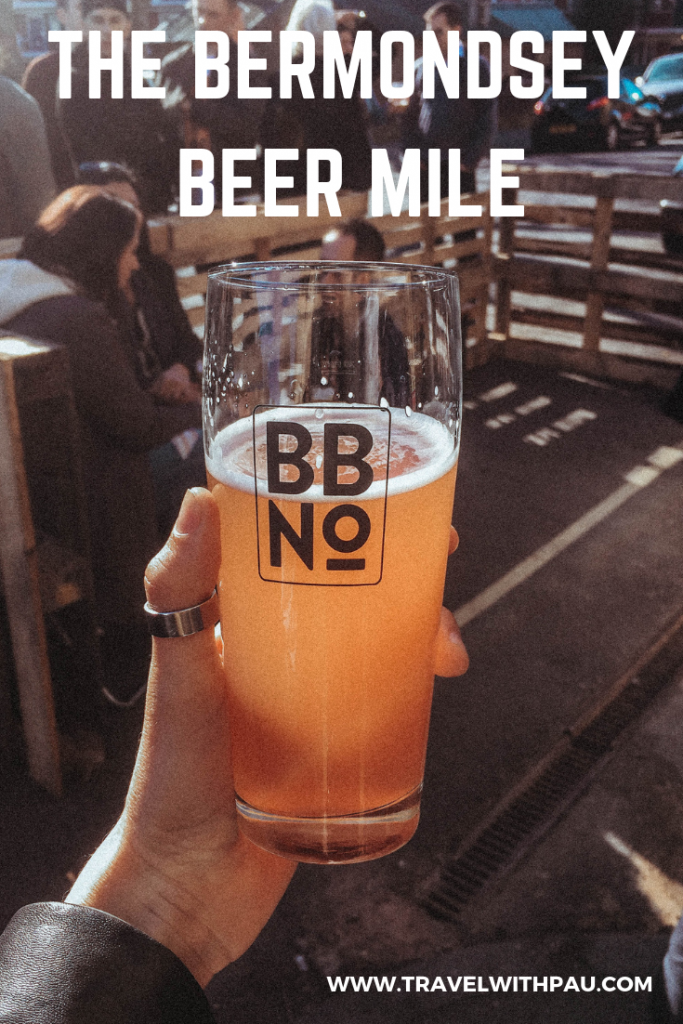 This post contains affiliate links. If you click on one and make a purchase, I might make a small commission, at no extra cost to you in order to help support my blog.