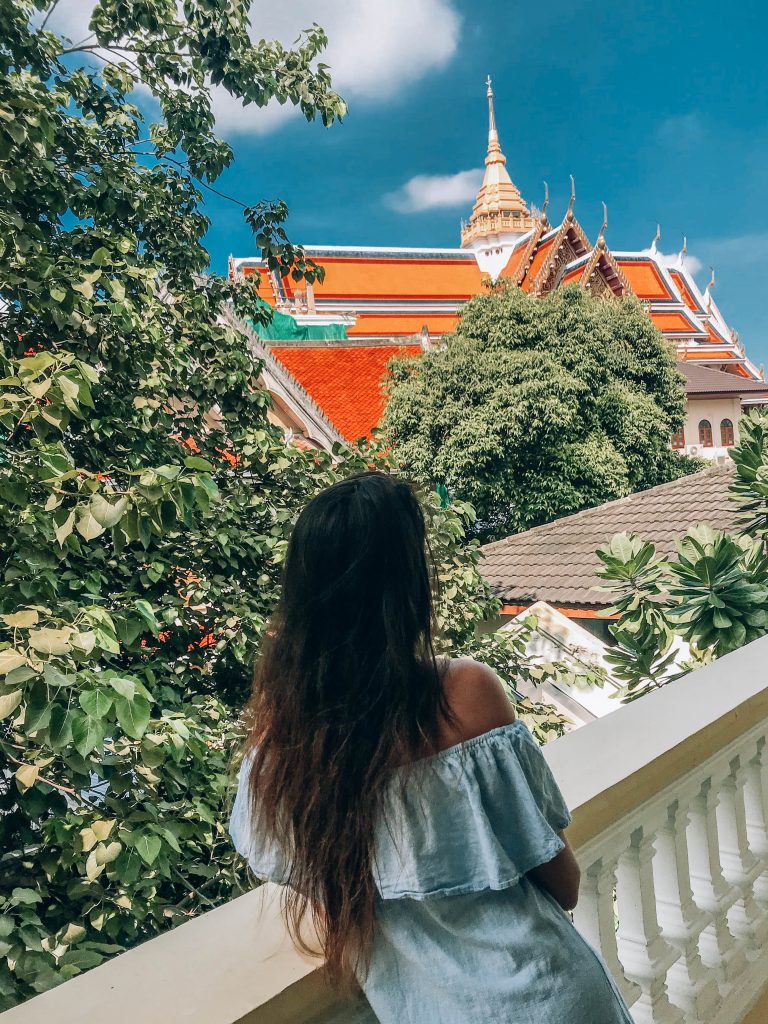 I arrived, together with my photographer and friend Sofia, to a hot, hot Bangkok. Took the city line train from the airport to Masakkan and then the metro to Hua Lamphong. After a short walk we arrived to an oasis: Baan 2459. This hotel is truly an oasis within a messy but wonderful city. We were greeted with a welcome drink and soon were invited to our room.
The hotel
Part of what I love from Baan 2459 is that it's full of history. Built in 1916, Baan 2459 was to be the home of the respected muslim Vadanyakul family for many decades. Within their history, there is a Romeo & Juliet love story as one of the men of that family married a woman from a conflicting muslim clan, against all odds. The Vadanyakul family had to relocate in WWI and Baan 2459 was then rented to a Chinese printing press, which was then shut down. I can't even begin to imagine everything that happened in these rooms in the past! The hotel is now fully refurbished with a simple but elegant, unique and vintage decoration style.
The hotel is enclosed within gates. Inside it's full of greenery and so well taken care of you forget for a second you are actually in Bangkok as everything is absolutely polished. Every detail has been thought of.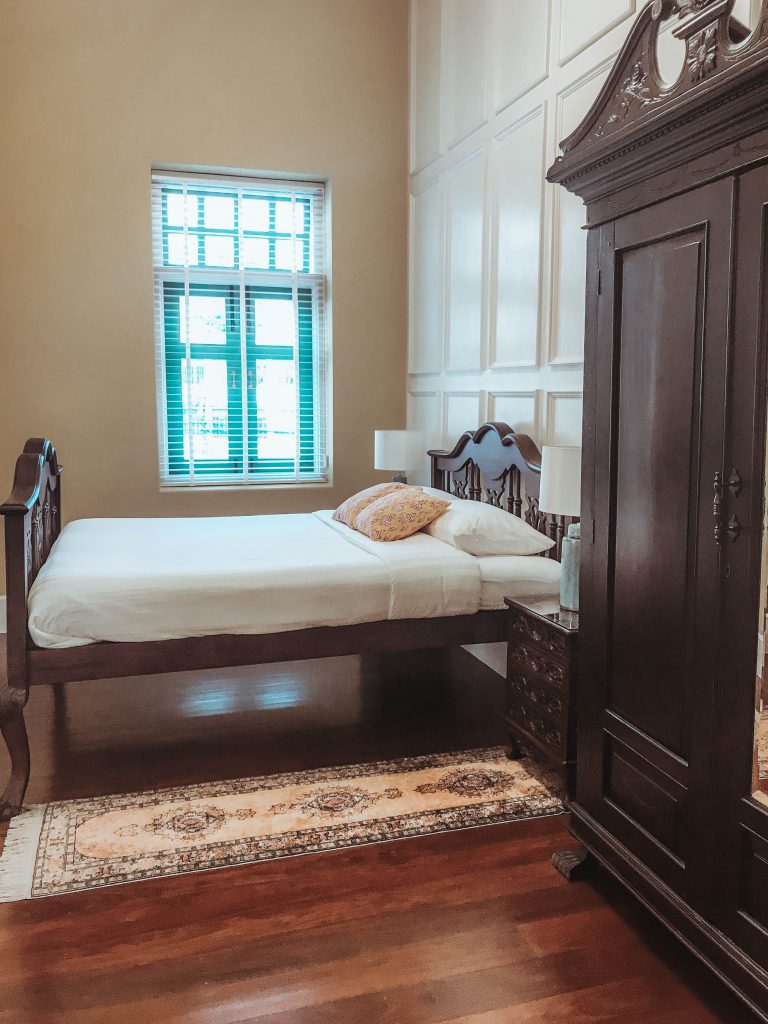 The rooms
There are only four rooms in this boutique hotel: two, four, five and nine. As the hotel itself, the rooms boast with elegance. Our room, number five, was comprised of 3 areas: a living room – with a desk area, TV and a minibar – the bedroom with a wardrobe and double bed and last, the bathroom. What really gives the entire room its personality are the pieces of furniture which seem to be vintage and carefully chosen.
The bathroom is really spacious and has an amazing bath where you can refresh after a long hot day. Bathing robes, slippers and bathroom accessories (shampoo, toothbrush, etc) were provided. The double bed was super comfy, and the air conditioning super powerful – important in Bangkok! We both had a great sleep and were able to recharge after a long flight. Last, Wi-Fi is free and had a decent speed.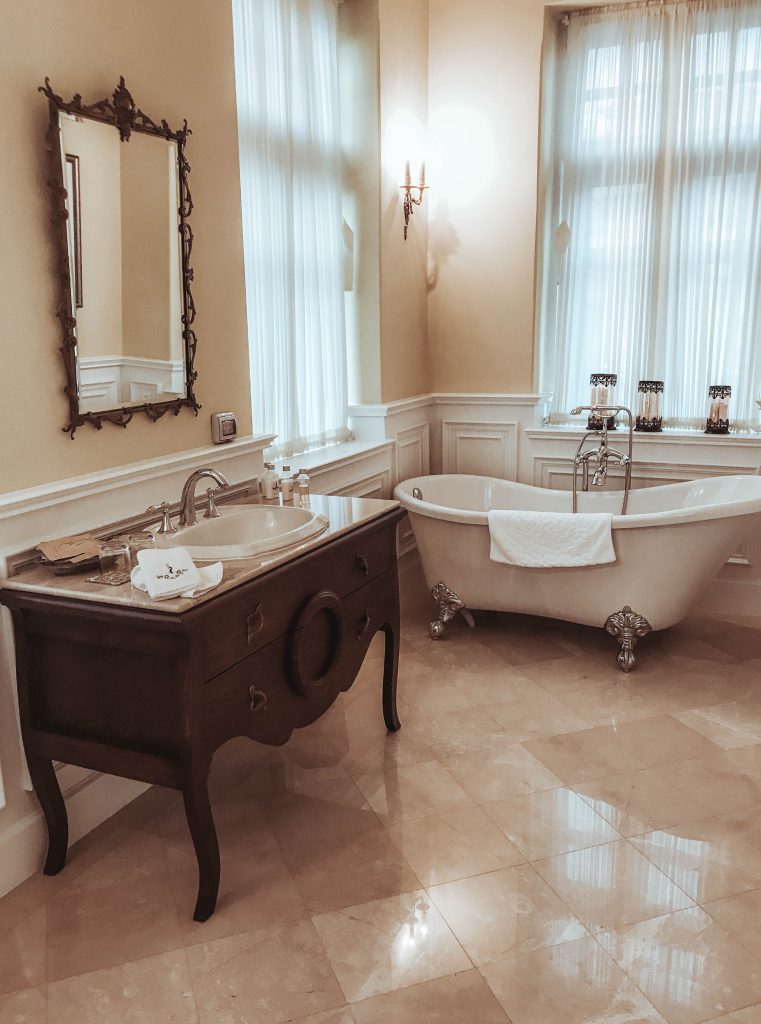 The location
Baan 2459 is conveniently located ten mins walking from Hua Lamphong metro and train station, perfect if you are, for example, taking the train to Chiang Mai. It is also a short walk from the Rajchawongse ferry station so you can hop on a boat and in no time be exploring Bangkok's temples! Last but not least, it's right in the middle of Chinatown which is a must see attraction in Bangkok. The upside of the location is that most of the venues surrounding it are commercial, so it's really quiet at night!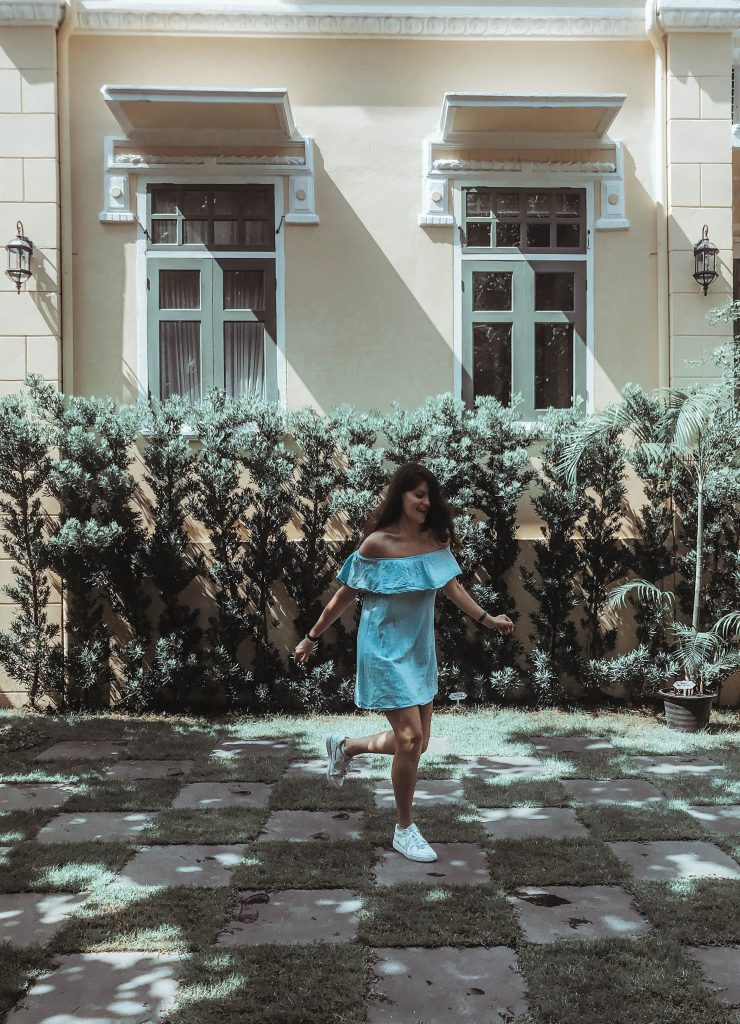 The breakfast
We were asked to choose our breakfast in advance, from drinks to food. As the hotel is small so everything is personalised. The main hot dish could be a pork congee or chicken with rice. Fresh, delicious fruit and fruit juice was also provided. It was yummy! But the best by far…the coffee. The hotel has a CHATA coffee shop right at the back! You won't see this unless you are told, but you need to walk around the right hand side of the hotel to get there, past the hanging plants. Oh god, that coffee was good.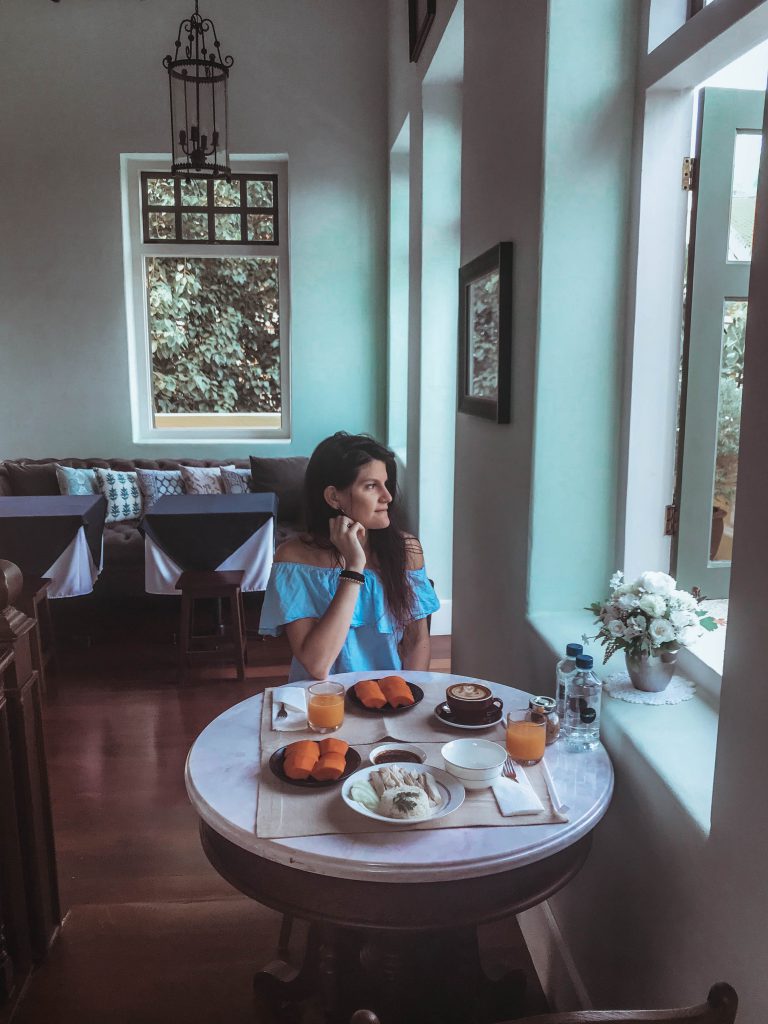 The services
The staff was incredibly friendly and helpful. They are happy to help with anything you need, and just also chat about the hotel's history. I loved to stay around and chat with them, although they'll leave you alone if you are not the chatty type, don't worry. The reception has limited ours, but security staff is available 24hrs who will open the door for you at night.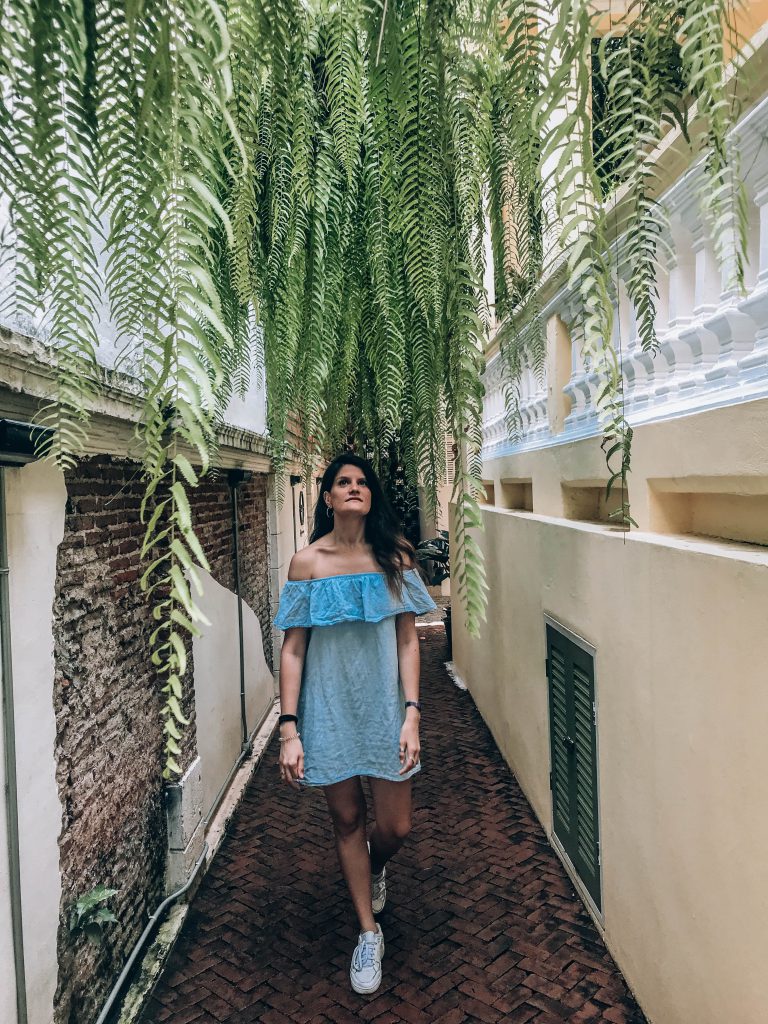 Stay in Baan 2459 if…
You value pretty, you value good, you value a personalised boutique experience. Additionally, if you are looking for a chilled stay this place is perfect as its location and the fact that it's enclosed within gates makes it tranquil and noise free. It felt like a beautiful, perfectly decorated home away from home.
If you'd like to stay in Baan 2459 go ahead and book it here. You won't regret it!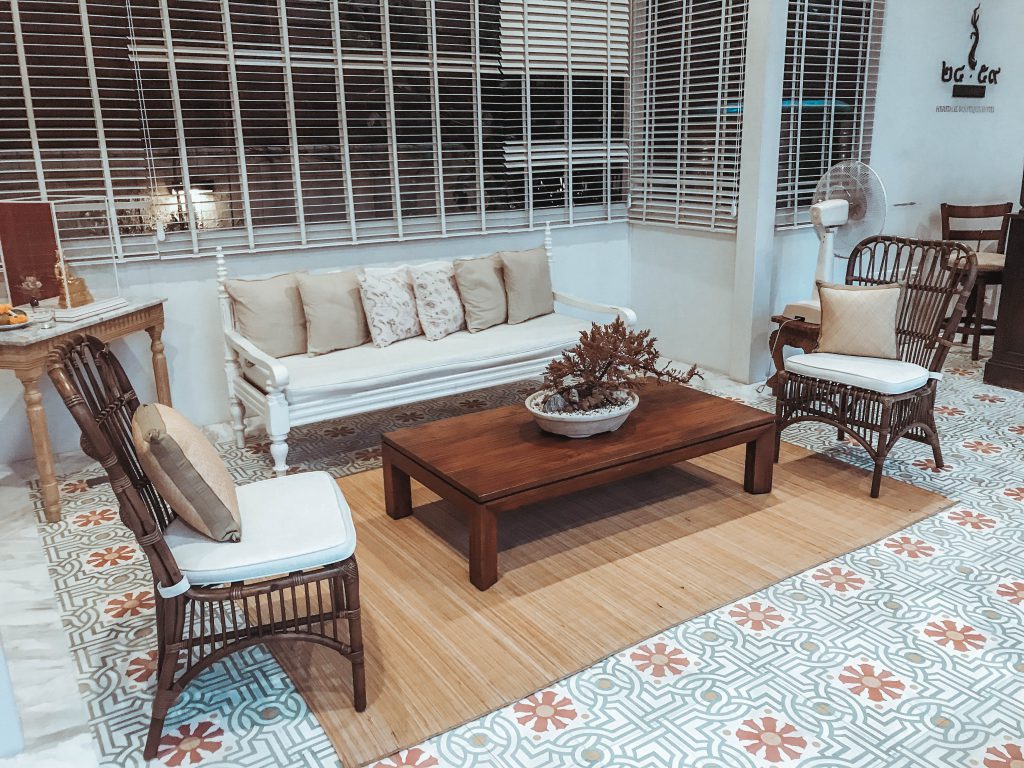 Disclaimer: My stay at Baan 2459 was complimentary however as always my opinions are my own, and I'm personally in love with this hotel. Additionally, this post contains affiliate links. If you click on one and make a purchase, I might make a small commission, at no extra cost to you in order to help support my blog.