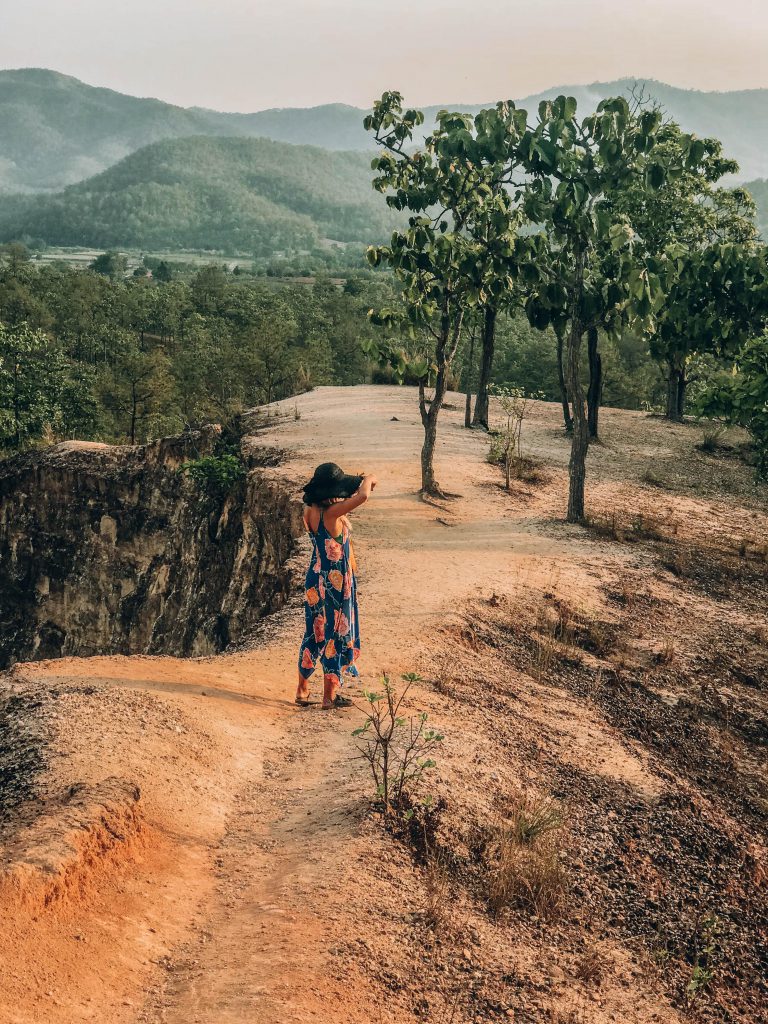 Pai is a cute little town in Northern Thailand. So many people recommended it to me! I was tight on time so only spent one full day in Pai but honestly, I would have spent more. It's just so unique. It has a hippie, jungly and even slightly beachy vibe (even though there is no beach). There are no pressures and no pretensions in Pai! This is what I would recommend you do when visiting Pai in Thailand.
Take a day trip from Chiang Mai to Pai
Are you not wanting to stay over in Pai? Then what's easier than just taking a day trip from Chiang Mai that's organised for you? That's it – everything sorted. Check availability below. If you are wanting to spend a few days in Pai then read on:
Just relax
Whenever I asked my friends what I could do in Pai they just went "Chill out. Go to nice cafes, eat nice food, listen to music and relax". They couldn't have been more right.
I also made a great choice in the hotel that made my stay even more chilled. I stayed at Reverie Siam. This beautiful French style boutique hotel in Pait, Thailand is just out of this planet. Every inch of this hotel's decoration is thought of and its facilities are designed for full relaxation.
The lobby is already magical. Right after it you'll walk through an outside path which crosses a pond into the Silhouette Bar. This bar is open for everyone in Pai and not only hotel guests, so even if you are not staying here you can come to the bar and check out the hotel. This is also where you are served breakfast, and you can get food and delicious cocktails during the day and night as well.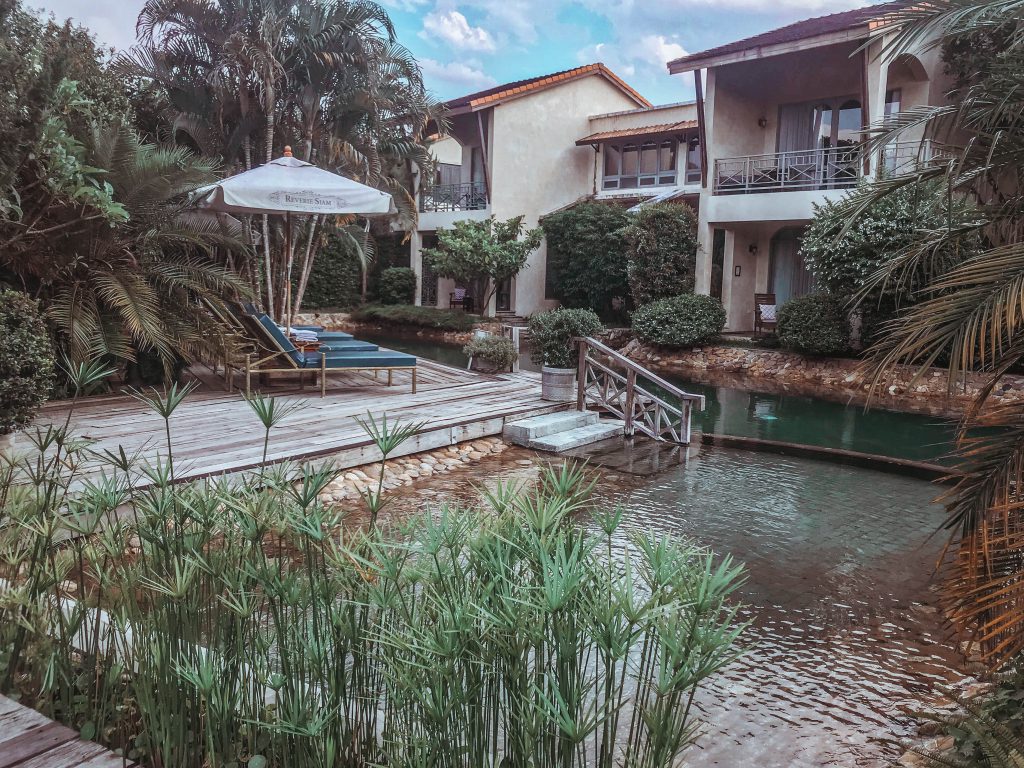 Going further into the hotel, you'll find the infinity pool right next to the river with views into the jungle and mountains. There is also another pool not far from that one which definitely has a "je ne sais quoi" to it. It's a stone pool and it looks like a wild pond but with clear waters. If you stay in the Deluxe Pool rooms, you can swim from the back door of your room into the pool.
Between the pools and the rest of the rooms there is a hedge maze which for me was a fun, special detail. If you walk through the maze towards the river, you'll find an outdoor relaxing area just on the river bank. It's perfect for reading a book or even taking a nap while listening to the water flow.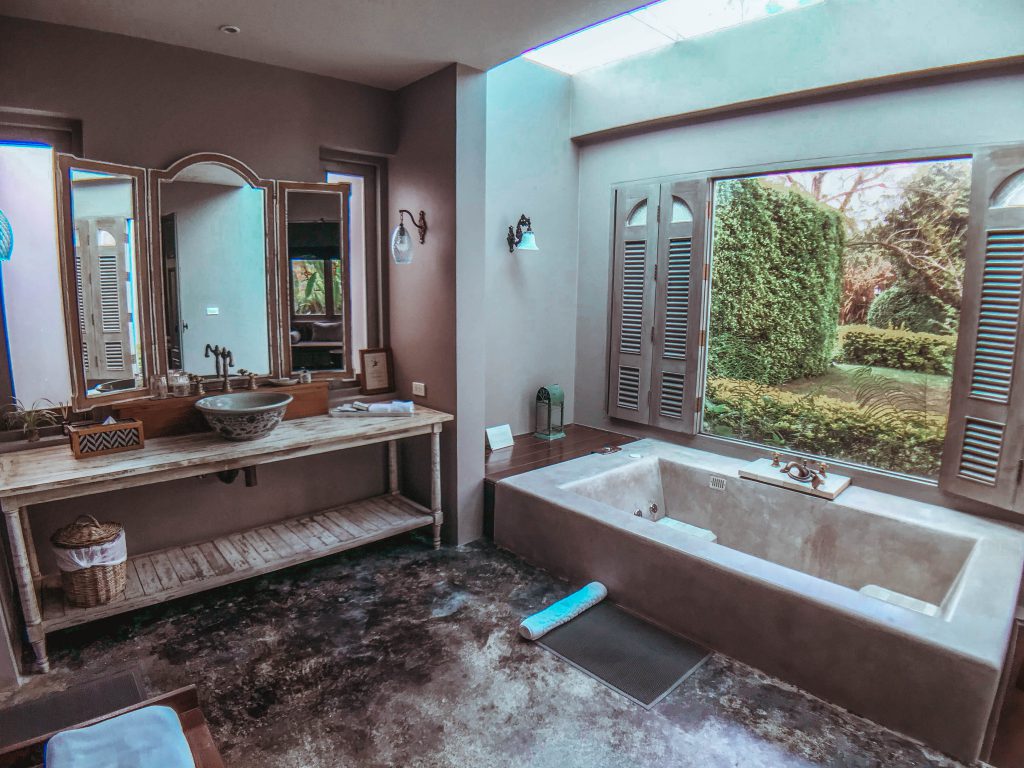 We stayed at the Deluxe room with garden view. The room was just incredible. The decoration continued to follow the French vintage style. It also had a few antique items which gave it a really special touch. The bathroom was really spacious, and the highlight was the jacuzzi by the window that allowed me to bathe while enjoying the view. Needless to stay, I slept like a baby.
And if all that I described wasn't enough, there is a shuttle going out at set time all through the day to Pai's town center which is a 20 min walk from the hotel. It can also be used by non guests who want to have drinks at the Silhouette Bar.
You can book Reverie Siam here for your visit to Pai, Thailand. It is so worth it, and its price is more than reasonable for the greatness it offers.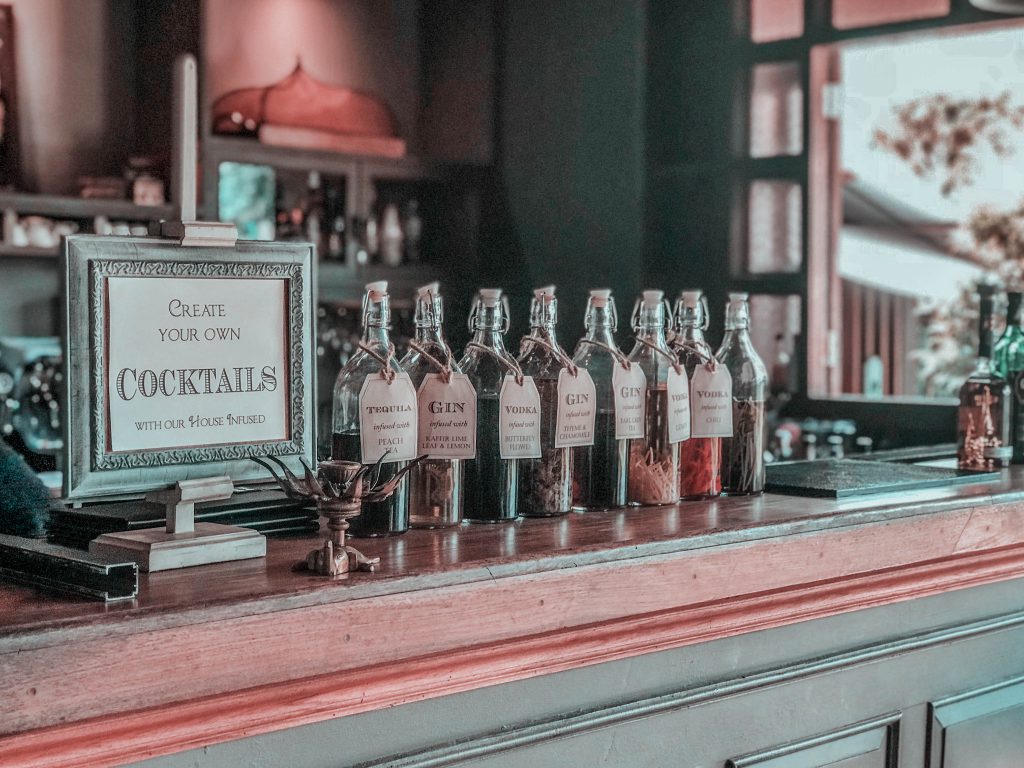 Shop, Eat & drink at Pai's Walking Street
Pai's Walking Street and center are where I spent most of my time in Pai. Everything is chilled in Pai, including shopping, I enjoyed buying clothes, necklaces and other trinkets with no one pushing for a sale. Sometimes sellers were not even around. Do you get the level of chillness Pai has now? There are some really nice cafés and restaurants such as Big's Little Cafe, Witching Well or Om Garden Cafe. And those are really just some, there are so many, it's actually hard to go wrong. If you are looking for something to do after hours, like a chilled night out or getting that cheeky beer, then check out Jikko Beer and Mojo Cafe.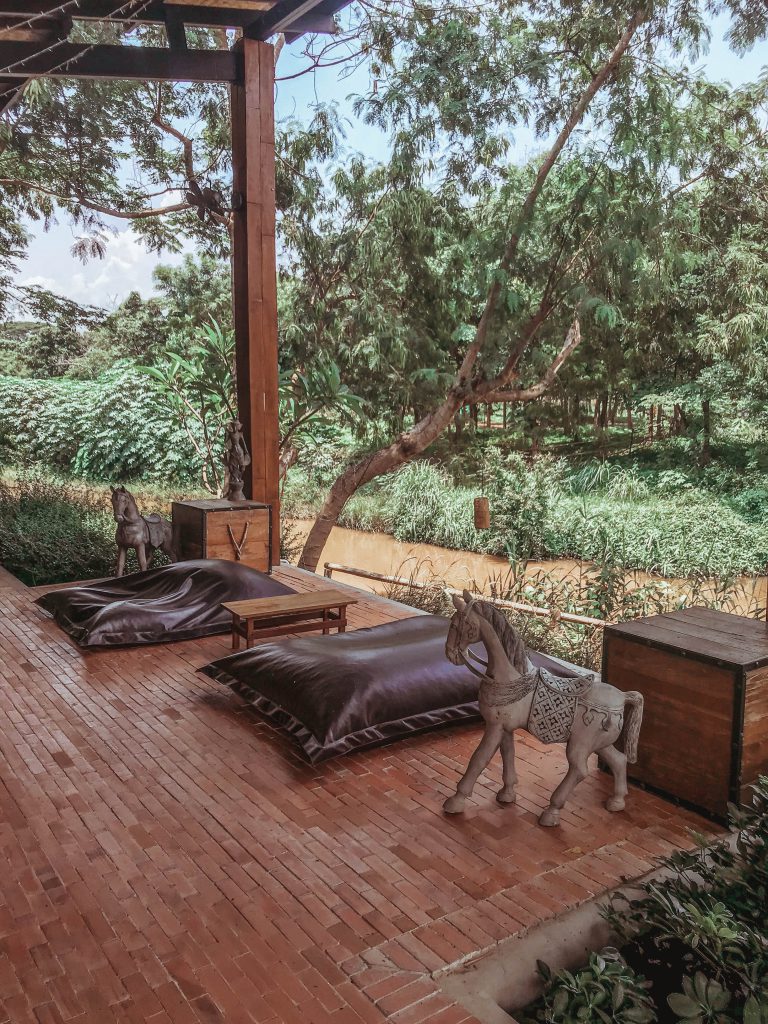 Watch the sunset on Pai Canyon
Was a bit skeptical about this activity at first but watching the sunset from the canyon was another highlight of my stay in Pai and in Thailand. Check in Google when the sun will set. Then head to the canyon which is less than 8km from Pai's center. If you are feeling adventurous and active head there a couple of hours earlier. You can spend time hiking through the ridges of the canyon. Avoid having flip flops as some parts are a bit steep. Then, just sit and enjoy the golden hour.
Do some Thai food tasting at Pai's Walking Street Food Market
From 6 o'clock you'll see food stalls popping up in Pai's Walking Street. One of your nights in Pai, instead of sitting down at a restaurant, do a night food market tour. Buy a few things and share them with a friend or even better, friends, so you all can taste a bit of everything. Make sure you control your hunger and walk the whole street before choosing from the three stalls you see first like I did, so that you don't miss anything you might really want to try.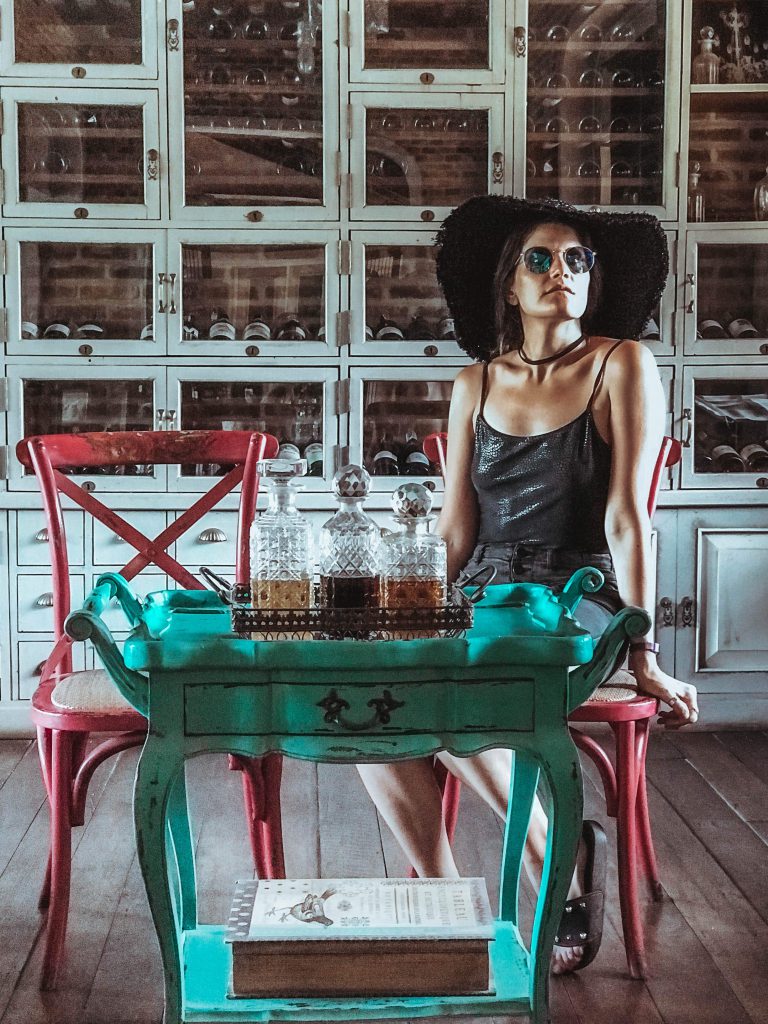 Visit Pai's Waterfalls
There are four waterfalls to visit in Pai. Mor Paeng is the closest (9km) and most popular one. Pambok is also easy to access but it's 15km away, followed by Hua Chang and Mae Yen which are for the more adventurous ones. You can get an overview of each of them here.
Explore Lod Cave
Lod cave is a large cave with a river running through the heart of its natural limestone system. It is 35 km away from Pai so you can either go by motorbike or just book a tour which includes transportation and guide, which is compulsory. The guide will take you into the cave on a small bamboo raft pushed along with a bamboo pole.
Inside the cave, you will explore the dark caverns by a small gas powered lamp carried by your guide. If you can, bring a torch of your own. At certain points in the cave, you get the chance to exit the raft and climb up a wooden staircase to explore the stalactites and stalagmites. Spread out through the cave are also some pre-historic paintings and teakwood coffins carved out by the Lawa tribe over 1,400 years ago.
Chill out even more at Pai's hot springs
Pai also has hot springs. Choose the one you'd like to visit here – but remember – it's hot in Pai so it's even hotter in a hot spring!
How to get to Pai and around
To get to Pai within Thailand, you can take a mini bus from Chiang Mai. They depart quite frequently. You can get tickets in virtually any tour agency in Chiang Mai for a very reasonable price including pick up from your hotel. If you'd rather book stuff in advance then use 12goasia. It's the best to book travel within Thailand.
To get around Pai, you'll need to rent a scooter. If you don't know or like to ride scooters then you are only left with taxis or tours to get to these destinations.
If you liked this article please leave a comment and follow us on Instagram. To see more of Thailand visit this page.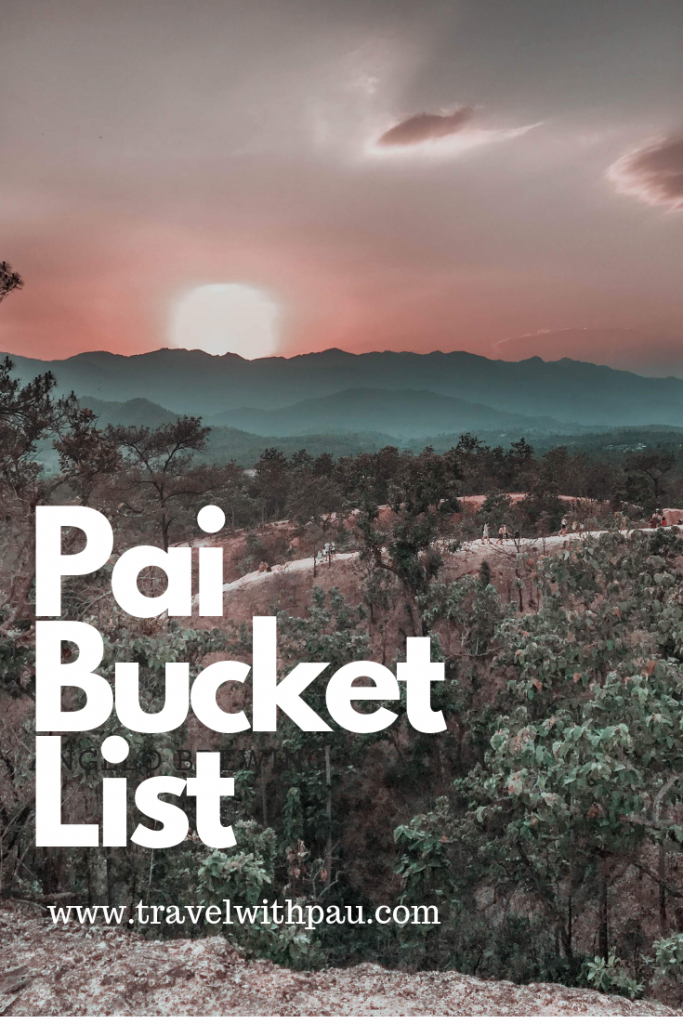 This post contains affiliate links. If you click on one and make a purchase, I might make a small commission, at no extra cost to you in order to help support my blog. My stay at Reverie Siam was complimentary however as always my opinions are my own.