After a great time in Victoria Falls and a short transfer I arrived to Kasane. This town is right in the "Four Courners" where four countries almost meet: Botswana, Namibia, Zambia & Zimbabwe. It is also the only town in northern Botswana. The next town Maun, is more than 600km away.
Between these towns lies the wildest most beautiful wilderness with the Okavango Delta, one of the Seven Natural Wonders of Africa, as its protagonist. It all begins just a few kilometers south of Kasane in Chobe National Park, which benefits from one of the largest concentrations of wildlife in Africa. The Savuti, Linyanti and Chobe Riverfront areas within Chobe each offer different landscapes and unique game viewing. But that's not all! The phenomenal wildlife experiences are continued in the Moremi Game Reserve.
Self-drive from Kasane to Maun
We left Kasane to soon enter Chobe National Park via the Sedudu Gate. Soon after the gate, rough and extremely sandy roads slowed us down. But we were in Chobe already!
Our itinerary was tight. We would spend our first night in the Savuti Campsite in Chobe and second night in the Third Bridge Campsite in Moremi. But you'll soon learn things had to change.
What I'm trying to get at is: this is not for anyone. First of all, it requires an experienced and slightly fearless driver that is ok with driving a 4×4 in sand and mud. Second, it requires extreme preparation. There is basically nothing between Chobe and Maun other than very rudimentary campsites so you'll need to pack all the food, petrol, and tools required to survive your journey.
Chobe National Park, Botswana
We battled through the sands and got to Linyanti in the afternoon. There wasn't much daylight time left but we wanted to spot some wildlife before heading to Savuti. We saw a herd of ten plus elephants up close. They were right on the middle of the road coming back from the river.
We then headed to Savuti, and on our way found a couple of South Africans on a 4×2 stuck deep in the sand. Our attempts to tow them off all failed but luckily they had family in the camp and they came to the rescue!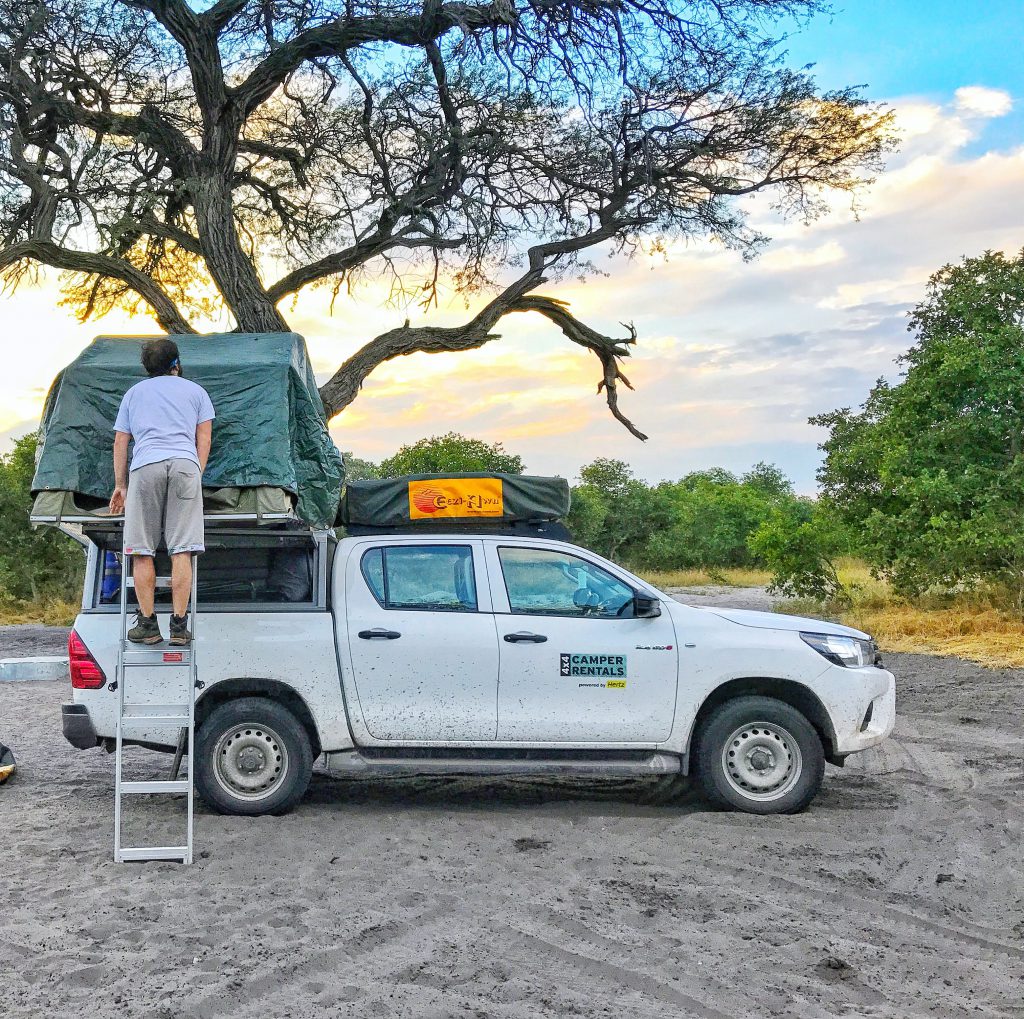 The next day we woke up and slowly began our journey towards Moremi. We soon saw an Impala herd completely frozen, watching something at a distance. A leopard had probably got one of their friends. Minutes after, Savuti continued to surprise us and we saw a pack of six or seven lions crossing the road, probably looking for their rest place for the day. Their arrogance and peacefulness represent their power: they are feared and they know it.
We soon made our way for Moremi, seeing loads of wildlife on the way.
Moremi Game Reserve, Botswana
Moremi brought more widlife and obstacles. Our 4×4 got stuck in mud. Luckily, a local saved us pretty quickly and taught us how to handle the areas where you literally need to go through deep water. It was scary as hell but we did it.
In parallel, the lovely and zero customer centered people at Third Bridge sent us, due to flooding, to Kaziikini Camp which is outside Moremi and on the way to Maun. They dis not give us any other choice. This meant we would need to leave Moremi a lot earlier than expected. Hence we decided to visit the Black Pools and Mogogelo Hippo Pool which are on the way to the South Gate of the park.
While driving there we encountered and angry elephant who trumpeted loudly at us. Soon after we found a small waterhole with two elephants which seemed to be fighting inside it, together with hippos and a resting crocodile. At that moment I smiled to myself in joy: "Yep, this is what I'm here for".
We continued our journey and noticed the road became a lot rougher. The track was almost inexistent. A bit of erosion of the soil from wheels could still be seen but the space between the wheels featured grass a meter long. It was clear that not many cars had gone through that road recently. However, we continued and at last, the hippos!
After the successful turnout, we decided to call it a day and head to Kaziikini Camp. It was a bit muddy around the pools, so we decided to take extra caution after having got stuck earlier. But we got stuck again! And this time we didn't get out of it easily or safely. You can read the full survival story here.
Reflections on self-driving in Chobe & Moremi wilderness
I hope I was able to convey this through the post, but I'll say it anyways: self-drive safari in Botswana is where long days of travel in dodgy terrains are rewarded with uncharted wilderness.
If you are adventurous, intrepid and passionate about wildlife in its most, well, wildest form then Botswana could be the experience of a lifetime.
Are up to the challenge? Then you can find tips for planning the trip in this post.