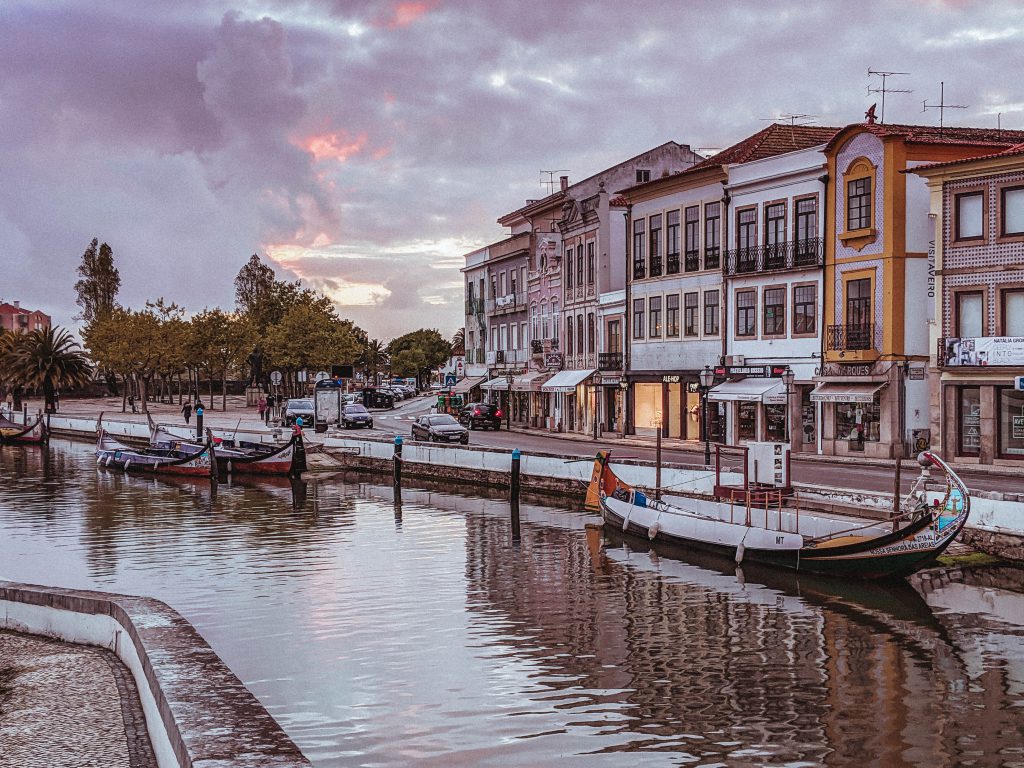 Aveiro is one of the cities I visited between Lisbon and Porto in my 8 day trip around Portugal. Aveiro is a very beautiful city with enough things to do for a full day. I stayed in Aveiro for one day and two nights but one day and one night would have worked as well. You can also visit it as a day trip from Porto via a tour like this one here. See all things to do, where to stay and how to get to and around Aveiro in this post.
Aveiro Travel Guide: The Best Things To Do In Aveiro
Visit the cute striped sea side houses at Costa Nova
Ok, I'll admit that this was the reason I visited Aveiro. And it was Instagram heaven as I expected. These striped houses by the beach make the freshest photos ever. An important thing to note is that Costa Nova is not in Aveiro but getting to it is very easy either by car or local bus.
Cruise on a Moliceiro
Aveiro is the Venice of Portugal. First because it has canals, second because you can cruise them in cute and colorful boats called Moliceiros. Moliceiro boats have for centuries represented a vessel for the harvesting and transportation of moliço (a kind of seaweed) in the Ria de Aveiro. The boat tours last around 45 minutes and are definitely worth it!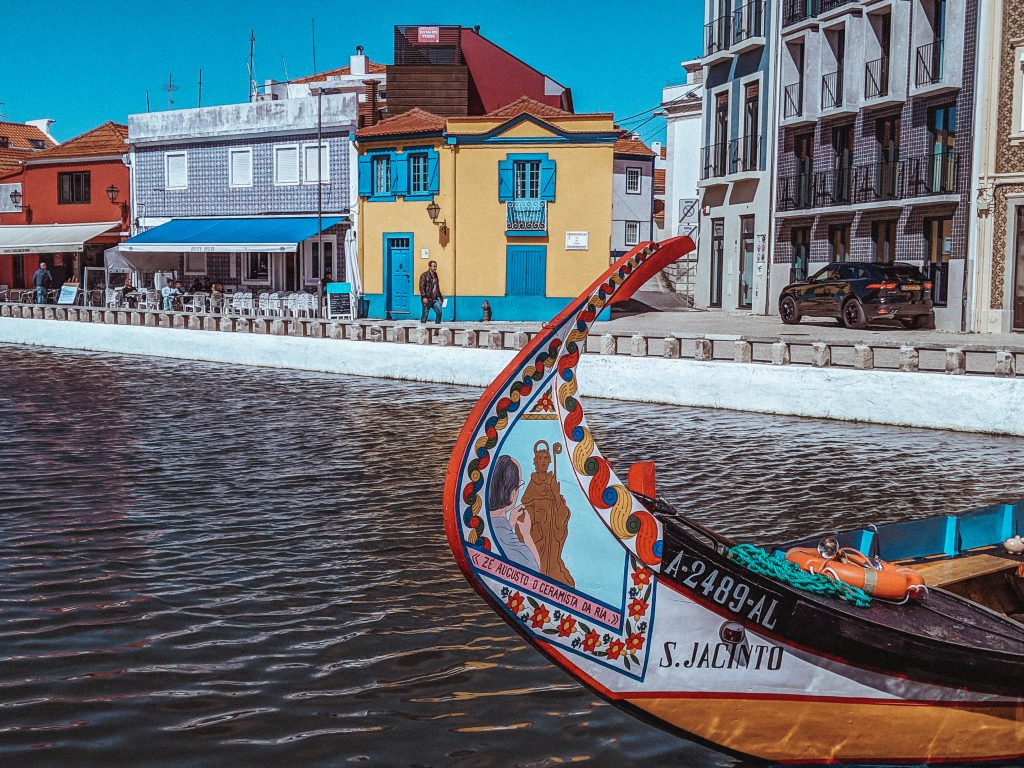 Try ovos moles
Ovos moles de Aveiro is a local delicacy, made of egg yolks and sugar. This mixture is often put inside of small rice paper casings in nautical shapes, such as shells. They are literally everywhere in Aveiro: there are tens of stores that sell them but you can try them in any cafe as well. They are also the perfect Aveiro souvenir.
See the Art Nouveau buildings & visit the Art Nouveau Museum
Aveiro is known as the city-museum of Art Nouveau in Portugal and is a member of the "Réseau Art Nouveau Network" among others like Barcelona, Brussels, Budapest, Havana, etc. There are many Art Nouveau buildings to bookmark and admire such as: Largo do Rossio 3, R. João Mendonça 24, Museu da Cidade de Aveiro, Cooperativa Agricola Building, Pensao Ferro Building, House of the Arquitect Silva Rocha, Hotel As Americas, Sapataria Migueis Building and the bandstand of the Dom Pedro Infante City Park.
Another of the Art Nouveau buildings not listed above, Casa Major Pessoa, is actually the Museum of Art Nouveau in Aveiro. The building is topped with an eagle, a theme that's replicated in the interior. Once inside the is a self guided path to visit the multiple floors as well as a gallery. There is also a tea house by day / cocktail lounge by night in the museum.
Visit the Museum of Aveiro
The Museum of Aveiro is housed in the old Convent of Jesus of the female Dominican Order. The convent, created in 1458, is famous as this is where Princess & Saint Joana, daughter of the King D. Afonso V, lead a saint life. She died in 1490 and was beatified in 1693, and her stunning tomb can be seen in the museum. The Church of Jesus also here is a masterpiece of exuberante Baroque decoration featuring golden woodwork and "azulejos" (tiles).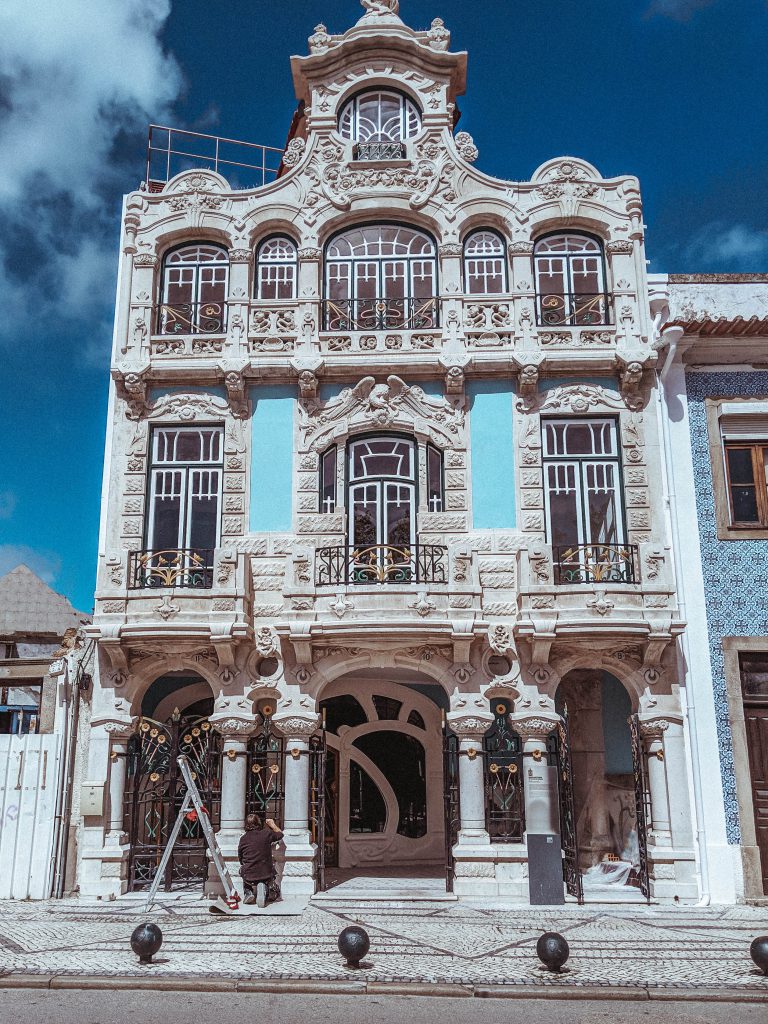 Relax at Praia da Barra & Praia da Barra Lighthouse
Praia da Barra is a beach just 15 mins walking from Costa Nova. Relax at the beach, eat fresh seafood and admire it's cool lighthouse which is also active.
Drop by the Old Train Station
Aveiro's lovely Old Train Station is located right by the new one and is beautifully decorated with white & blue tiles which depict life in the city in the last century.
Go shopping at the Forum Aveiro
If you need some retail therapy, visit Forum Aveiro, an outdoor mall with food, shops, and gardens. Its architecture has won international awards for design. To get a nice view, head up to the mall's rooftop garden.
Try Seafood in Fish Market Square
The restaurants around Aveiro's Fish Market are the best to try traditional seafood dishes, such as eel based dishes. The best restaurants are O Moliceiro or O Telheiro. Salpoente is a bit further away but also great for fish. If you are a vegan like me try Restaurante Musgo.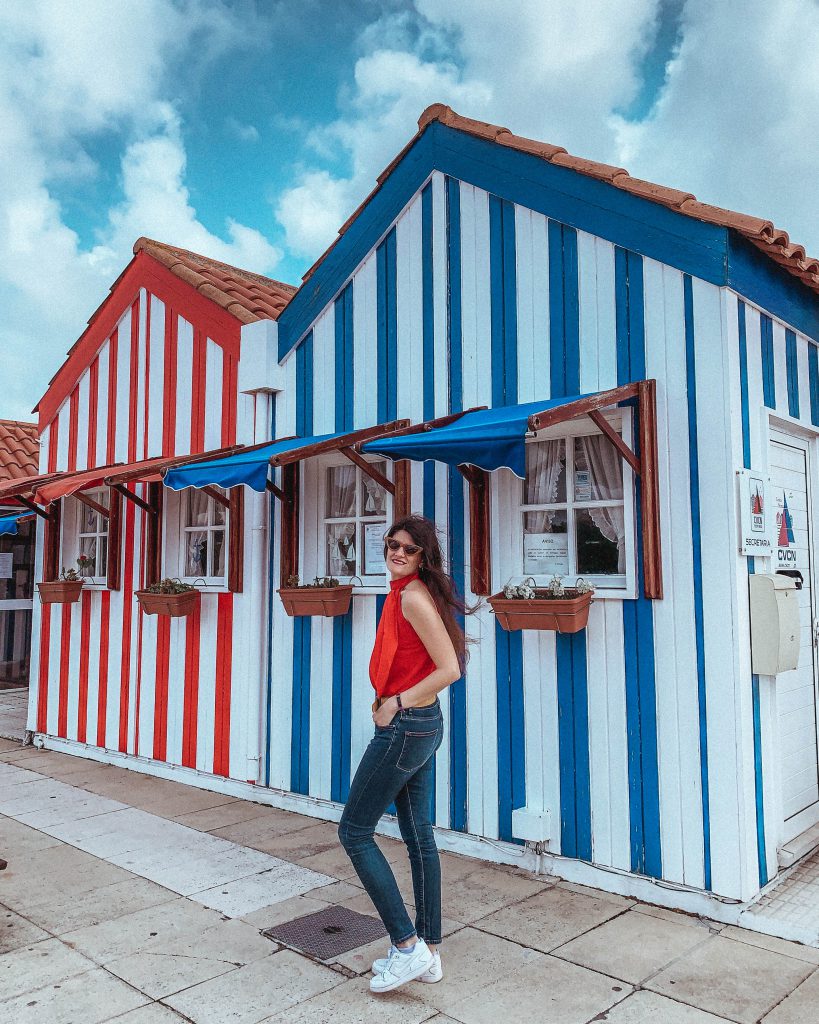 Walk the Eco Cycling Route
The Eco Cycling Route is a fairly new (2018) route of wooden walkways where you can enjoy the beauty of the Ria de Aveiro. The route is 7.5km long and can be done walking or cycling. In the route you can admire the fauna and flora of the Ria as well as the canals and its boats.
The wooden walkways begin at Cais da Ribeira . If you would rather cycle, you can use the free to rent bicycles provided by the city of Aveiro (Buga bikes). You can pick one up here.
Visit Dunas Sao Jacinto Natural Reserve
If you like nature tourism, you will love the Natural Reserve of the São Jacinto Dunes. The reserve is 700 hectares and is divided into shifting and fixed dunes which form a wood with mainly Pinus pinaster trees and fresh water ponds. The greatest of these bogs, known as Pateira, is a wintering sit for migratory water bird species. There is a lot to see!
You can get there by car, or you can book this full day tour to Aveiro from Porto which takes you there.
Treat yourself to a salt spa
Cale do Oiro can organize a visit to a salt pan which has been transformed into an outdoor spa. You can cover yourself in mineral-packed salty mud or enjoy a massage.
Aveiro Travel Guide: Where To Stay In Aveiro
I stayed at Aveiro Rossio Bed & Breakfast for two nights. It strongly exceeded my expectations. The rooms where great, beautifully decorated with a comfy bed, full of light and big windows and a good bathroom and shower. There is a built-in sound system in the room which staff controls and which you can regulate from a dashboard in your bedside table (ie turn off). You can also plug in your phone to listen to your own music! They also leave ovos moles in the bedside table as nice welcome gift.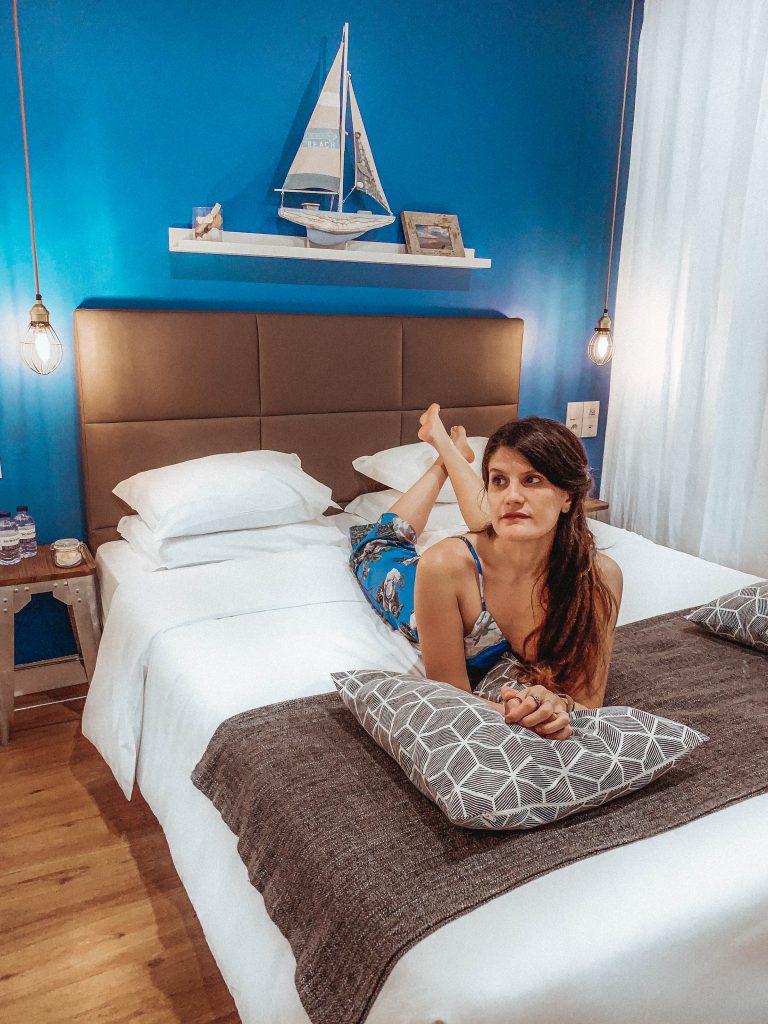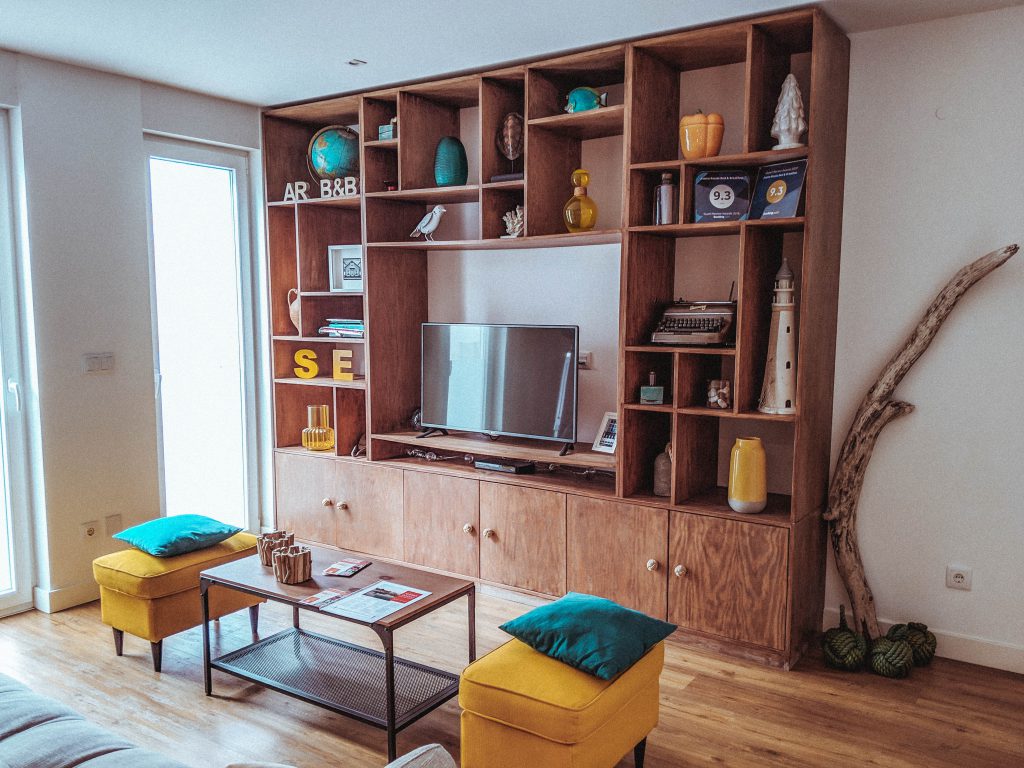 The best thing by far was breakfast. It had literally everything: coffee, tea, orange and mango juice, fruits, cereals, cold meats, a great cheese selection, pastries and bread. They also bake a cake every day and there is sometimes a specialty dish such as a savory pastry. I told them I was vegan in advance and they made vegan apple tart cupcakes, which were yummy and a very nice touch.
Staff will also help you organise things to do, recommend restaurants, guide you to the bus stop, etc. They also sell tickets for the moliceiro boat tour with a discount. You can book Aveiro Rossio Bed & Breakfast here.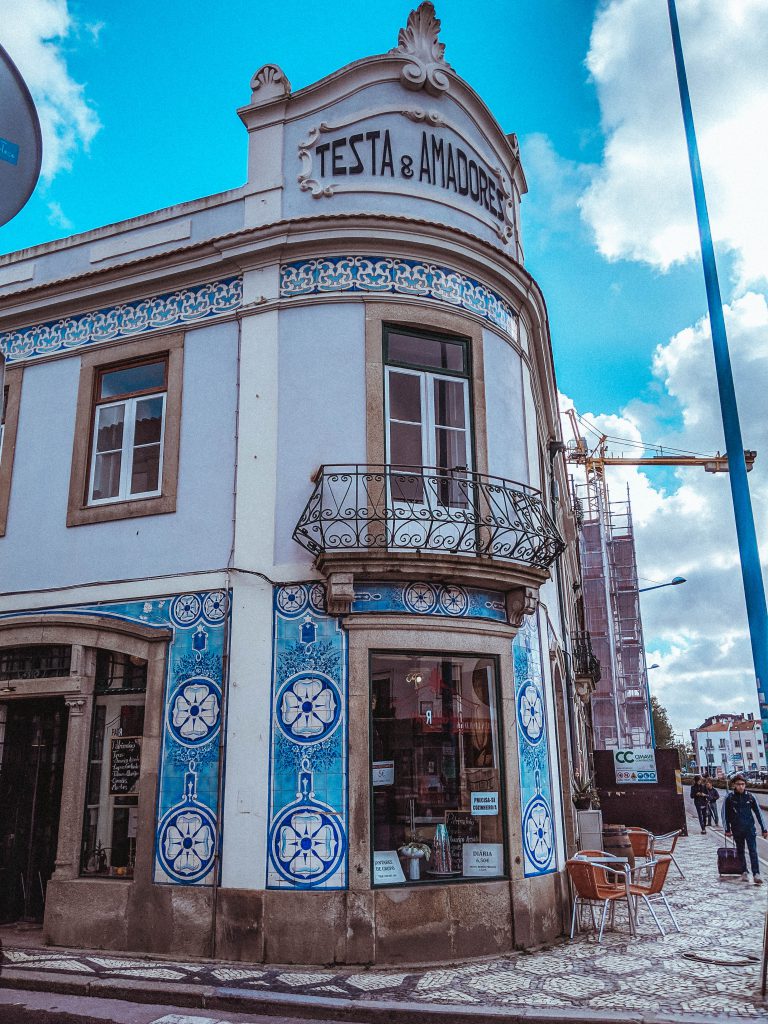 Aveiro Travel Guide: How To Get To And Around Aveiro
The best way to reach Aveiro on your own is by car or train. You can buy train tickets in the stations or online here.
Additionally, Aveiro could be a good day tour from Porto. I recommend this full day tour, or if you don't have much time, this half day tour would work.
If you are staying in Aveiro, you can walk everywhere. You will only need a bus to get to Costa Nova and Praia Da Barra for which you'll get the tickets directly with the bus driver.
Enjoyed this article? Support my work by buying me an oat capuccino. Otherwise, do me a great favor of leaving a comment and following me on Instagram (@travelwithpau). Feel free to say 'Hello!' I don't bite. And make sure you save the article for later!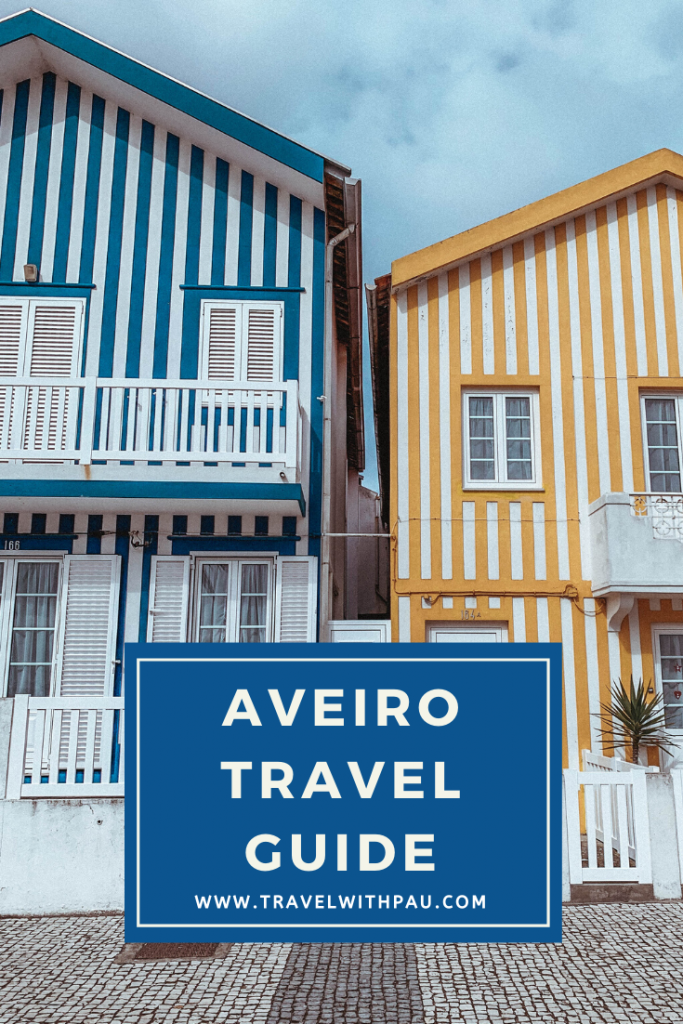 This post contains affiliate links. If you click on one and make a purchase, I might make a small commission, at no extra cost to you in order to help support my blog.