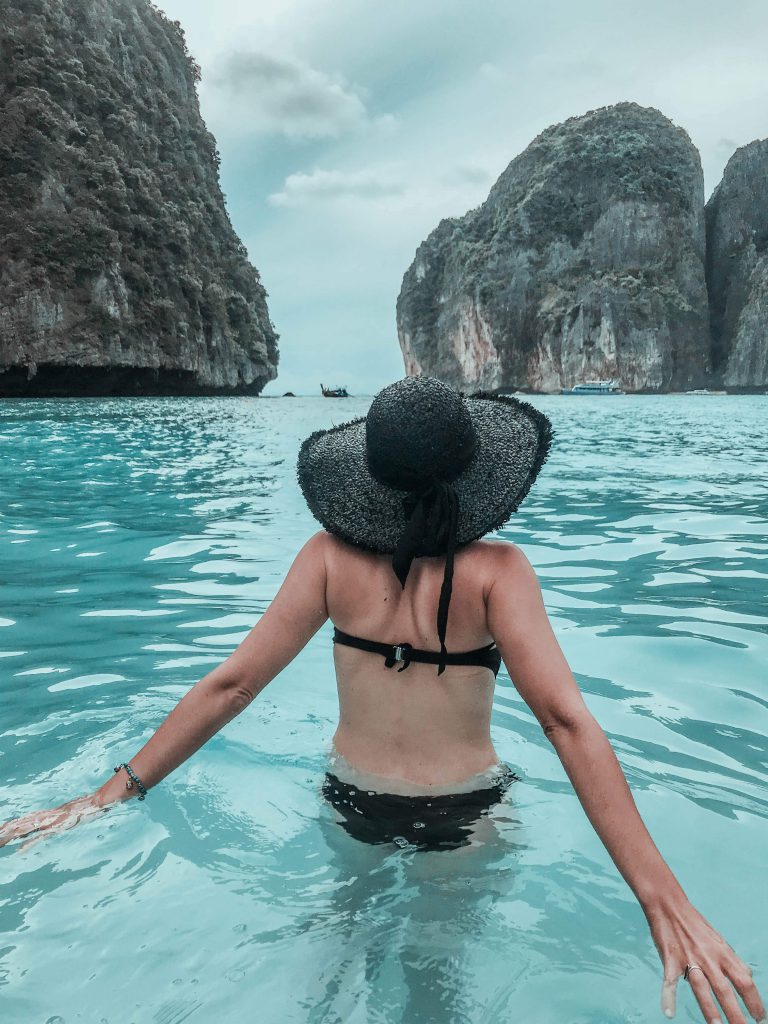 Koh Phi Phi is an absolute must of Thailand. It's most well known for being the gateway to Maya Bay. My top reason to visit Koh Phi Phi though, is the color of the sea. I've never seen such a beautiful range of turquoises and greens in the sea water all within the same area. Most people complain that it's too touristy and so busy that it's not worth going. If you go in late April like I did, I assure you that you won't have that problem. In fact I was a bit like, where's everyone at?
See below my bucket list items for the island of Koh Phi Phi, plus transport and accommodation tips!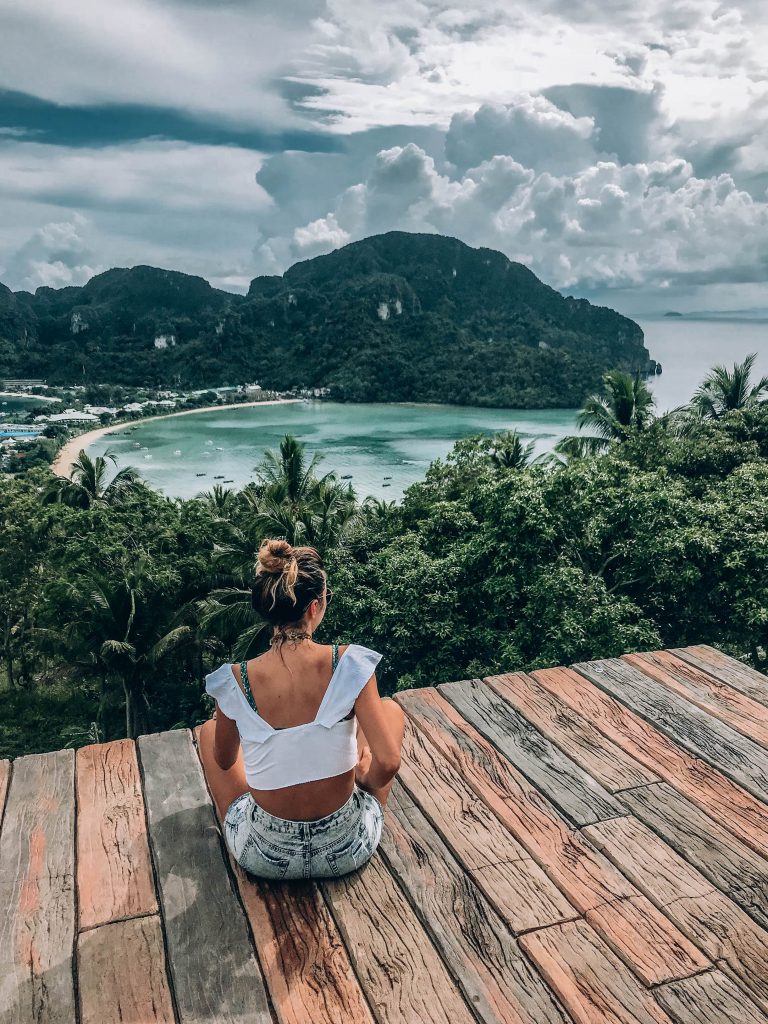 Take a boat day tour to Maya Bay & more!
The best beach spots in Koh Phi Phi are actually not in the main island which is called Koh Phi Phi Don. This island is where locals live and where you'll stay. In fact Maya Bay is on a smaller island called Koh Phi Phi Leh which is protected, so there is no accommodation or infrastructure. That's why Leo Di Caprio had such a hard time getting there in the movie The Beach!
That means you'll need a boat to reach Koh Phi Phi Leh. You can book a private boat which is of course better, but also more expensive than doing the trip via a tour. My recommendation is that you do a long tail boat tour that will take you to Koh Phi Phi's main sights and to Maya Bay. The tour will stop at Maya Bay obviously, but also at Bamboo island, Tonsai Village, Monkey Beach, Mosquito Island, Viking Caves and my favorite, Pileh Lagoon.
You can book the tour below:
Hike to Phi Phi's view point
Phi Phi's view point offers stunning views of Koh Phi Phi you definitely cannot miss. You can access it from the city center, there are a bunch of stairs but nothing too terrible, it will take you around 30 mins. There is also a way to do this hike by road. The path is stair free but longer, there is less signage but you get to experience the local Koh Phi Phi life so it does feel more like an adventure. I did the long way up by accident, and the stairs down but would recommend the opposite, actually.
There are actually three viewpoints on the same path, Viewpoint 3 being the highest and the best one in view terms. From them, you'll be able to spot Koh Phi Phi Leh, Tonsai Village and Loh Dalum Bay. What I liked the most is that, specially from Viewpoint 3, you are able to appreciate the isthmus: the small strip of land that joins the two sides of the island. It makes for great photos!
You need to pay 30 baht as an entrance fee. So make sure you bring cash, and also water and sunscreen. Snacks and water are available on Viewpoint 3.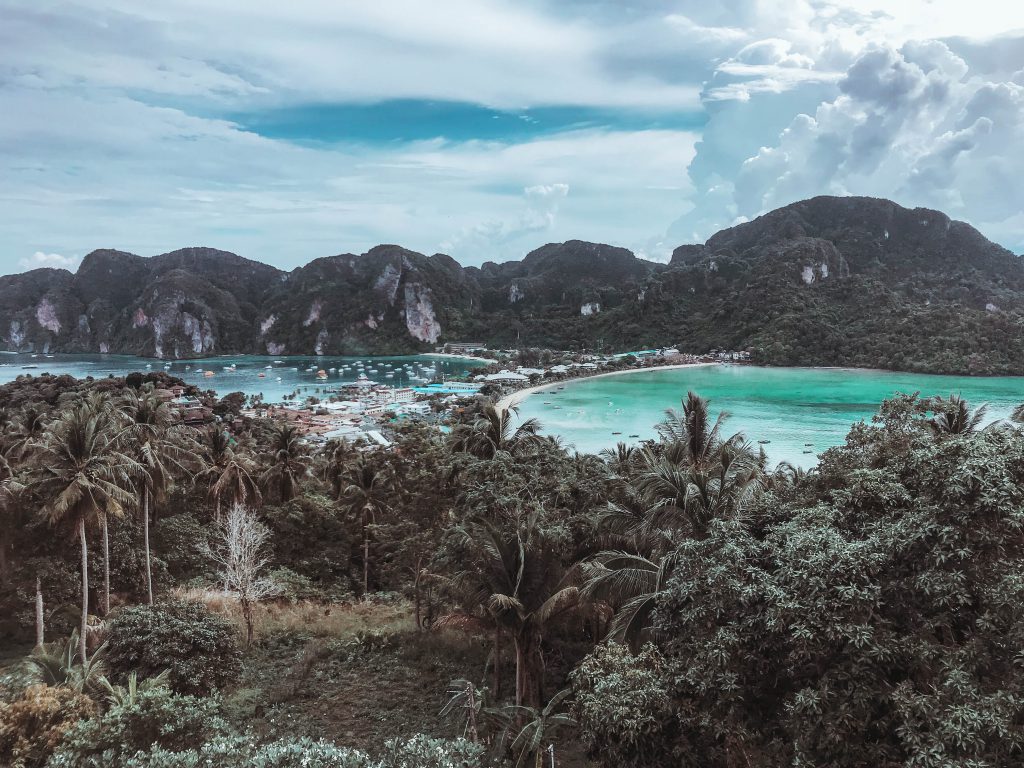 Party, party, party!
As I mentioned, I visited Koh Phi Phi in low season, but I could still easily tell partying is a big thing here. People go to have fun to the bars on the city center and the beach. On the center, don't miss Reggae Bar where you can sign up for a Muay Thai fight for a prize. On the beach, go to Slinky. This was my favorite one due to its fluo decoration, highly skilled fire jugglers as well as loud music and good dancing. Last, Banana Rooftop Bar is also really fun and has a great view of Koh Phi Phi.
Hike to Long Beach
If you are looking to get away from the crowds and get in your daily workout, then take a hike to Long Beach. It takes about an hour to do so from Tonsai Pier. But it's a nice easy hike, it's well signed, and you'll pass through other very nice small beaches on the way. Once there, the reward is a lengthy beautiful beach which overlooks Koh Phi Phi Leh. In low season, and if you are lucky you might even have the entire beach almost all to yourself!
This beach is great for snorkeling as well. At the end of the beach, there's a rock that just breaks the surface, that's Shark Point. Here you'll find black tip reef sharks from 40cm to 1.2m swimming around the reef. You are most likely to see them in the early morning or late afternoon. Don't worry they are not the real deal, they are tiny sharks who won't do you any harm.
How to get to Koh Phi Phi
Getting to Koh Phi Phi, and around Thailand in general, is really easy. From Bangkok, or anywhere in Thailand, you can book a bus + ferry using 12goasia. 12goasia is a great agency which specialises in travel within Thailand. I used them to book some of my travel within Thailand and their service was great. Please note you can book these bus + ferry tickets in Thailand on tour agencies, but if you'd rather plan in advance instead of asking around, the only option is 12goasia.
If you are looking for something faster, book a flight to Krabi through Momondo or Skyscanner. You'll then need to get from Krabi to Phi Phi using the ferries that depart from Krabi Town. If you have time, stay in Krabi and go to Railay Beach. To learn how to get from Krabi to Phi Phi read this post.
How to get around Koh Phi Phi
There are no cars allowed in Koh Phi Phi. You'll have to walk places, or take a taxi boat. Distances are short though!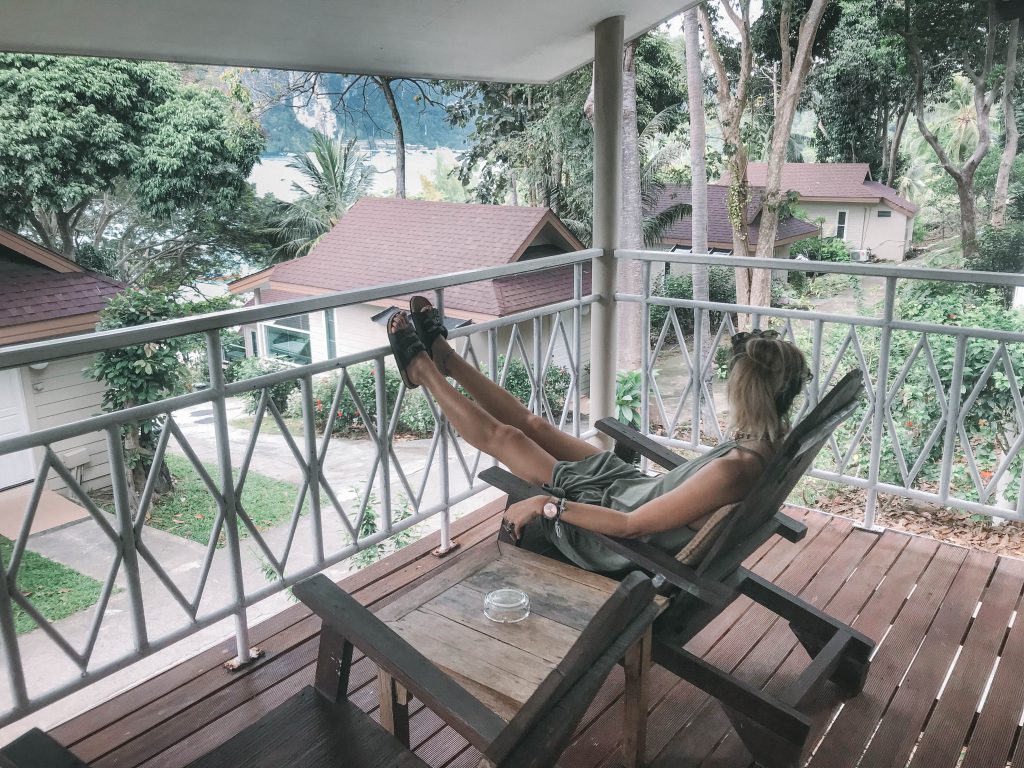 Where to stay in Koh Phi Phi
I stayed at the Bay View Resort and would strongly recommend it. There is free shuttle service to and from the Pier at the times the ferries arrive and depart. This is important given that, as I mentioned, there is no ground transportation in Koh Phi Phi's islands. The hotel is on the beach, there is free breakfast, a pool, a poolside bar and a poolside spa which offers massage services. Breakfast is included, there is also beach bar and a seafood restaurant available for dinner if you wish to skip going to the town one night. It is also possible to book tours and scuba diving classes onsite.
The rooms are simple but they have everything you need. There is air conditioning, complimentary tea and coffee, a safe and a beautiful private balcony where to chill on the afternoons. Only thing to consider is that the hotel is on a hill, so the way to the rooms can be a bit steep, and depending which room you are in it can be a bit of a hike from the lobby to your room. I had zero issues with it, but something to consider if you or someone you are travelling with has mobility difficulties.
Last, if you wish to walk to the town it is a pleasant 20-25 minute walk. Book the Bay View Resort here.
Best Tours in Koh Phi Phi
Find the best tours of Koh Phi Phi right now below:
Traveling to Thailand? Check other Thailand posts here.
If you liked this article please leave a comment and follow us on Instagram.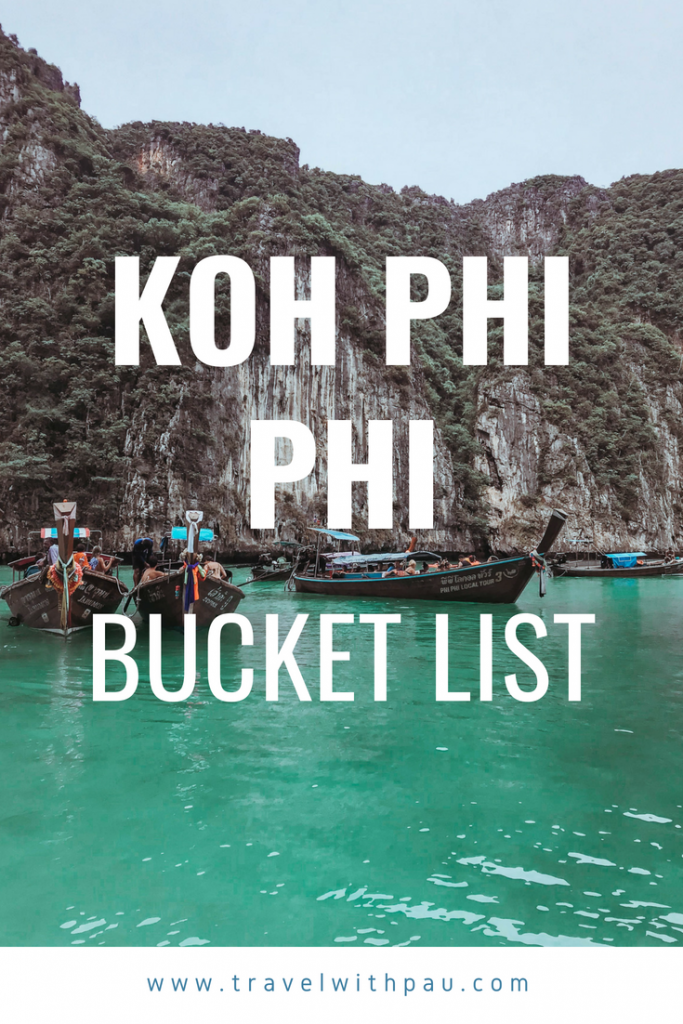 This post contains affiliate links. If you click on one and make a purchase, I might make a small commission, at no extra cost to you in order to help support my blog. My stay at Bay View Resort was complimentary however as always my opinions are my own.