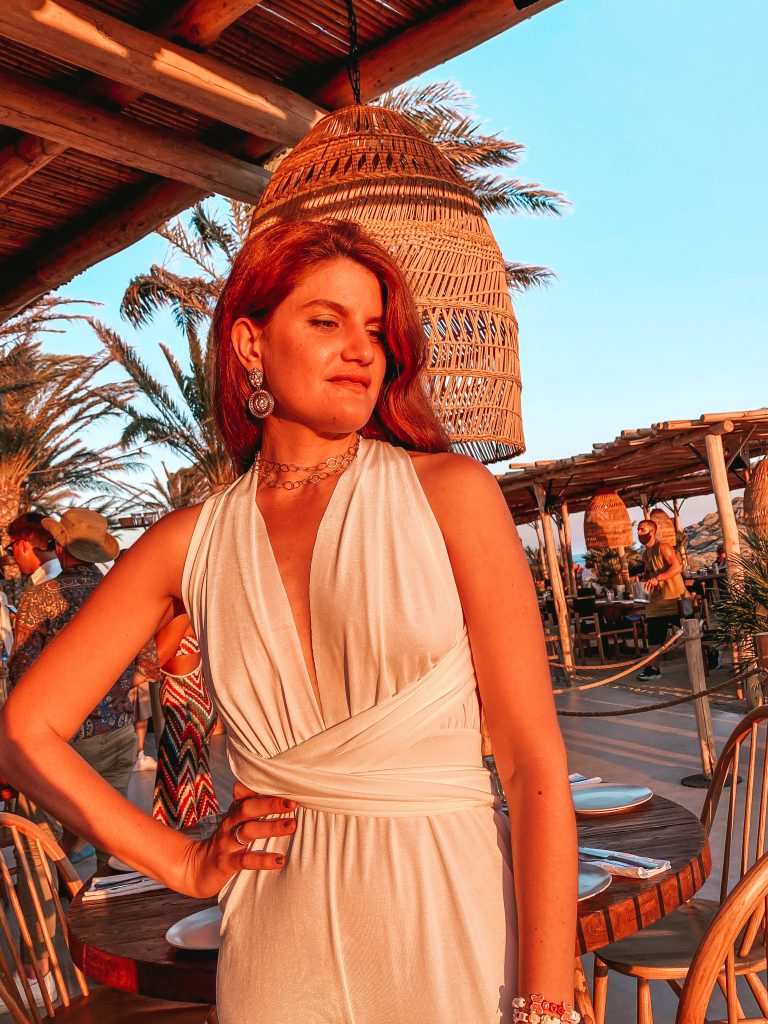 Let's face it, there are many islands in Greece but Mykonos is definitely the party island. To put it in understandable terms Mykonos is the Ibiza of Greece without the huge clubs and generally a bit more classier for my taste. Mykonos has beautiful beaches where you can party all day and all night.
In this guide you'll find everything about where to party in Mykonos, from the affordable to the super luxury beach clubs. There's something for everyone although Mykonos is generally on the expensive side. Either your budget or wants, read on to find out where to go.
Where To Party in Mykonos? Read on for the best Beach Clubs in Mykonos main beaches.
Where To Party in Mykonos: Mykonos' Best Beach Clubs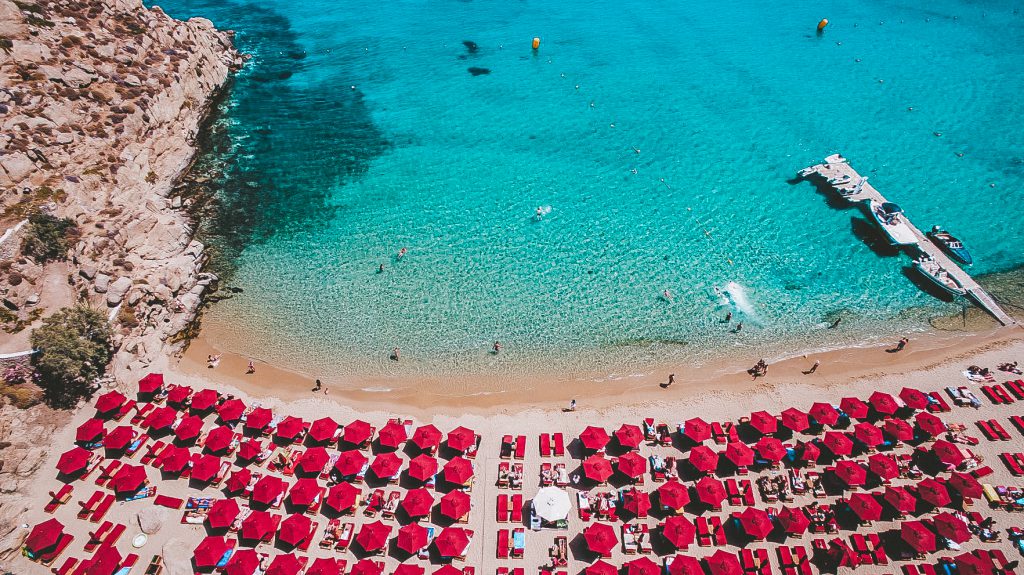 Super Paradise Beach
Super paradise is a small beach with plenty of activity located 7 km southeast of Mykonos Town. There are no direct buses to it but there are small boats from Platis Gialos and Paradise Beach to Super Paradise Beach. Probably the most gay-friendly beach on Mykonos.
Best Party Beach Clubs in Super Paradise Beach, Mykonos
Super Paradise Beach Club
Super Paradise is one of the more laid back and affordable beach clubs in Mykonos. During the day the vibe is very chilled but by the evening it is the place to go. Rent a sun lounger and umbrella for the day and get ready to enjoy some cocktails.
Jackie 'O Beach Club
Jackie 'O has a section right on the beach and then a bar area with a pool which does shows and performances. There is an incredible selection of cocktails at the 360 degree open bar. The service here is incredible, you'll never have an empty drink. It is a great place for a sit down lunch or dinner as well. Note the sun sets behind the beach bar so you can't see it as it sets but you can still enjoy the golden hour.
Where To Stay in Super Paradise Beach
Perched only a breath away from the famous sandy beach of Super Paradise, My Aktis is ideally set amongst Mykonos most popular destinations. See availability and prices here.
Located right on the famous Super Paradise Beach, the Cycladic-style Super Paradise Rooms offers air-conditioned rooms with furnished, shared balcony. See availability and prices here.
See other top rated hotels in Super Paradise Beach here.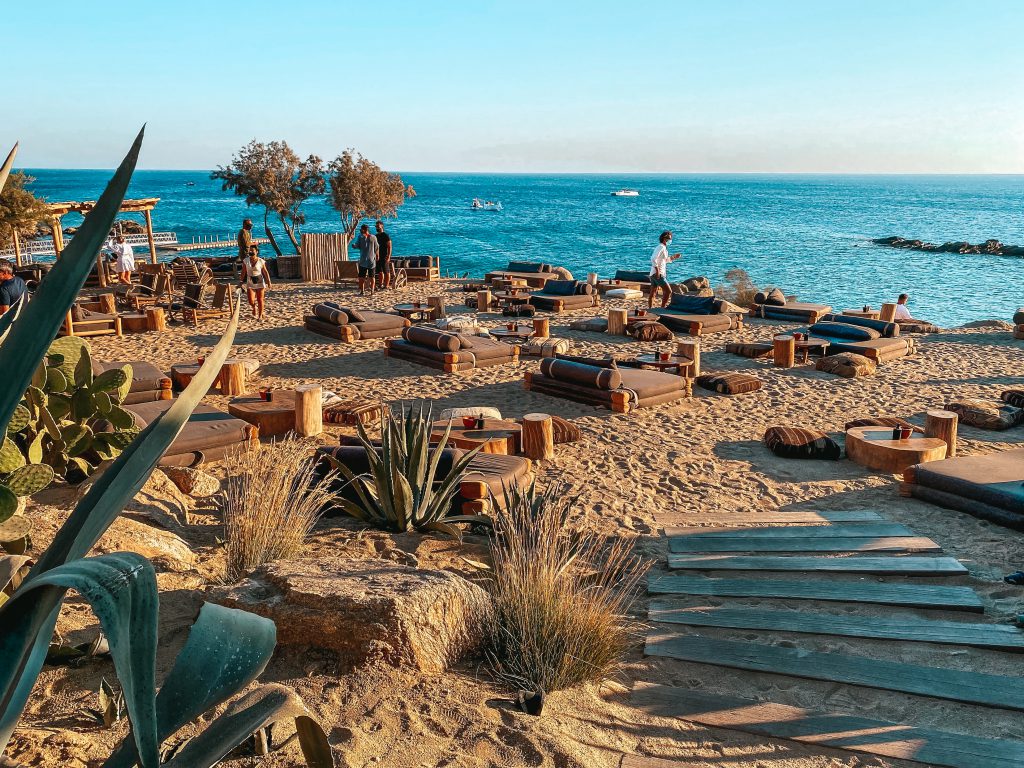 Paraga Beach
Paraga Beach is located on the Southern tip of Mykonos between Agia Anna Beach and Super Paradise Beach. It's home to some of the most popular party beach clubs, Kalua Beach Bar and Scorpios. Scorpios is a unique beach bar with the best sunset views.
Best Party Beach Clubs in Paraga Beach, Mykonos
Scorpios
Scorpios is a unique beach bar in that it has bohemian vibes and decoration. It has been compared to Burning Man as everyone here looks like they are at a festival. Having been to Burning Man I totally agree with this. Definitely don't dress down when you come to Scorpios as it's super exclusive. On one side of Scorpios there's a small beach with sun loungers and on the other side there's places to sit, dance and watch the sunset. You should reserve a spot in Scorpios if you are going in high season to watch the sunset. The food here is absolutely amazing too.
Kalua Beach Bar
The breezy and decorative environment at Kalua makes for a relaxed and upbeat place to eat, drink and party. There's also a contemporary restaurant with sushi as a favourite on the menu. There's an event for everyone, from DJs to live performances.
Where To Stay in Paraga Beach
Zephyros Hotel lies on a panoramic location overlooking the sandy beach of Paraga, offering a spectacular view to the sea. See availability and prices here.
See other top rated hotels in Paraga here.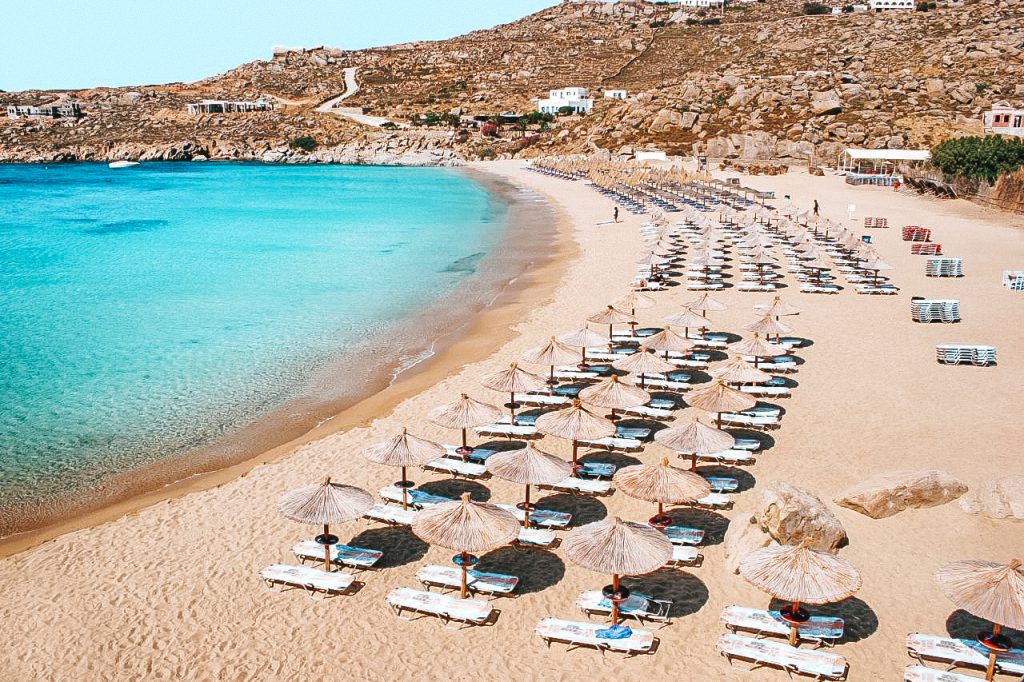 Paradise Beach
Located 6 km south of Mykonos Town, Paradise Beach is a young lively party-beach with many bars. After the sun goes down the party here gets wilder. There are buses going directly from Mykonos Town to Paradise Beach, and the beach is also in the water-taxi route. Paradise Beach was once the most popular gay beach but is now largely straight.
Best Party Beach Clubs in Paradise Beach, Mykonos
Tropicana Beach Club
Tropicana is one of the most well known party spots in Mykonos. Music starts at 4.30PM with different DJs everyday and people here party hard. Definitely make sure you spend a night in Tropicana during your trip, this is where I had the most fun.
Where To Stay in Paradise Beach
Located right on the famous Paradise Beach, Tropicana Hotel Mykonos is a white-washed complex featuring two swimming pools and a beach bar-restaurant. See availability and prices here.
Just 300 metres from Paradise Beach and overlooking the Aegean Sea, Paradise View Hotel has an outdoor swimming pool and offers free private parking and complimentary buffet breakfast. See availability and prices here.
See other top rated hotels in Paradise Beach here.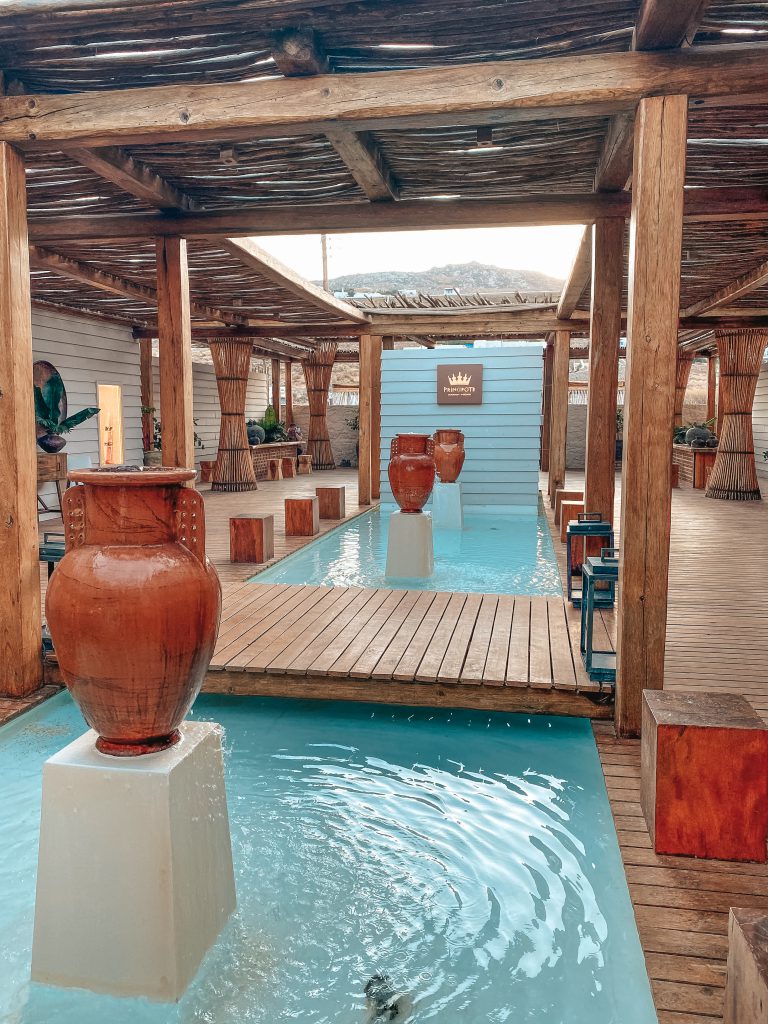 Panormos Beach
Panormos Beach is a big beach with a large stretch of sand. There's a busy beach bar but also plenty of space to relax and step away from the music and dip into the sea.
Best Party Beach Clubs in Panormos Beach, Mykonos
Principote Beach Club
This beach club is on Panormos Beach and is ideal for those who don't want to get their hair messy with the Mykonos wind, as Panormos Beach is sheltered in a cove. Additionally, as it's in a bay the water here is often warmer than in other beaches.
As many other clubs, Principote starts of chilled and the music gets louder as the day goes on. It's a luxurious experience and it's priced accordingly. Food is pretty good here as well.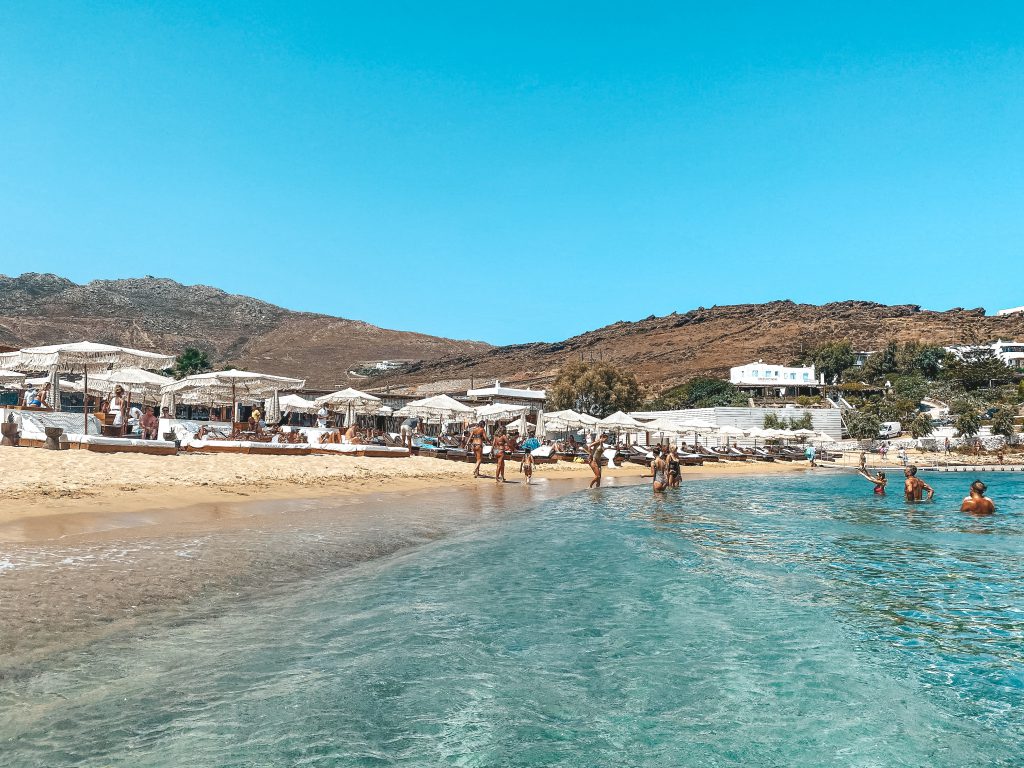 Where To Stay in Panormos Beach
The family-run Yakinthos Residence is a complex of traditionally built studios and apartments located in Mykonos' Panormos bay. There is a swimming pool with sun-lounger terrace on site. See availability and prices here.
See other top rated hotels in Panormos here.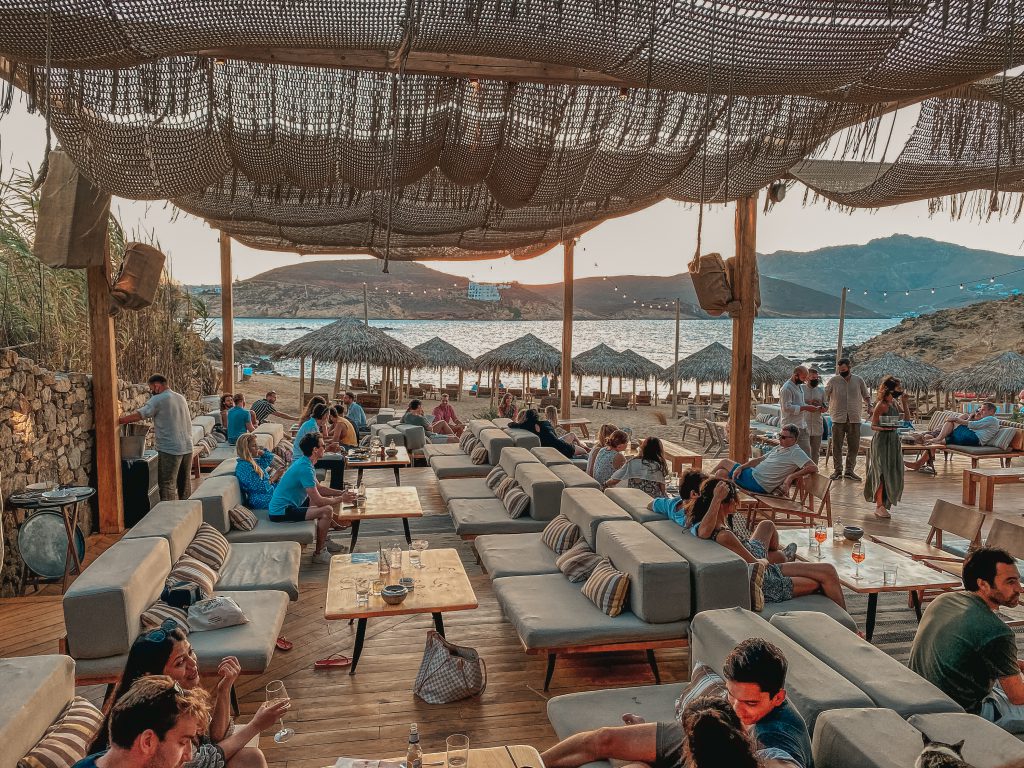 Ftelia Beach
Ftelia Beach is located north of Mykonos and is an ideal spot for windsurfers. It is a pretty long stretch of beach and good for spending the day.
Best Party Beach Clubs in Ftelia Beach, Mykonos
Alemagou Beach Bar
Alemagou is an all-day beach bar and restaurant which is the ultimate combination of luxurious living and laid-back vibes. There are chill cabanas on the sandy beach make lounging all day irresistible. The restaurant offers traditional Greek cuisine, while the music adds to a lively atmosphere.
Where To Stay in Ftelia Beach
Set on the hillside facing the bay of Ftelia, this Mykonian-style boutique hotel offers rooms with views over the Aegean Sea. The quiet Ftelia beach, famous for windsurfing, is 800 metres away. See availability and prices here.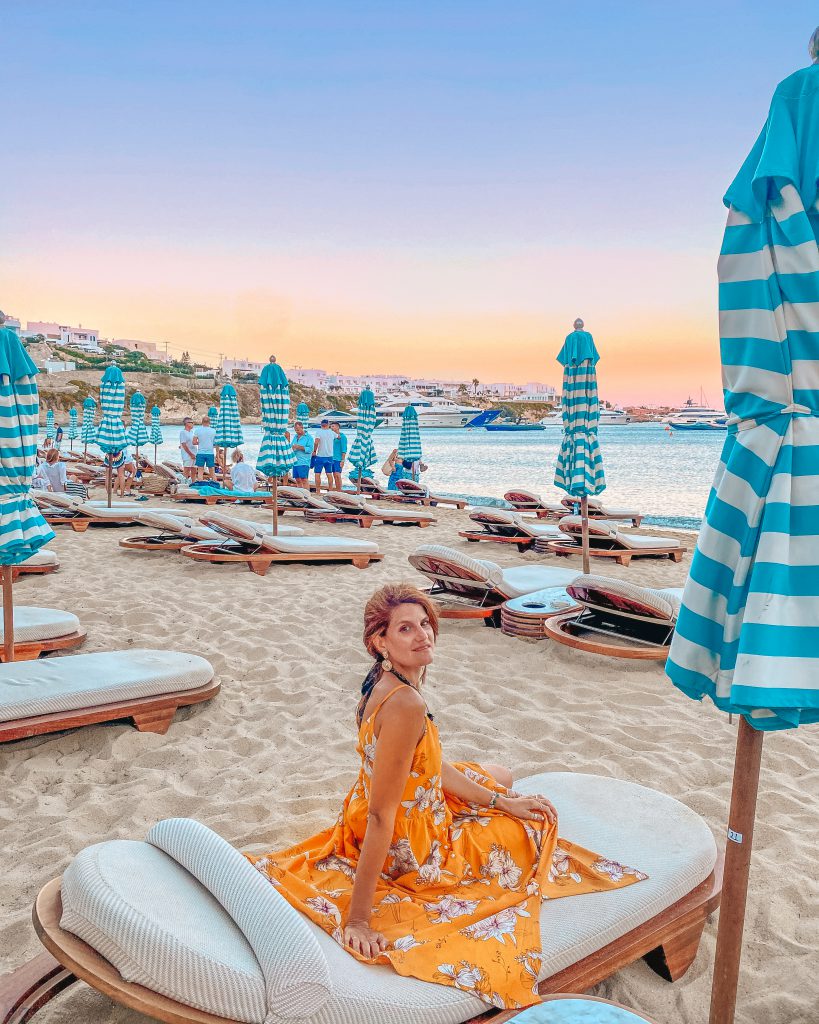 Psarou Beach
Psarou Beach is famous for attracting celebrities from all over the world. It is a beautiful organized sandy beach with clear turquoise waters situated in the south part of Mykonos, between Platy Gialos and Ornos Village.
Best Party Beach Clubs in Psarou Beach, Mykonos
Nammos
Nammos is a celebrity favourite, with the club attracting attendees such as Kendall Jenner and an array of sports stars. The luxurious surroundings give way to the party as the sun sets. You can enjoy sumptuous drinks while listening to the DJ sets throughout the afternoon and into the evening.
Where To Stay in Psarou Beach
Mykonos Blu, Grecotel Exclusive Resort
Mykonos Blu, Grecotel Exclusive Resort boasts a spa, a 2-level infinity pool and luxurious sea-view accommodation. It stands on its private part of Psarou beach, offering free beach sun beds. See availability and prices here.
Built with respect to the Aegean architecture Kensho Psarou is located in Psarou Beach of Mykonos Island, just a few metres of the sea. See availability and prices here.
Enjoyed this article? Support my work by buying me an oat capuccino. Otherwise, do me a great favor of leaving a comment and following me on Instagram (@travelwithpau). Feel free to say 'Hello!' I don't bite. And make sure you save the article for later!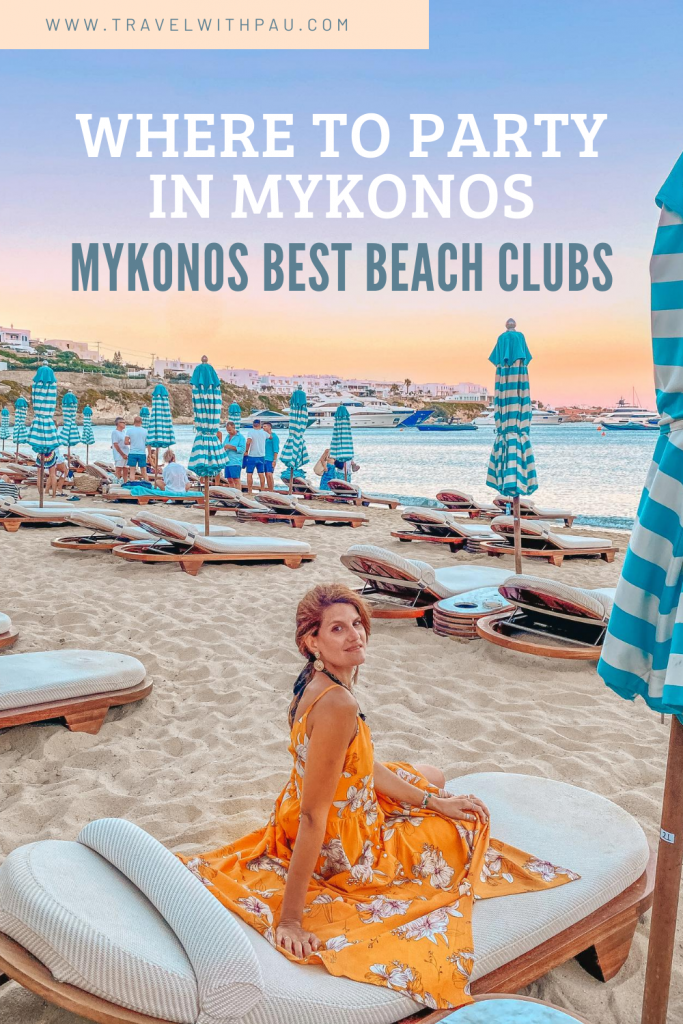 This post contains affiliate links. If you click on one and make a purchase, I might make a small commission, at no extra cost to you in order to help support my blog.