The day came when I finally visited Tuscany! I had long longed for this dreamy destination after seeing so many movies that feature it: Under The Tuscan Sun, Life is Beautiful, Stealing Beauty, etc and just word out there about how wonderful it is.
Tuscany Roadtrip Itinerary: How to get to and around Tuscany
The best way to get around Tuscany is with a car as there are so many small towns to visit not easily reachable with other forms of transportation, so for my visit to Tuscany I planned a roadtrip itinerary which came out just perfect. I recommend you book a car using Rentalcars, get full insurance, and avoid Goldcar and any other brands that are ridiculously cheap and not international. I've heard horror stories from them. On my trip to Tuscany I got Alamo and it was perfect, you'll be fine with any other well known brands such as Avis, Budget, Europcar, Enterprise,Hertz, National, etc.
Most Tuscany roadtrip itineraries start from Florence which is in Tuscany. This makes a lot of logical sense, but for me any trip to Italy is an excuse to visit Rome, so I decided to start from Rome instead. If you want to start from Florence, this itinerary also works, just skip the Rome days. To fly to Rome or Florence, check out Momondo and Skyscanner for the best prices.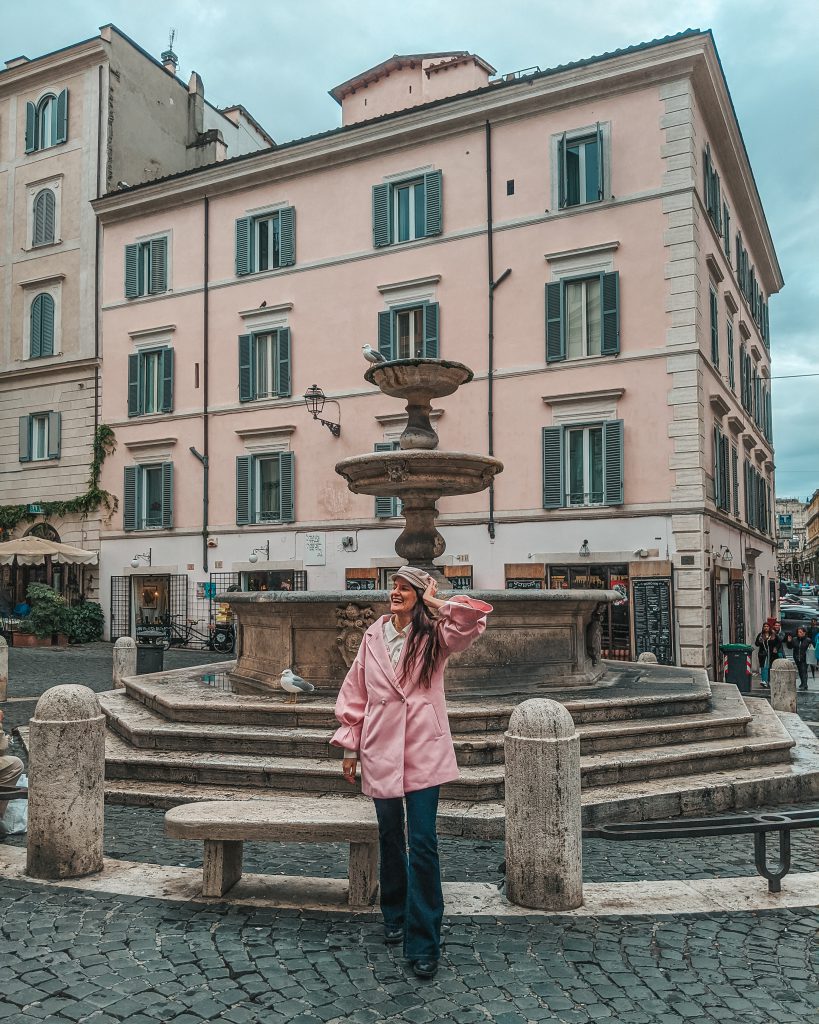 Tuscany Roadtrip Itinerary: Daily Breakdown
Day 1: Rome
The recommendation for day one is to arrive to Rome in the morning, leave luggage on storage either in the airport or Termini train station and spend the day exploring Rome. This itinerary includes 2 full days in Rome so if is your first time I would recommend adding 2 more days either at the beginning or the end of the itinerary.
To give you an idea of what I did this day in Rome, I walked from Termini station to the Colosseum, Roman Forum & Palatine Hill, followed by a visit to the Musei Capitolini. After that, walked down to Piazza Venezia and went inside the Vittorio Emanuele monument to see the exhibitions. Then I walked around the hipster neighborhood of Rome, Monti, and visited the Monti designer market and some of its vintage stores.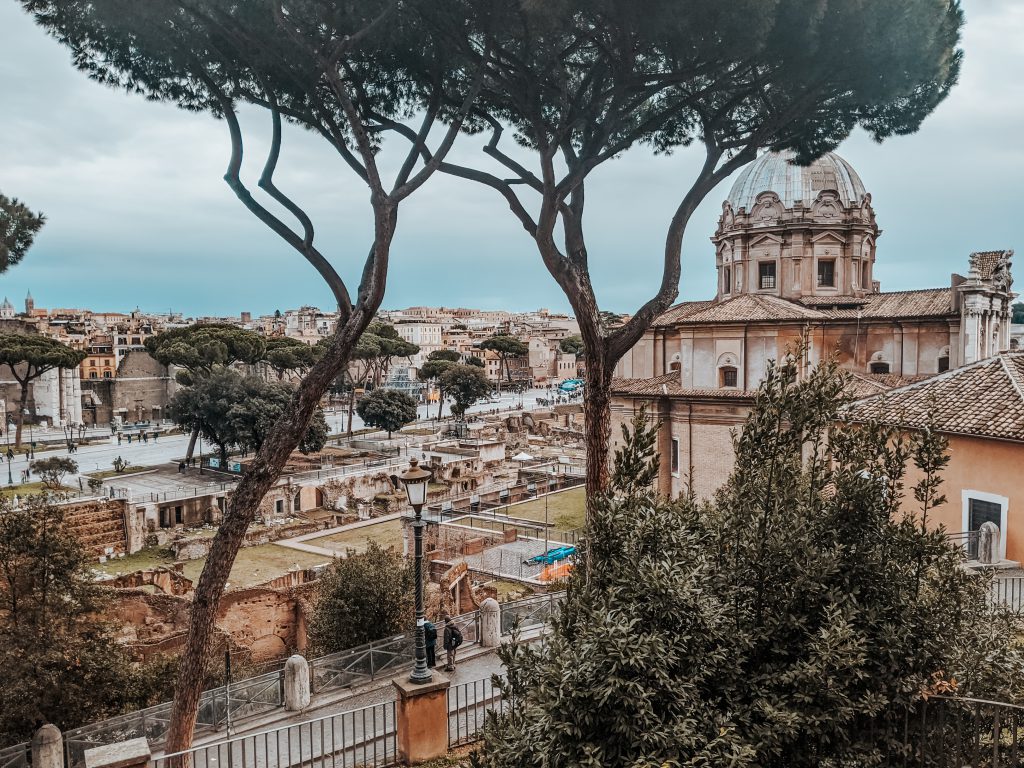 As you will be pressed on time this day I recommend that you book tickets to museums you want to visit in advance: Colosseum, Roman Forum & Palatine Hill, Musei Capitolini (includes a tour of the museum), other Rome attractions.
We then picked up the rental car booked using Rentalcars from Fiumicino, as my dad was joining me on this trip and he was arriving via plane in the evening. You could pick up your rental from the center of Rome as well, whatever feels more convenient to you.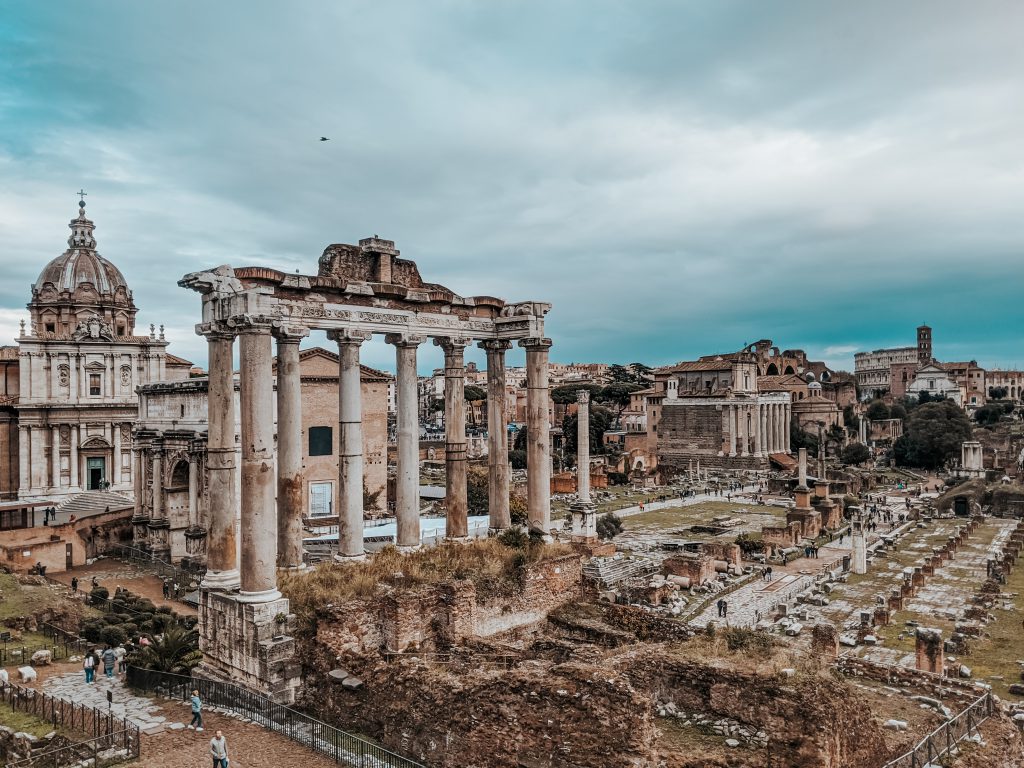 This itinerary is designed so as to spend the next day in Florence which is a 3hr drive from Rome so it is ideal to sleep somewhere in the middle so you have less of drive the following day. We stayed at a lovely B&B called BiancoCancello in Sacrofano which was on the way. The B&B was amazing and exceeded all of our expectations but it was too close to Rome, so I would recommend you choose a location a bit more in the middle between Rome and Florence.
Book: tickets for Colosseum, Roman Forum & Palatine Hill, Musei Capitolini (includes a tour of the museum), other Rome attractions.
Stay: at BiancoCancello, or look for other hotels further away from Rome using Booking.com's map feature.
Day 2: Florence
We arrived in Florence in the morning, checked in at Rodo Hotel Fashion Delight, parked the car in a garage nearby and started exploring! If this is your first time in Florence I would add an extra day to it.
What we did during this day was to visit the Duomo (or Cathedral of Santa Maria del Fiore) then crossed the Ponte Vecchio, had a quick Pinsa Romana for lunch at Biancazerozero, then went to Pitti Palace & its Boboli Gardens, followed by a shopping visit to Officina Profumo-Farmaceutica di Santa Maria Novella & the Santa Maria Novella Piazza & Church. We had been to Uffizi Gallery & the Accademia Gallery before, but these are not to be missed when in Florence.
We then had a delicious dinner at Osteria La Cantinetta and headed back to Rodo Hotel Fashion Delight for a fabulous sleep. We chose this hotel as it's only meters away from the Duomo, hence very central which is essential for a short visit. Despite its location, the rooms are spacious and tastefully decorated to the utmost detail: even the minibar and air conditioning where painted to match the room's style! I stayed at La Suite which has wi-fi, aircon/heating, a minibar that is refilled for free, toiletries, TV, hairdryer, security box and an amazing view of the Duomo. Tea, coffee and candy are available all day just outside the room. Breakfast is complete with eggs, fruits, pastries, bread (including gluten free bread), cereals, yogurt, cheese, cold meats, etc; as well as espresso or cappuccino made to order! The hotel offers various services such as shuttle service, front desk, laundry, etc. Also, due to its central location this hotel is in the ZTL (limited traffic) zone. Any car which enters the ZTL zone without a permit gets a fine but the hotel offers valet parking and reports your license plate to the police so that the fine is waived.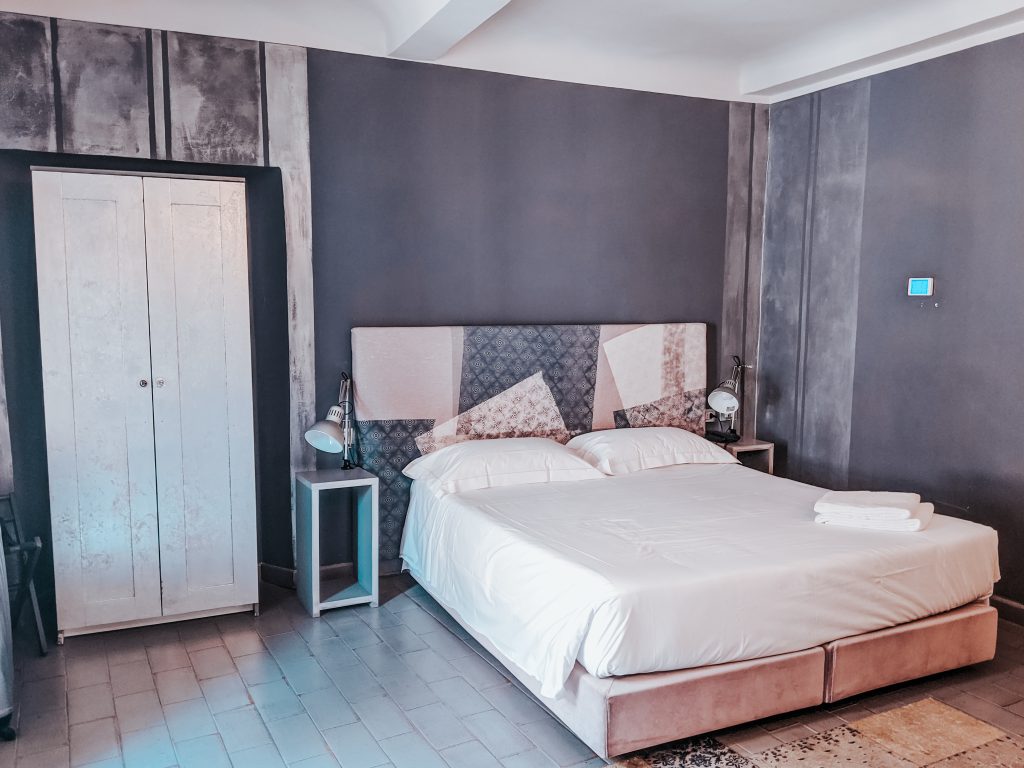 Book: tickets for the Duomo, Pitti Palace (includes tour), Accademia Gallery, Uffizi Gallery
Stay at: Rodo Hotel Fashion Delight (Website – Booking.com page)
Day 3: San Gimignano and Volterra
We woke up in Florence, said arrivederci to the Duomo and headed to San Gimignano. If you haven't heard of it, San Gimignano is a small walled medieval hill town known as the Town of Fine Towers. It get this name for its medieval architecture particularly the unique in the preservation of about a dozen of its tower houses, which with its hilltop setting and encircling walls make it visibly enticing.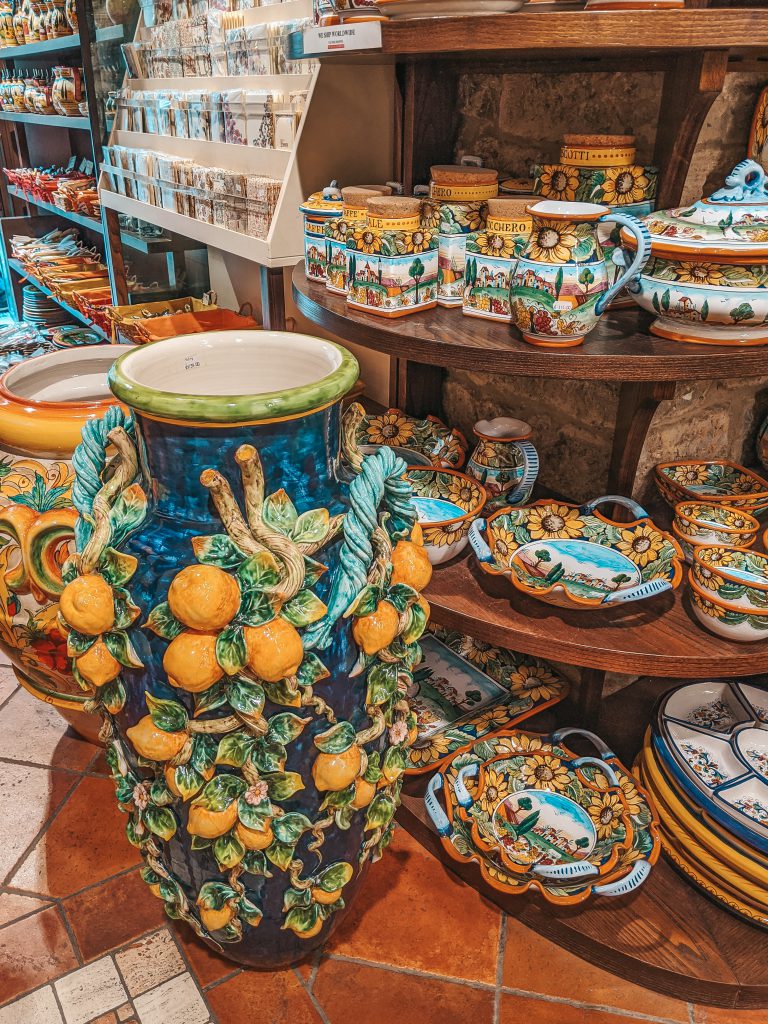 The main thing to do in San Gimignano is to walk around and appreciate its architecture and shops, try some wild boar salami, eat gelato (I recommend Dondoli in the main square), drink Vernaccia de San Gimignano and climb up the Torre Grossa.
After, we headed to Volterra. When we asked someone in San Gimignano what they thought about Volterra they said it was "un paese misterioso" (a mysterious place). It might be because we visited in low season and during sundown but I couldn't agree more. This town dates back from Etruscan times and has Roman and medieval influence as well. There is a lot to do here. You should visit the Piaza dei Priori & Palazzo dei Priori, the Duomo (Cathedral of Santa Maria Assunta), the Guarnacci Etruscan Museum, the Etruscan Acropolis, the Medicean Fortress and Porta a Selci (you won't be able to get inside the fortress as it's a high security prison but you can watch the architecture from outside), the Roman Amphitheater and its surrounding archeological area. Also, you'll see many items made from alabaster stone in many store fronts as using alabaster is an ancient tradition in Volterra which exists since Etruscan times. You can window shop and buy some souvenirs to take home.
After Volterra, we headed to our accommodation for the night: Podere Benintendi. This was one of my favorite accommodations in this trip because it was so unique! It's located close to Certaldo a medieval hamlet in the heart of the Val d'Elsa which is incredibly charming and worth spending a few hours in. It is also where the famous Italian writer Boccaccio (author of Decameron) was born.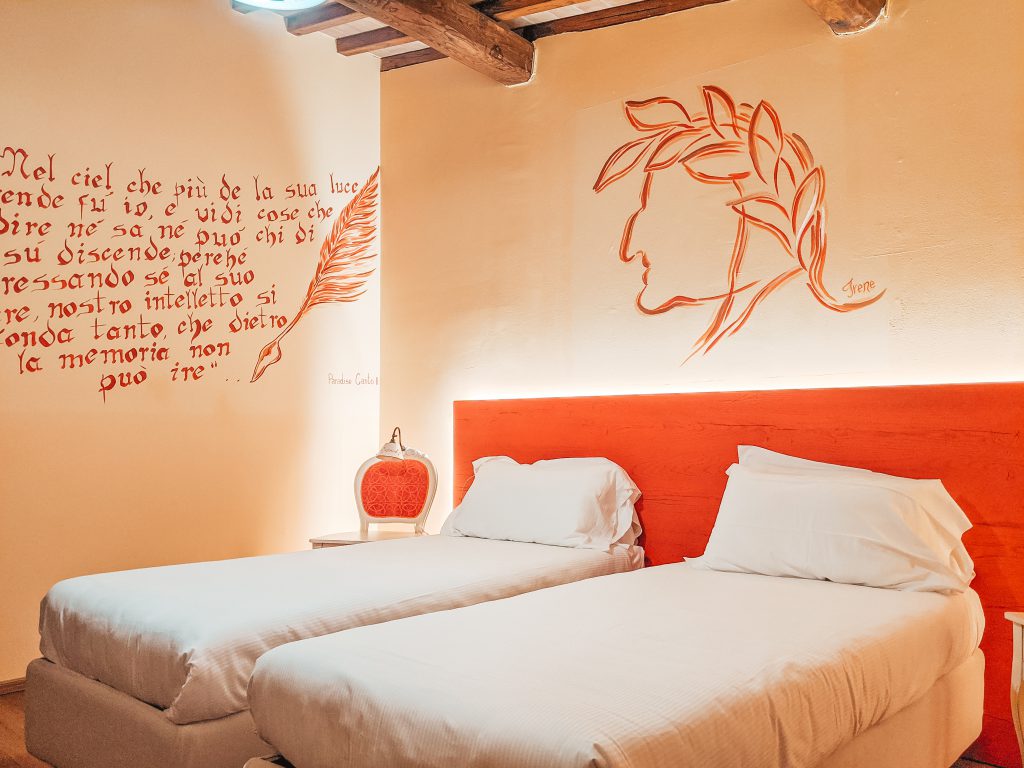 Bocaccio was a great fan of Dante Alighieri, and our room in Podere Benintendi was inspired after Dante! Some of his books were displayed as well as a drawing of his unequivocal face profile on one of the walls and a quote from Dante's Paradiso on the other. The room has unique pieces of decoration such as an amazing chair-nigh-table-and-lamp piece of furniture.
Book: tickets for San Gimignano & Volterra tour from Siena, a private San Gimignano tour or a San Gimignano, Siena, Chianti Guided Tour from Florence
Stay at: Podere Benintendi
Day 4: Siena
I woke up in Podere Benintendi, peeked through the window and couldn't believe my eyes! Podere Benintendi is located at the top of a hill and in that foggy morning, we were sitting above the clouds. The view was unbelievable and I felt so blessed of having been able to experience it. After documenting that enchanting morning through photos and videos, we went to the lobby for breakfast which was extremely complete with lots of home made delicacies and many options to choose from. We then spent the morning exploring the estate as there is a lake, an aromatic herb garden, and nice quaint corners with sculptures or fun details spread allover. There's also a pool, a gym, a billiard room and a shop where they sell their self branded wine, limoncello, marmalade and olive oil at very competitive prices.
Unfortunately, all good things must come to an end and it was time for us to leave Podere Benintendi and visit Siena. We spent most of our time exploring Siena's Cathedral and surroundings. It is possible to purchase a joint ticket to visit Siena's Cathedral, crypt, baptistery, museum, and more. You can also opt for a walking tour of the city. Other things to visit are the Santa Maria della Scala museum, the epic Torre del Mangia and Palazzo Publico, the Piazza del Campo and the Basilica Cateriniana where St. Catherine's head is kept.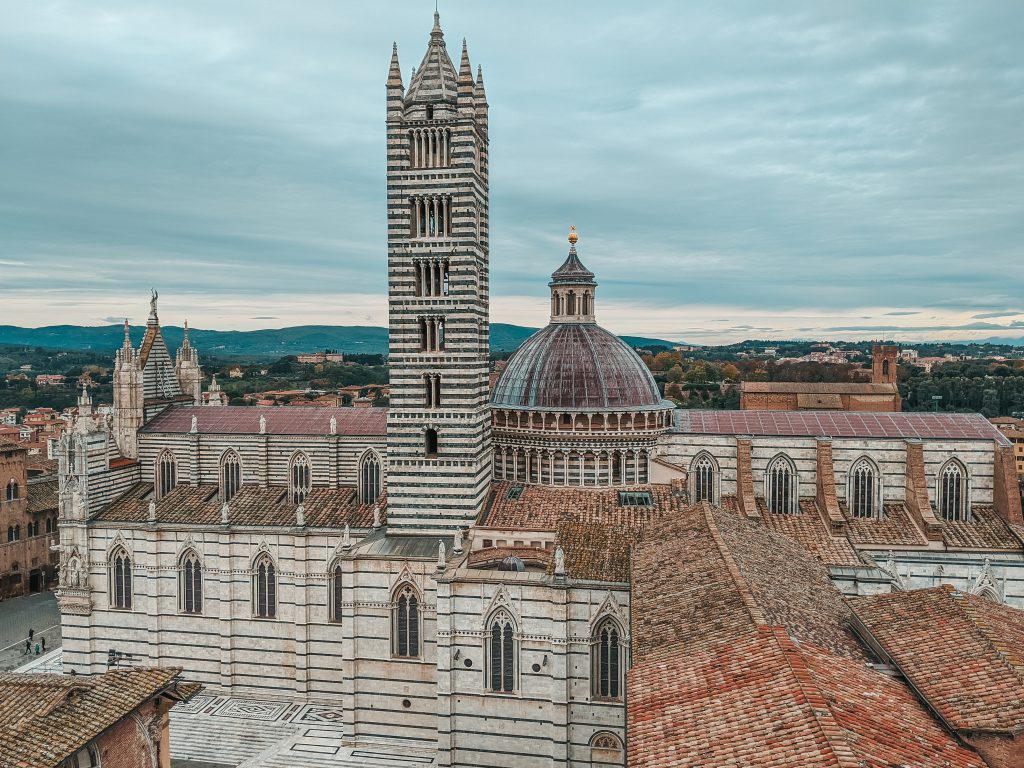 After a full day of Siena exploring, we reached our accommodation for the night: Borgo San Luigi. Borgo San Luigi is a luxury hotel set in a 17th century estate just 5 minutes away from the medieval town of Monteriggioni and 25 mins away from Siena. Our room at Borgo San Luigi was spacious and had a terrace overlooking the estate which is 60.000sqm. During the evening, we enjoyed delicious Tuscan cuisine in the in-house restaurant La Bianca located just a short walk from your room. Food is delicious and served at very reasonable prices.
Book a Siena walking tour or a San Gimignano, Siena, Chianti Guided Tour from Florence
Stay at Borgo San Luigi
Day 5: Chiusure, San Quirico D'Orcia, Montalcino & Monticchiello
After enjoying a wonderful breakfast at Borgo San Luigi, we spent the morning exploring its beautiful grounds, admiring the ivy covered 17 century buildings as well as its impressive entrance flanked by cypress trees.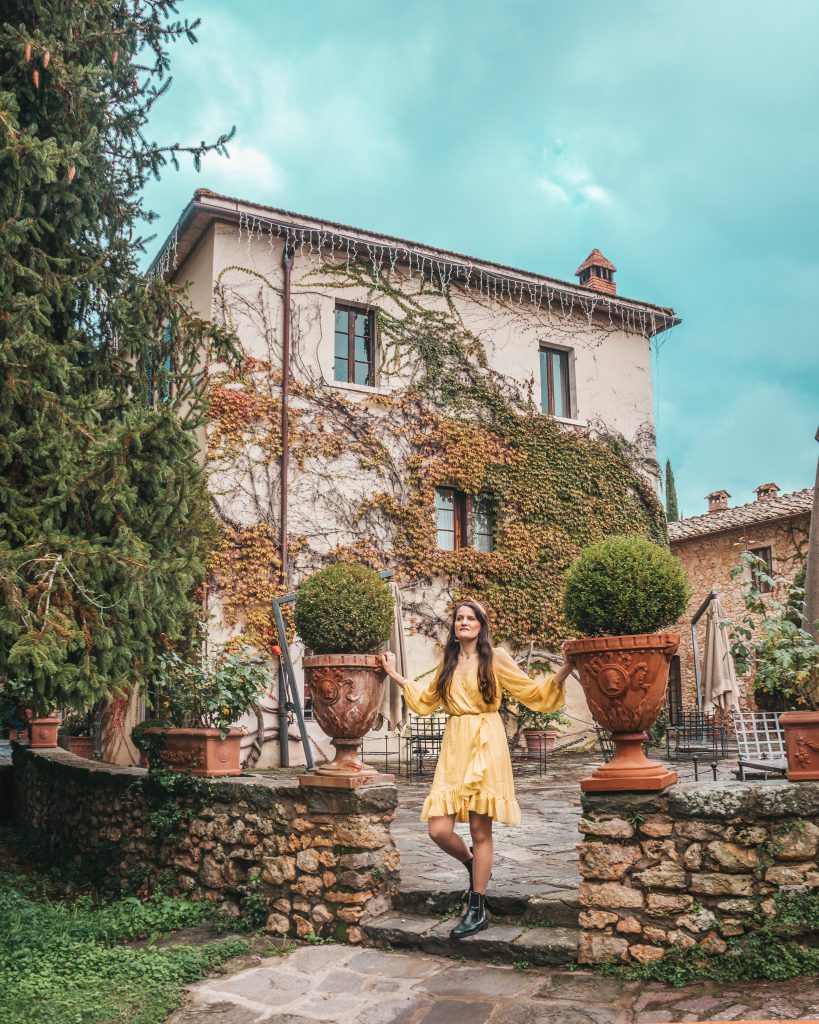 We hopped into our car to continue our road trip now entering Val D'Orcia. Our first stop was Chiusure a small town in Siena's Crete Senesi. The purpose wasn't really to visit the town itself but to admire the views from the drive as these are meant to be the best views of Tuscany (and they were, in my opinion). Also most people come to Chiusure to visit the Abbey of Monte Oliveto Maggiore, which is up a hill a few hundred metres from the center of the village. The Abbey is an active monastery and has beautiful frescoes by Luca Signorelli – Michelangelo's teacher – in the Cloister. There are also frescoes by the Sienese painter, Antonio Bazzi, called "Il Sodoma" ("The Sodomite").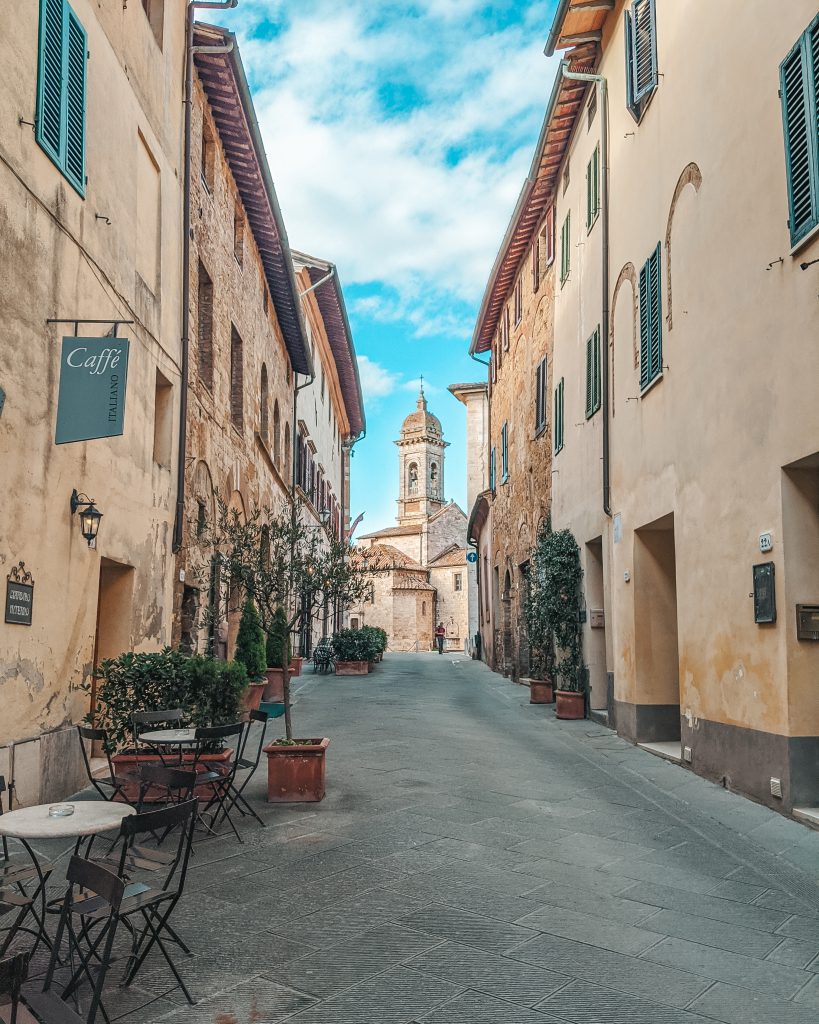 We continued to and then reached San Quirico D'Orcia a walled town in Val D'Orcia. The town has many beautiful churches to visit as well as an Italian symmetrical garden called Horti di Leonini. Lastly near this town you'll find the famous bunch of cypress trees that you see in all photographs from Tuscany which are an icon of Val D'Orcia.
Our town hopping spree continued to Montalcino, which I would consider an absolute must. Montalcino is a 14th-century town also located in Val d'Orcia. It stands out immediately thanks to its military layout and imposing fortress and it is characterized by narrow, steep streets. Once there you'll also be able to benefit from incredible views of the valley. As for things to do, the Diocesan Museum of Sacred Art conserves one of the richest collections of painting and wooden sculpture by the Sienese school. Amongst the churches in town, I recommend the 14th-century Church of Sant'Agostino, the Neoclassical cathedral, the Sanctuary of the Madonna del Soccorso and the Church of Sant'Egidio – the church "of the Sienese". The town hall is also unique with its slender structure being flanked by a tall functioning bell tower.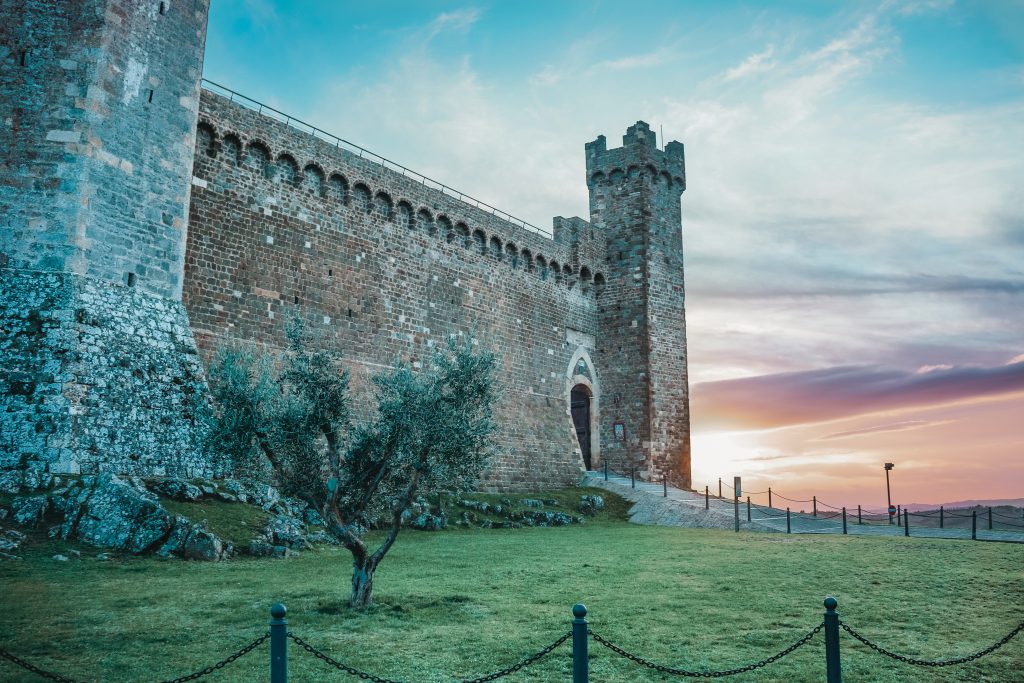 Montalcino is also famous for its wine production, particularly the Brunello. The countryside around Montalcino also produces honey, extra-virgin olive oil, meats and cheeses, all of which can be enjoyed in some of the characteristic restaurants and wine bars in the area. Nearby Montalcino, it's worth visiting the splendid Abbey of Sant'Antimo, a monumental structure dating to the 12th century, one of the best examples of French Romanesque architecture in Italy.
Our last stop for the day and our home for the next two days was Monticchielo. Monticchielo is a small medieval town with just 200 inhabitants close to Pienza, where time seems to have frozen and which has also not been discovered by tourists. I stayed in Monticchielo two nights in B&B Daria Monticchiello, and used it as a base to explore the nearby towns. With little tourists, peace and calm can be achieved in Monticchiello where at night the only sound to be heard is that of silence. Or perhaps, the locals singing as they rehearse for the Teatro Povero, the town's theatre for which its plays are written, directed and performed by Monticchiello's inhabitants.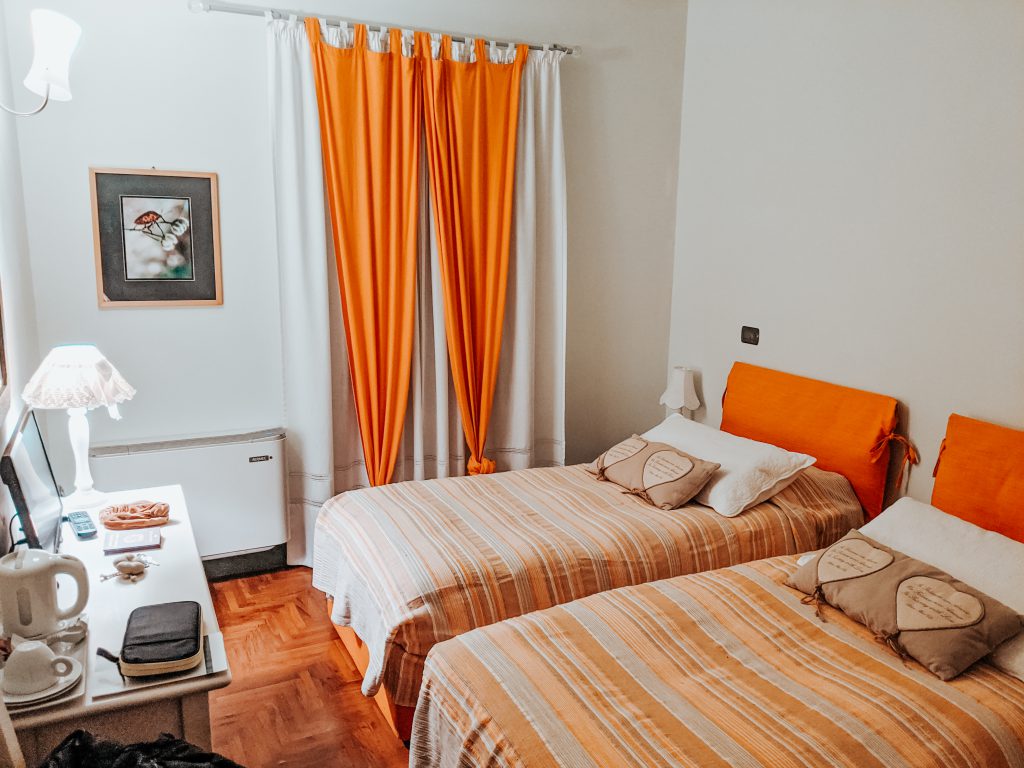 B&B Daria Monticchiello used to be the home of Daria's, its owner, family. It dates from 1890 and has been renovated beautifully with great taste, lots of pastel colors and nice touches. Our room also had those touches, plus a beautiful view of the town as the property is located in the highest point of the town. The bathroom was spacious, with a hydromassage tub and a view. Guests can use the kitchen of the B&B where there is coffee, water and snacks available for guests at all times. In the winter months one can relax by the fireplace while in the warmer months one can sit in the outside terrace to admire the views. There's also a hot tub in the garden and free parking right at the property itself.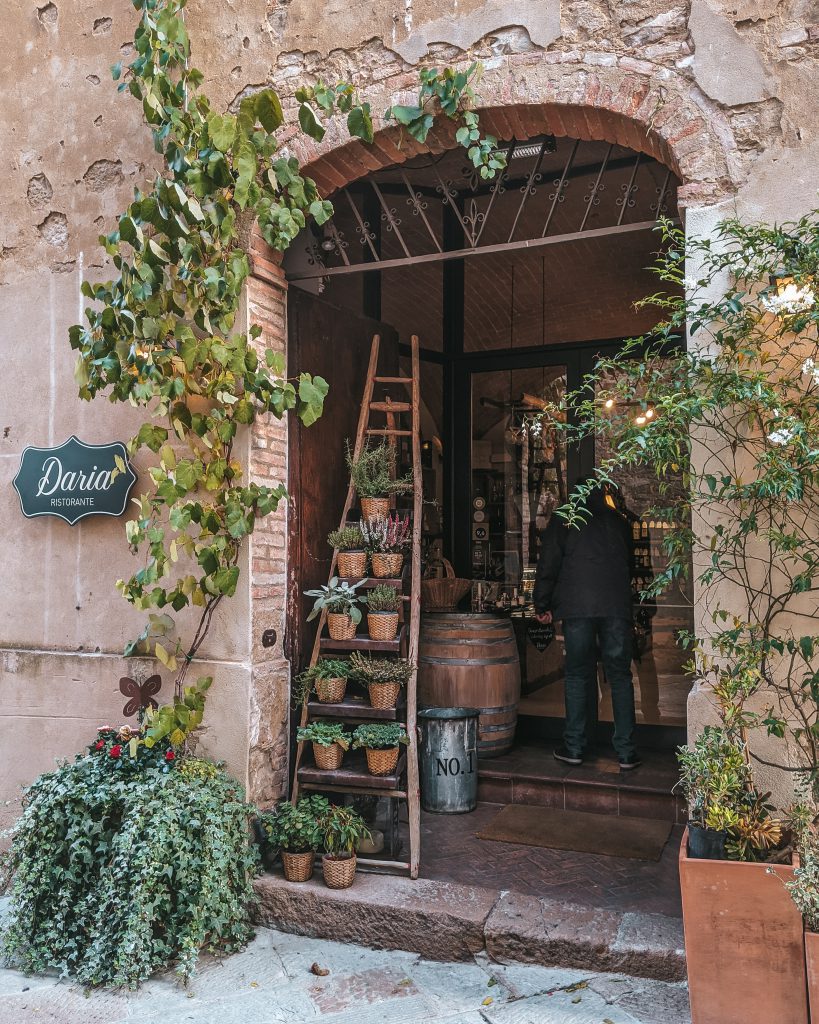 Now B&B Daria Monticchiello is probably the less exciting part of Daria's ventures as she also owns Ristorante Daria, which is one of the best ones I've been to in Tuscany, not only said so by myself but also by The Telegraph & Goop. It's in Ristorante Daria where you are served breakfast if staying at B&B Daria Monticchiello and where I would encourage everyone to have dinner. The restaurant is beautifully decorated, and food is of such high quality that it could easily compete with the best restaurants in my home town, London. Daria is an absolute rockstar, she's kind and chic and comes by as an obviously strong and busy woman. Guests can also choose to do a cooking class with one of the chefs of Ristorante Daria, Daniele.
The days where Ristorante Daria is closed, Osteria La Porta is also surprisingly good. Apparently it used to be owned by Daria as well.
Stay at B&B Daria Monticchiello
Day 6: Castelo Banfi, Pienza & Monticchiello
We woke up at B&B Daria Monticchiello and had breakfast at Ristorante Daria. You can basically order what you want as it's not a buffet and everything is made to order. We were then to leave Monticchiello to visit an exciting destination: Castello Banfi.
If you are a wine lover, Castello Banfi may ring a bell. It's one the largest wine producers in Italy and Europe, with over 3000 hectares of land. The owners of the winery, the Mariani's, first purchased the land and later purchased the Poggio Alle Mura medieval castle that can be traced back to the Etruscans with part of it going back up to the Middle Ages. Today, the castle serves as a hotel, enoteca and restaurant.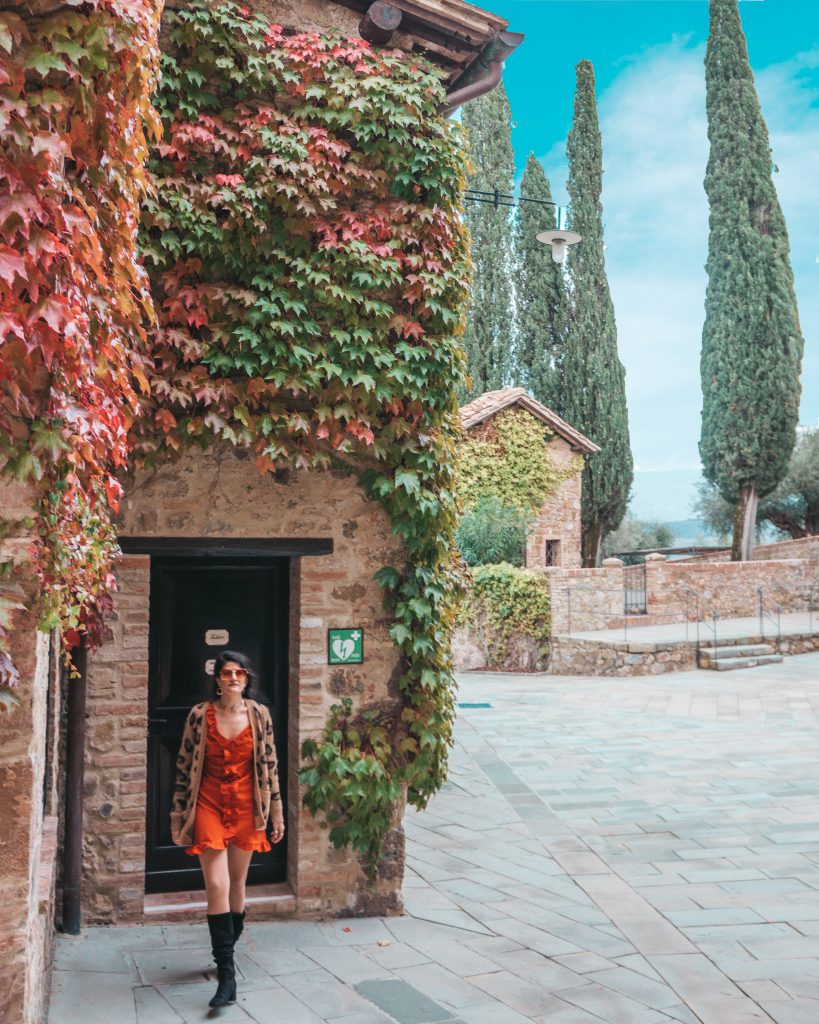 We visited Castello Banfi to take their winery tour and 5 course wine paired lunch at their restaurant, La Taverna. I really enjoyed the tour. Having done wine tours in Bordeaux, France and the Douro, Portugal this was a completely different experience mainly due to the unique process required to make the Brunello di Montalcino DOCG and also due to the scale of such large winery. It was very interesting to see so much technology integrated to the wine making process. Lastly, the 5 course paired lunch was marvelous. We tried fantastic wines, Rosso and Brunello di Montalcino as well as other delicious ones, and had five star quality food. They were able to make a vegan version of the 5 course lunch with a mix of both complex and simple dishes with outstanding flavors, and always with the Tuscan touch. You have to be prepared to eat and drink a lot, though.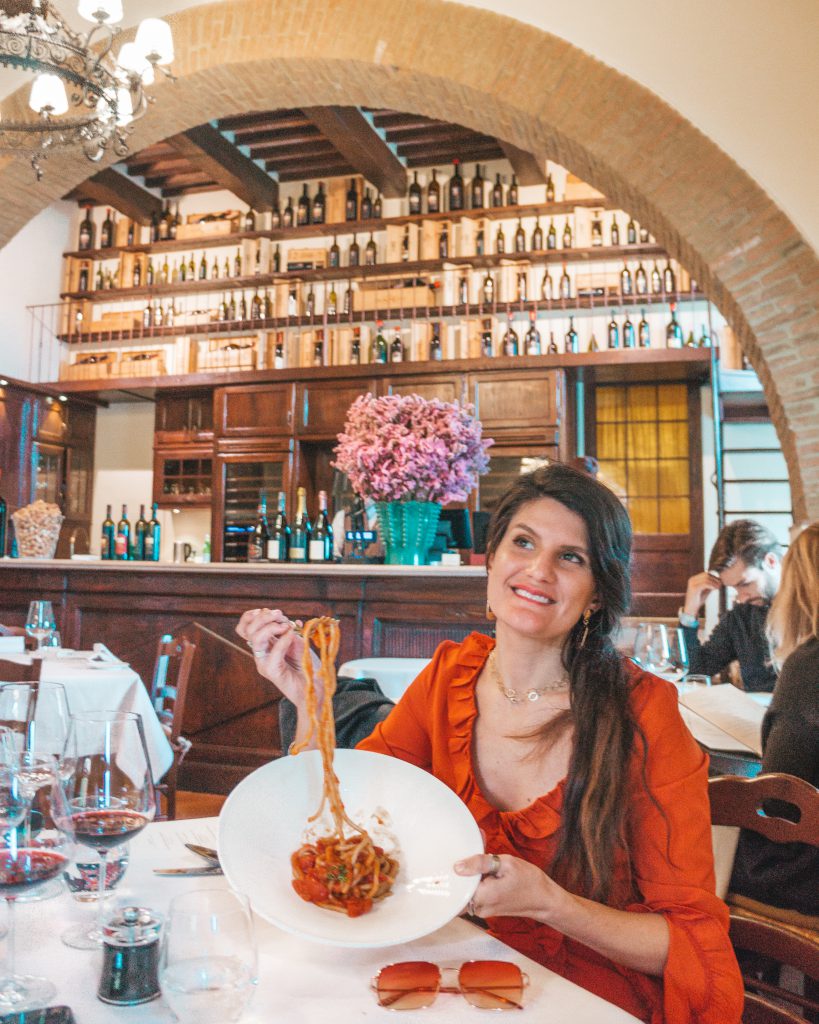 I did not actually stay at Castello Banfi during this trip as, frankly, I was tired of changing hotels every night and decided to use Val D'Orcia as the place where to stay in the same hotel two nights and I chose B&B Daria Monticchiello for that. Although I obviously don't regret my decision, I would have loved to stay at Castello Banfi's wonderful estate as it is out of a Tuscan dream. If your trip allows staying one night here, then don't hang around and book it. You won't regret it.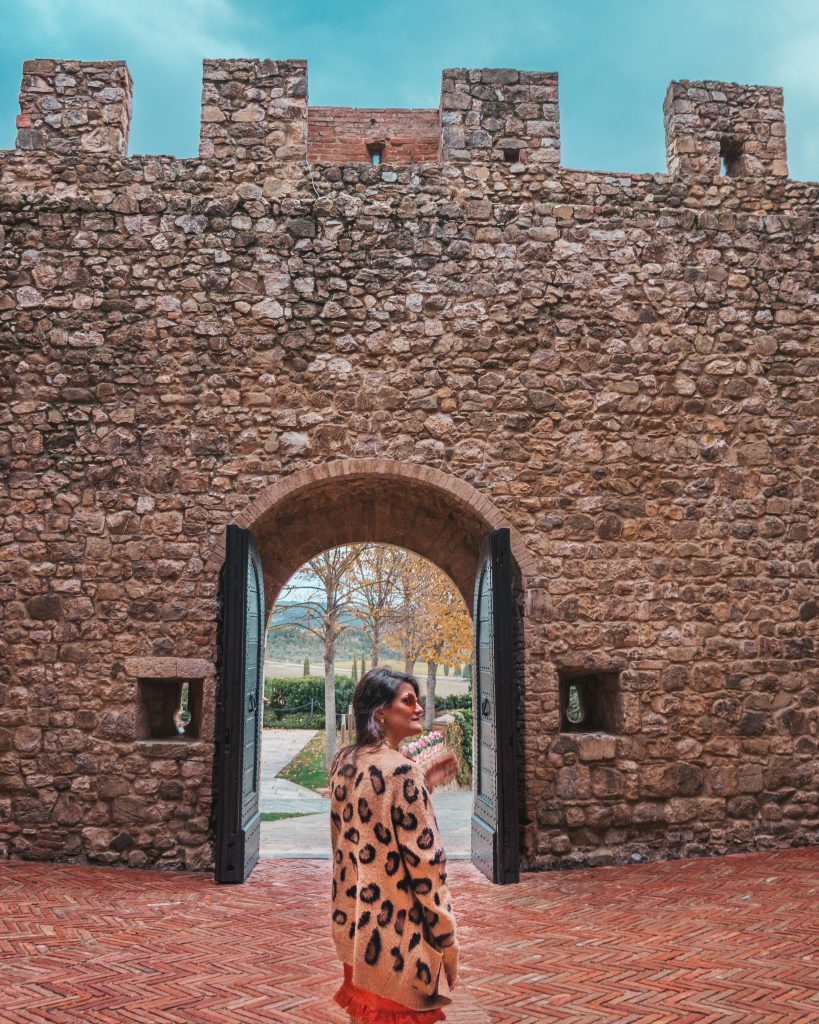 After our big lunch we took our full bellies to Pienza which we hadn't had a chance to visit yet. Pienza is another tiny village in Val D'Orcia also located in the top of a hill and hence offering extraordinary views. Pienza is widely known as the "ideal city of the Renaissance", a creation of the great humanist Enea Silvio Piccolomini, later Pope Pius II. He shaped the city as what he thought the Utopian city should be, hiring architect Bernardo "il Rossellino" who completed the Cathedral, the Papal or Piccolomini Palace, the Town Hall, and the central square where these buildings stand. The square is one of the places you must visit but also check out Pieve di Corsignano, a romanesque church dating from the 7th century (romanesque details added later on the 12th century). Pienza is also the city of cacio (cheese). The Pecorino of Pienza is a worldwide renowned cheese made from sheep's milk which makes a perfect souvenir from this charming village.
After Pienza we came back to Monticchiello for a delicious dinner at Ristorante Daria and my second plate of pici all'aglione in a day.
Book the Castello Banfi tour and lunch
Stay at Castello Banfi Il Borgo
Days 7 & 8: Rome
Our Tuscany Road Trip had come to an end and it was time to return to The Eternal City, Rome. We woke up at B&B Daria Monticchiello said goodbye to this special town which had rewarded us so much over the last two days and hit the road.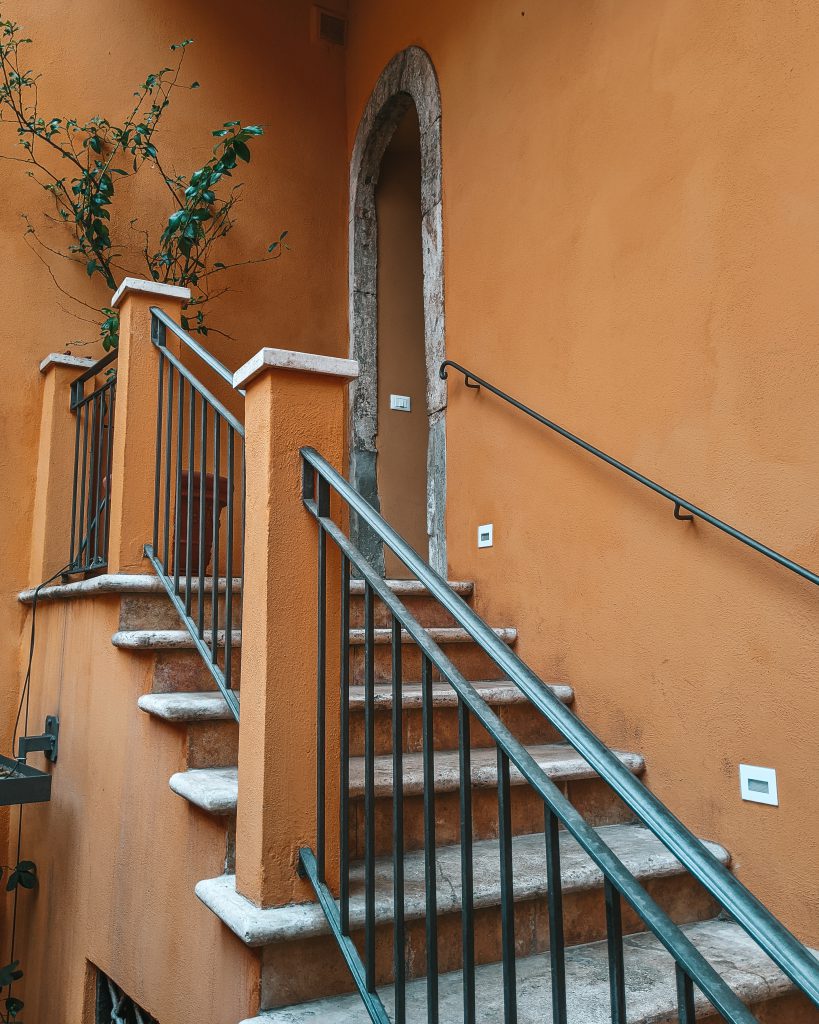 We arrived in Rome around noon to our accommodation for the last night of our trip: YourSuiteRome. In the reception, we were greeted with an espresso by two extremely professional women who after a swift check-in took us to our suite located 5 mins away, walking. We had booked Luxury Suite Giulia, a two bedroom suite with a fully equipped kitchen, living room and spacious bedrooms and bathrooms, even with a walk-in closet! From the bedrooms, there is an amazing view of the nearby Museo di Arte Sacra San Giovanni dei Fiorentini. The suite has crisp, minimalist decoration and it immediately feels like a home away from home. It even has a washing machine!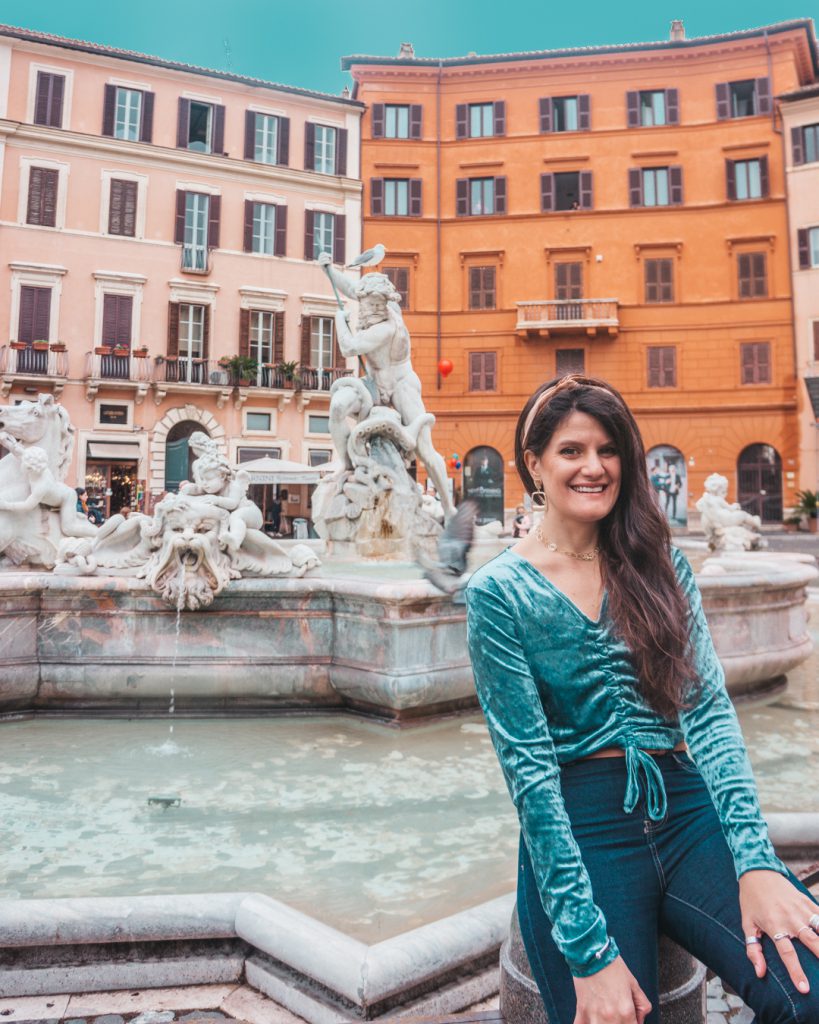 Although you are renting an apartment, YourSuiteRome offers multiple services such as transfers, guided tours, wine tasting, mobile wi-fi and cleaning. All Suites are located in Rione Regola, a fairly high end neighborhood just by Campo dei Fiori and Piazza Farnese which also has various cute wineries, restaurants and antique shops to choose from; including the popular restaurant Pierluigi usually frequented by celebs. It's also just besides the Tevere river, Ponte Vittorio Emanuele II, the Ponte and Castel Sant'Angelo and just 10 mins walking from the Vatican.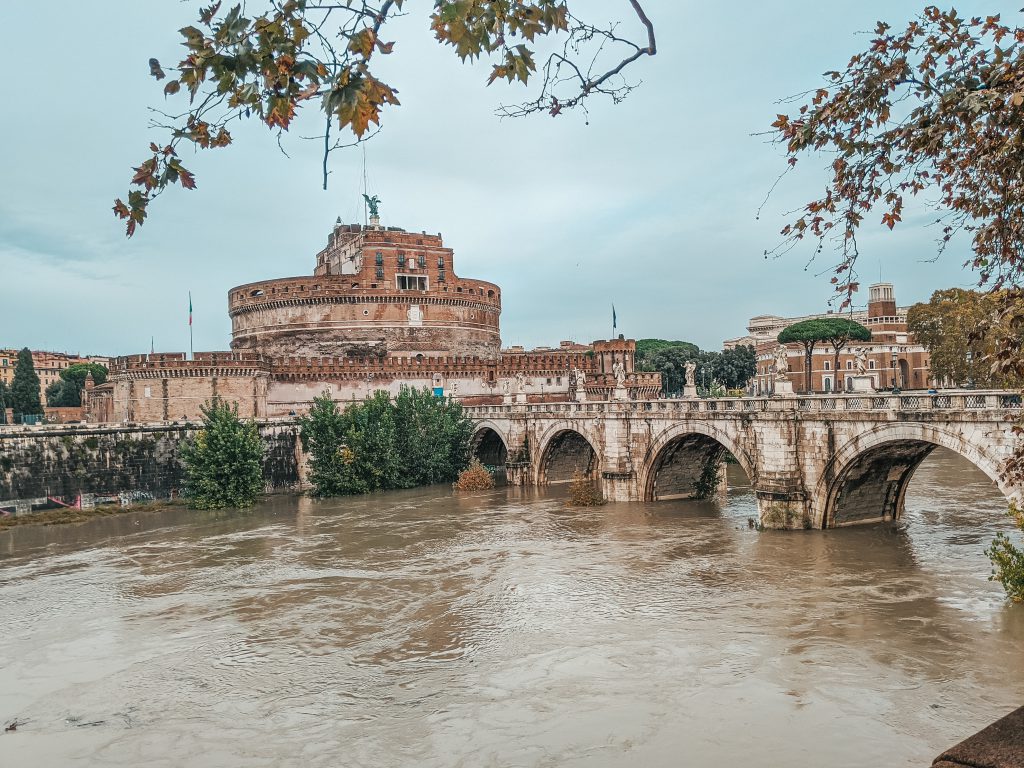 On the rest of my time in Rome I did sightseeing and of course, eating. I shopped at Campo di Fiori market and had lunch in the Roman Jewish Ghetto at Ba' Ghetto Milky. It was excellent, make sure you get the carciofi alla giudia. The following day I visited Castel Sant'Angelo, there is a great tour that visits it together with St Peter's Square (Vatican) you can book. After, I walked to Piazza Navona, Fontana di Trevi, The Pantheon, Piazza di Spagna, Piazza del Popolo and then Villa Borghese. Basically, lots and lots of walking!
Stay at YourSuiteRome
Rome Tours you might be interested in:
Tuscany Roadtrip Itinerary: Map of cities and towns visited
Enjoyed this article? Support my work by buying me an oat capuccino. Otherwise, do me a great favor of leaving a comment and following me on Instagram (@travelwithpau). Feel free to say 'Hello!' I don't bite. And make sure you save the article for later!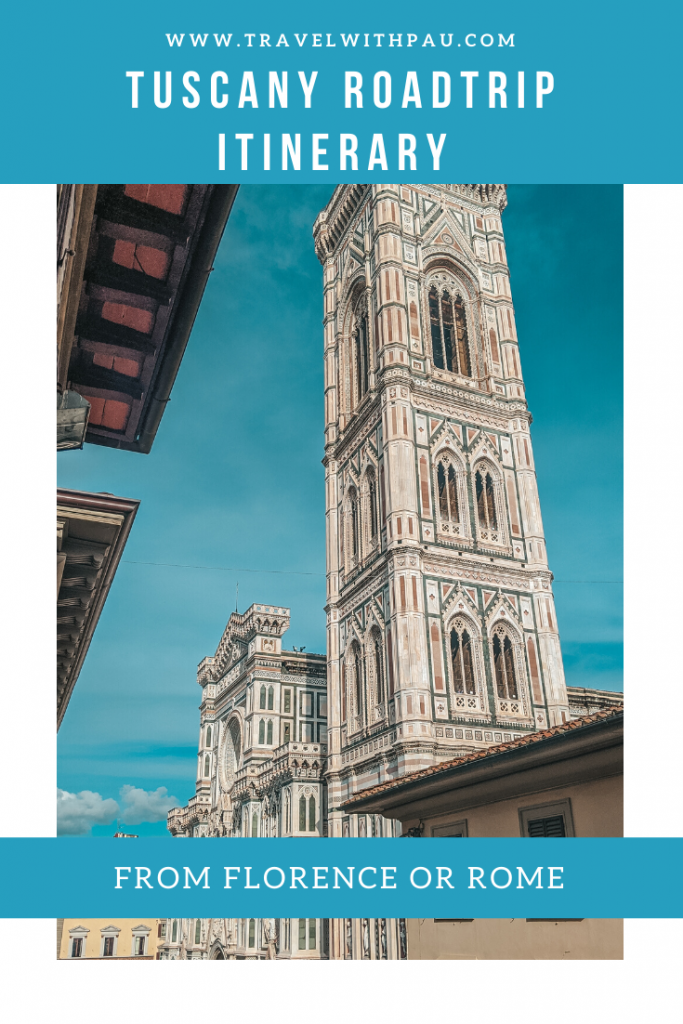 This post contains affiliate links. If you click on one and make a purchase, I might make a small commission, at no extra cost to you in order to help support my blog.